Vern L. Moncur
Biography
Home

303rd BG

Search

Nose Art

Keith Ferris Art

Photos

Moncur Journal

Facebook
Original Crew

Crew Reunion

Missions / Crews

Thunderbird Crewmen

HAFB Exhibit

LSFM Visit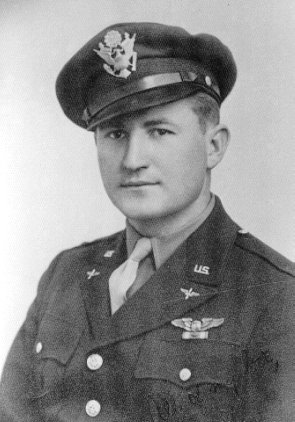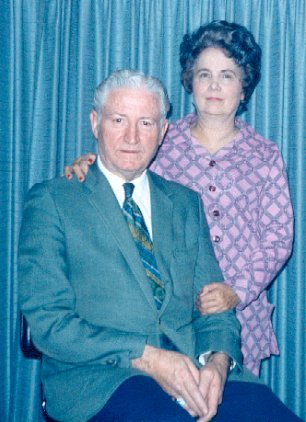 Vern and Alice Moncur
Vern L. Moncur
was born on October 20, 1916 in Rupert, Idaho. He attended school in Rupert, graduating from high school at 16 years of age. Vern then attended Brigham Young University in Provo, Utah, where he graduated in 1937. Following college, Vern taught high school in Eastern Idaho for four years. It was there that he met Alice Neeley. They were married in the Salt Lake LDS Temple on June 4, 1941.
On December 7, 1941, the Japanese attacked Pearl Harbor and the country was at war. Vern joined the Army Air Corps in February of 1942 as an aviation cadet. He trained as a pilot at Ryan Field (Hemet, California), Minter Field (Bakersfield, California), Roswell and Hobbs New Mexico and Pyote, Texas. He was then transferred to Dyersburg, Tennessee, where he and his B-17 crew trained together for three months. Vern and his crew then reported to Molesworth, England in November, 1943 for combat.
Lt. Vern Moncur was assigned to the 8th Air Force, 303rd Heavy Bombardment Group, 359th Bomber Squadron ("Hell's Angels"). He was the first pilot to fly the famous B-17G
Thunderbird
(42-38050 BN-U), which is now immortalized in the Keith Ferris mural in the
Smithsonian National Air and Space Museum
. Also, the
Lone Star Flight Museum
in Galveston, Texas has restored a B-17 with the
Thunderbird
markings as a memorial to the men of the 303rd Bombardment Group (H).
Lt. Moncur's seventh mission, on
January 29, 1944
, was the first mission in their newly assigned ship, the brand new
Thunderbird
. On its very first mission,
Thunderbird
had a wing shot up so badly it had to be replaced. Lt. Moncur went on to fly the
Thunderbird
on 20 of her first 24 missions.
Lt. Moncur completed his combat tour on April 10, 1944. He and his crew were on two of the three roughest missions the 8th Air Force ever flew. They completed 28 missions without turning back for any reason. Lt. Moncur was most proud of the fact that none of his crew was ever injured, in fact they were first crew in the 359th Bombardment Squadron to accomplish that feat. Because of this,
Thunderbird
became a "first mission ship" to get new crews off to a good start. She was never again assigned to any crew as their primary aircraft. Remarkably,
Thunderbird
went on to fly 112 missions without any crewman ever being injured.
For his accomplishments, Lt. Moncur was awarded the Distinguished Flying Cross, the Air Medal with three Oak Leaf Clusters and the Presidential Unit Citation.
Following the war, Vern and Alice lived in Idaho, Oregon and finally settled in Utah in 1959. Vern had entered the banking business in 1954. He managed several branches for Walker Bank and Trust Company (now Wells Fargo Bank) and retired in 1981 as a Vice President.
Vern and his family moved to Bountiful, Utah in 1961, where he lived until his death. Vern and Alice are the parents of six children: Vaun (who was born and died during Vern's combat duty), JoAnn, Marlowe, Gary, Vickie and Dean.
Vern died January 3, 1985. He left a posterity who will always remember him and of whom he can be most proud. Most of Vern's World War II memorabilia has been donated to the
Hill Air Force Base Aerospace Museum
.