| | |
| --- | --- |
| | Propaganda Leaflet |
Home

303rd BG

Search

Nose Art

Keith Ferris Art

Photos

Moncur Journal

Facebook
Original Crew

Crew Reunion

Missions / Crews

Thunderbird Crewmen

HAFB Exhibit

LSFM Visit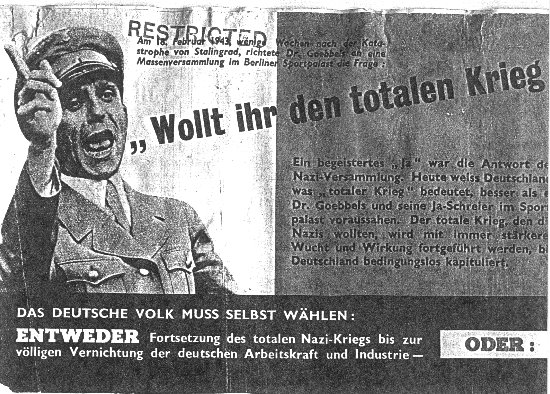 This is a copy of the leaflets dropped from "Thunderbird" over Marienburg, East Prussia on April 9, 1944. The leaflets were carried in large bundles which were held together by metal bands. On these bands was an aneroid barometer. The barometer would change as the pressure increased as the bundles fell toward earth. At about 5000 feet, the barometer would break, allowing the bundles to loosen and the leaflets to flutter to the ground individually.


LITERAL TRANSLATION:

(Top) On February 18, 1943, a few weeks after the catastrophe of Stalingrad, Dr. Goebbels put the question to a mass meeting at the Berlin Sportpalast:
(Large Type) "DO YOU WANT TOTAL WAR?"
An enthusiastic YES was the answer of the Nazi meeting. Today Germany knows what total war means, better than Goebbels and his yes-shouters foresaw. The total war, wanted by the Nazis, will be continued with ever increasing weight and effectiveness, until Germany capitulates unconditionally.
(Beneath Picture) THE GERMAN PEOPLE MUST CHOOSE FOR THEMSELVES:
EITHER continuation of the total Nazi-war until final destruction of German man-power and industry.
(In The Arrow) OR: