James S. Andrus
Biography
Home

303rd BG

Search

Nose Art

Keith Ferris Art

Photos

Moncur Journal

Facebook
Original Crew

Crew Reunion

Missions / Crews

Thunderbird Crewmen

HAFB Exhibit

LSFM Visit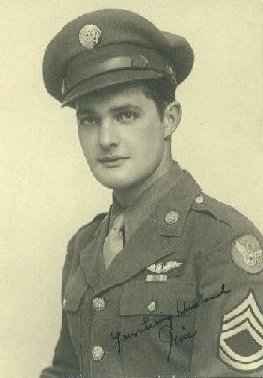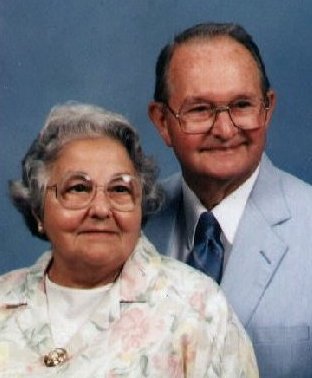 James S. and Betty Andrus
James S. Andrus
was born on June 8th, 1923 in Lock Haven, Pennsylvania and graduated from Lock Haven High School in 1941. He was employed in the maintenance department of Bloomsburg Mills in Lock Haven where he met
Betty Capello
.
Jim enlisted into the Army-Air corps on November 16th, 1942. He received his basic training at Keesler Field, Mississippi. He graduated from the Las Vegas Gunnery School at Las Vegas, Nevada in January 1943 and received the rank of Sergeant. After his graduation from Radio School at Scott Field, Illinois, he was sent to Salt Lake City, Utah, then to Pyote, Texas.
While he was on leave, Jim returned home to Lock Haven and he and Betty were married on August 19th, 1943. He then reported to Dyersburg, Tennessee where he trained with his crew. It was from there he left for duty in Molesworth, England in November, 1943.
Jim served as the 1st Radio Operator on the B-17G Thunderbird in the 8th Air Force, 303rd Bomb Group, 359th Squadron ("Hell's Angels"). He received the European-Asiatic-Middle Eastern Theatre Ribbon with one Bronze Star, the Air Medal with three Oak Leaf Clusters, the Distinguished Flying Cross and a Distinguished Unit Badge.
After the war, Jim returned to Lock Haven and worked as Plant Engineer at Bloomsburg Mills until he retired in 1986. He and Betty raised seven children. Their daughters, Victoria, Frances and Jacqueline and their sons, James, Thomas, David and Charles. They also have thirteen grandchildren and five great grandchildren.
Jim died of cancer on July 17, 1996. His memory is kept alive by his family and friends. His name has been placed on the Wall of Valor at the 8th Air Force Museum in Savannah, Georgia.