Lead Crew - Mission #298A
06 Jan 1945
Cologne, Germany
Home

About Us

Contact Us

Donate

Newsletters

8th AFHS

Links

FAQ

Facebook

Search
Personnel

Aircraft

Nose Art

B-17 Thunderbird

Ground Support

Uniforms

Journals

More Info
Mission Reports

Combat Crews

Individual Photos

Photos

POW

KIA

MACR

Overseas Graves

TAPS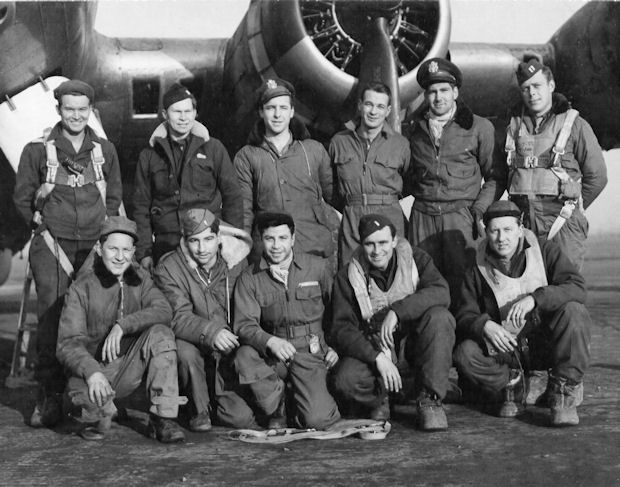 B-17G Sparky #44-8125 (360BS) PFF PU-Y
41st CBW-B Lead (360BS) - Pilot Capt B.C. Fontana / CoPilot 1Lt R.B. Duffield

(Back L-R) S/Sgt Thomas L. Weems (WG), 1Lt Richard B. Duffield (CP),
1Lt Brook H. Lovell (TG/O), 1Lt Gene K. Shipp (N),
1Lt Harold A. Orenstein (GH/N), Capt Bernard C. Fontana (P)

(Front L-R) Sgt Robert A. Peterson (WG), 1Lt James C. Flemmons (B),
T/Sgt Robert N. Perry (E), 1Lt Rufus S. Charlton (M/N), T/Sgt Raymond C. King (R)
Crewmen Comments:

Richard B. Duffield (CP) and Gene K. Shipp (N) were original members of the 360th BS Nelson B. O'Beirne Crew. Lt Duffield was upgraded from CoPilot to Pilot on 16 June 1944.
Richard B. Duffield (CP) and Gene K. Shipp (N) were KIA & James C. Flemmons (B) became a POW - on mission #305, 21 January 1945 to Aschaffenburg, Germany in PFF B-17G #8137 (no name) (360BS) PU-Z. Lead crew, 1Lt R.B. Duffield, Pilot. The left wing of the lead B-17 caught the right wing of B-17G #42-97058. Both aircraft lost their wings and went down. #44-8137 (9 KIA 1 POW), #42-97058 (8 KIA 1 POW)
Mission Comments on a welcomed "Milk Run" mission:
Thirty-nine B-17s were dispatched to bomb a railroad bridge in Cologne, Germany. Bombing by thirty-eight aircraft was by PFF through solid undercast. The G-H equipment went out on the bomb run. Bombing results were unobserved. There was no enemy aircraft opposition. Flak was meager and inaccurate. There were no causalities and no battle damage. Friendly fighter support was good.
[photo courtesy of Warren C. Shipp and Tyler L. Weems - identification by Mark Forlow]