360th O'Beirne Crew
Nelson B. O'Beirne, Pilot
Home

About Us

Contact Us

Donate

Newsletters

8th AFHS

Links

FAQ

Facebook

Search
Personnel

Aircraft

Nose Art

B-17 Thunderbird

Ground Support

Uniforms

Journals

More Info
Mission Reports

Combat Crews

Individual Photos

Photos

POW

KIA

MACR

Overseas Graves

TAPS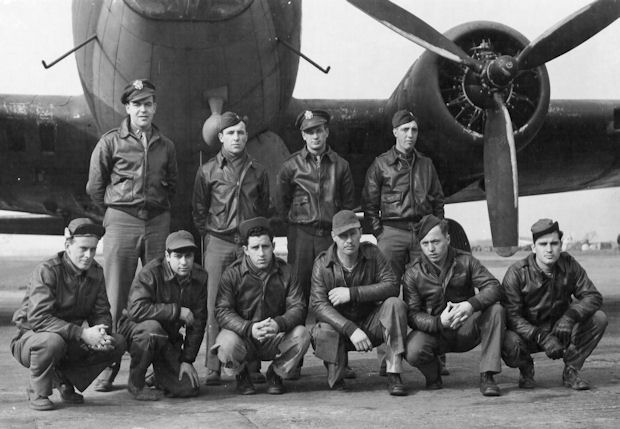 NELSON B. O'BEIRNE CREW - 360th BS
(crew assigned 360BS: 14 Mar 1944 - photo: 25 March 1944)

(Back L-R) Capt Nelson Boyd "Moose" O'Beirne (P)(4),
1Lt Richard B. Duffield (CP-KIA)(1), 1Lt Gene K. Shipp (N-KIA)(1),
2Lt Thomas J. Dello Buono (B)(2)

(Front L-R) Sgt Allo L. Studt (TG), T/Sgt Marvin R. "Mike" Blumberg (R),
S/Sgt Sam S. Faraone (BTG), S/Sgt Francis C. Cammack (LWG),
S/Sgt Winford E. Rogers (RWG), T/Sgt Miles A. Henselman (E)(3)
1Lt Duffield was upgraded from CoPilot to Pilot on 16 June 1944. 1Lt Duffield and 1Lt Shipp (N) were KIA on 21 Jan 45 on mission #305 to Aschaffenburg, Germany in B-17G #44-8137 (no name) 359th BS (BN-Z) (1Lt R.B. Duffield Pilot. 9 KIA and 1 POW)

Bombardier 2Lt Thomas J. Dello Buono was awarded the Distinguished Service Cross Medal for his actions on 13 April 1944 mission #135 to Schweinfurt, Germany in B-17 #42-97546 Idaliza 360th BS (PU-E). Despite being badly wounded by a 20mm shell that exploded on contact with his flak suit, with a shattered plexiglass aircraft nose he returned to his nose guns against attacking enemy fighters and dropped his bombs squarely on the Group's pattern. He refused to leave his post until fighter attacks had ceased and the enemy coast had been passed on the way home. He remained in the USAF after World War II was active in the Strategic Air Command and retired in 1965. He died in Glendale, AZ in 1999.

T/Sgt Henselman, after completing his 303rd BG(H) 35 mission combat tour on 23 June 1944, rotated to the USA. He then returned to England and flew 15 additional missions with the 568 BS/390 BG(H) at Framlingham.

Capt Nelson Boyd "Moose" O'Beirne (P) - Flew 50 combat missions. First mission (#128) on 26 March 1944. Completed a 35 mission tour on 23 June 1944 (Mission #186). Became a Lead Crew Pilot and flew a second combat tour - 1st mission (#256) 14 October 1944, last mission (#330) on 04 March 1945 - 11 as Lead Crew Pilot, two as a Scouter plane Pilot and one flying the Weather ship. After the war he lost 5 children in a house fire and he and his children are buried in Arlington National Cemetery.
Crew Incidents:
Mission #134, 11 April 1944
- Returning from Sorau, Germany in B-17 #42-31340
Miss Liberty
360th BS (PU-D). The tail wheel was not properly checked prior to landing and collapsed when it hit the runway. The aircraft was badly damaged but there were no injuries.
Mission #156, 20 May 1944
- Returning from Orly, France in new B-17G #42-107097
Sweet Melody
360th BS on her 2nd mission. Landed at Bradwell Bay, England with two engines out.
[photo courtesy of Miles A. Henselman]
[Researched by 303rdBGA Historian Harry D. Gobrecht]