427th Wood Crew
Vere A. Wood, Pilot
Home

About Us

Contact Us

Donate

Newsletters

8th AFHS

Links

FAQ

Facebook

Search
Personnel

Aircraft

Nose Art

B-17 Thunderbird

Ground Support

Uniforms

Journals

More Info
Mission Reports

Combat Crews

Individual Photos

Photos

POW

KIA

MACR

Overseas Graves

TAPS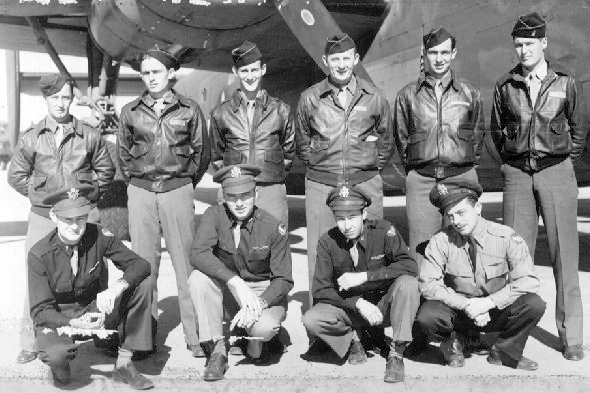 VERE A. WOOD CREW - 427th BS
photo taken in front of a B-24
(crew assigned 427BS: 04 Feb 1944)

(Back L-R) T/Sgt Thomas V. Grant (BT), S/Sgt Winnie R. Brooks (R),
S/Sgt Otto L. Snider (E), S/Sgt John E. Tevis (A/Eng),
Sgt Charles L. Heathershaw (T-WG), Sgt Ed Helton, Jr. (WG)

(Front L-R) 2Lt Vere A. Wood (P), 2Lt Wilmer A. Knutson (CP),
2Lt William S. Pinette (N), 2Lt Thomas G. Brown (B)

[photo courtesy of Claire O'Brien, identification by Charles Heathershaw]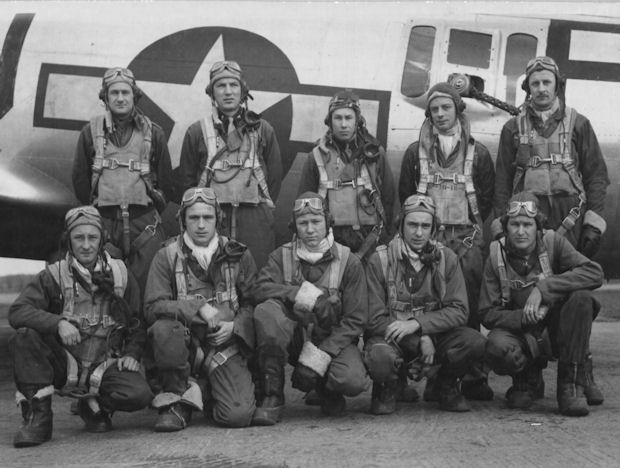 VERE A. WOOD CREW - 427th BS
B-17G Old Crow #42-31200 (GN-V)
(photo: 29 March 1944)
Crew Fatality:
S/Sgt
Ed Helton, Jr.
(WG) KIA - Was flying as the Togglier with the
James H. Fisher Crew
in 427th BS B-17F #42-3158 "Max" (The last 303rd BG(H) B-17F) on mission #144 on 29 April 1944 to Berlin, Germany. The B-17 was hit by flak between the #3 and #4 engines on the trailing edge and was smoking. It then straggled from the formation in the target area and was attacked by German fighters. It was seen to explode in the air and crashed near Hannover, Germany. S/Sgt Helton is buried in the Ardennes American Cemetery, 12 miles southwest of Liege, Belgium in plot C- 18-5. He was flying on his 28th combat mission. The Pilot and Engineer parachuted and became POWs. The other eight crewmen were KIA.
Crew Incident:
25 April 1944 mission #141 to Metz, France in 427th BS B-17G #42-38020 "V-Packet" (GN-L). The B-17 was hit by flak. One engine gave out and Lt Wood was unable to keep up with the formation. Friendly fighters picked up the damaged B-17 and stayed with the crew. The B-17 became low on fuel. With only two engines operating, no flaps and a flat tire, Lt Wood headed for a fighter base at made an emergency two engine wheels-up landing at High Halden, England. Substitute crewmen on this flight were 2Lt Ernest G. Greenwood (CP) [427th McClellan Crew], 2Lt Walter F. Kurnik (N) [427th Harrison Crew], S/Sgt Henry J. Jensen (R) [427th Bohle Crew], S/Sgt Michael Musashe (RWG) [427th Eckhart Crew]. S/Sgt Jensen and S/Sgt Musashe were KIA on mission #144 to Berlin, Germany on 29 April 1944 Flying with Lt H.J. Bohle as pilot in B-17G #42-31241 "Spirit of Wanette" 427BS (GN-W). Sgt Musashe was killed by the flak burst and crashed in the Sea of Smaland, Denmark with the B-17. S/Sgt Jensen bailed out and drowned in the Baltic Sea.
[photo courtesy of Kenneth L. Frazier, grandson of Vere Wood]
[Researched by 303rdBGA Historian Harry D. Gobrecht]