427th Eckhart Crew
Alan Eckhart, Pilot
Home

About Us

Contact Us

Donate

Newsletters

8th AFHS

Links

FAQ

Facebook

Search
Personnel

Aircraft

Nose Art

B-17 Thunderbird

Ground Support

Uniforms

Journals

More Info
Mission Reports

Combat Crews

Individual Photos

Photos

POW

KIA

MACR

Overseas Graves

TAPS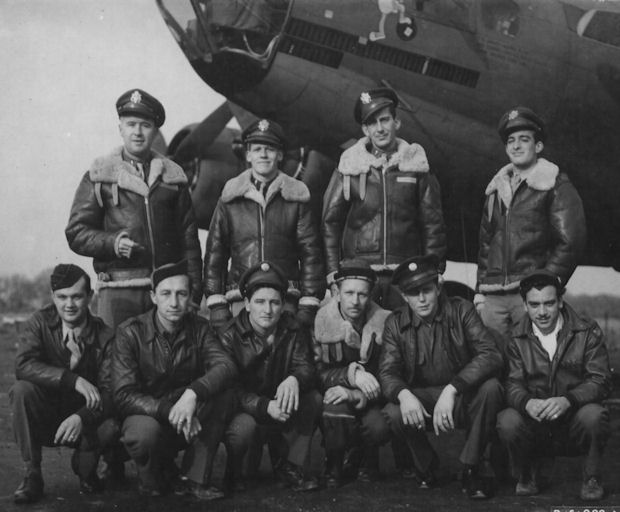 ALAN ECKHART CREW - 427th BS
B-17F #41-24619 S-for-Sugar (427BS) GN-S
(crew assigned 427BS: 30 Oct 1943 - photo: Oct 1943)
(Eckhart was copilot to A.A. Cote, upgraded to pilot 5 Nov 1943)

(Back L-R) 2Lt Edward F. Eccleston (N)(2), 2Lt Robert W. Meagher (B)(3),
2Lt Elton L. Jenkins (CP)(2), 2Lt Alan Eckhart (P)(1)

(Front L-R) Sgt Nyle F. Smith (TG)(3), S/Sgt Edward P. Madak (LWG),
Sgt Michael Musashe (RWG)(4)(6), S/Sgt Fred T. Kuehl (BTG)(2),
Sgt Francis X. Neuner (E)(4), Sgt Angelo L. Tambe (R)(5)
CREW INCIDENT: On 01 Dec 43 mission #85 to Solingen, Germany in B-17G #42-31243 (No name) (427BS) GN-Z. B-17G 42-31243, on its first mission, was ditched in the English Channel at Pegwell Bay, England when the B-17 ran out of gas. The entire 10 man crew was picked by the British Air Sea Rescue and taken to Manston, England. A British recovery team discovered the ditched B-17 in the 1990s in the marshland at Sandwich Flats near Pegwell Bay and were able to collect wreckage that was turned over to the British Brenzett Aeronautical Museum. The 25 mission combat tour of 1Lt Eckhart was completed on 1 Dec 1943. New "Goldfish Club" members were: Lt A. Eckhart (P)(1), Lt E.L. Jenkins (CP), Lt G.L. Arvanites (N)(4), Lt R.W. Meagher (B)(3), T/Sgt F.X. Neuner (E)(4), T/Sgt F.T. Kuehl (R)(2), S/Sgt A.J. Tambe (BTG)(5), Sgt M. Musashe (RWG)(4)(6), S/Sgt E.F. Makak (LWG), Sgt N.F. Smith (TG)(3).
2Lt Alan Eckhart (P) was original CoPilot on the 427th BS Addell A. Cote crew assigned to the 427thBS on 13 April 43. [See Cote Crew photo]. Was upgraded from CoPilot to Pilot on 25 Oct 43. Flew four missions with pick up crewmen #80 - 03 Nov, #81 - 05 Nov, #83 - 26 Nov #85 01 Dec 1943.
Originally member of 427th Lt Ralph E. Whitcomb crew 17 Sept 43
First mission with Lt Eckhart
S/Sgt Michael Musashe (RWG) was KIA on 29 April 1944, mission #144, to Berlin, Germany flying with Lt H.J. Bohle as Pilot. He was killed by a flak burst and crashed with B-17G #42-31241 "Spirit of Wanette" 427BS (GN-W) in the Sea of Smaland, Denmark.
[photo from the 303rd BGA Archives - identification by Mark Forlow]
[Researched by 303rdBGA Historian Harry D. Gobrecht]