360th Tippet Crew
Paul S. Tippet, Pilot
Home

About Us

Contact Us

Donate

Newsletters

8th AFHS

Links

FAQ

Facebook

Search
Personnel

Aircraft

Nose Art

B-17 Thunderbird

Ground Support

Uniforms

Journals

More Info
Mission Reports

Combat Crews

Individual Photos

Photos

POW

KIA

MACR

Overseas Graves

TAPS
PAUL S. TIPPET CREW - 360th BS
(Tippet assigned 360th BS: 29 January 1943)
(Upgraded from TG/O & CoPilot, with 8 different crews, to Pilot: 16 September 1943)
(Back L-R) 1Lt Paul S. Tippet (P)(KIA)(1), 2Lt Edwin E. Mims (N)(KIA)*,
1Lt Bernard Rice (B)(KIA)(2), 2Lt Lewellyn H. Nemitz (CP)(KIA)*, S/Sgt William R. Greason (RWG)(KIA)*
(Front L-R) S/Sgt Jack H. Randall (TG)(KIA)*, T/Sgt Oaks H. Smith (E)(KIA)*, T/Sgt Thomas L. Richardson (R)(KIA)*,
S/Sgt Hugh F. Gibney, Jr. (LWG)(KIA)*, S/Sgt Abraham J. Rasch (BTG)(KIA)*
Not in photo: Sgt Carney C. Rhodes (Photo)(KIA)(3)
(KIA) 2 October 1943, Mission #73 to Emden, Germany in B-17F Yardbird II #42-5260 (360th BS) PU-A. Aircraft was hit by gunfire from two ME-109s immediately after the formation left the target. The ship peeled off, went down out of control, and exploded above the overcast. One parachute was observed coming out of the B-17 before it went out of sight. The B-17 crashed into the the North Sea and all crewmen were killed.
Crew Notes: (*) Were assigned to the Paul S. Tippet Crew on 3 September 1943. Flew three missions with the Tippet Crew #70, 71 & 73, Sept 16 & 23 and 2 October 1943.
1Lt Paul S. Tippett (P). Was assigned 360th BS on 29 January 1943. Flew on twenty-one combat missions. Flew four missions as an Observer with the Capt Jacob W. Fredericks crew and one as Observer with the 1Lt John W. Farrar Crew, one mission with 1Lt George Stallings as Bombardier. He then flew as Copilot with 359th BS Arthur H. Pentz and Jack Roller Crews and as copilot with the Capt Robert W. Cogswell Crew (7 missions) and 1Lt Carl J. Fyler Crew (3 missions). On mission #56, 30 July 1943, flying with the Cogswell Crew, his B-17 ditched in the English Channel. Was upgraded from CoPilot to Pilot on 16 September 1943 and flew his last three missions as a 1st Pilot.
1Lt Bernard Rice (B) - Was assigned to the 360th BS on 5 April 1943 as the Bombardier on the Lt John A. Van Wie Crew. photo. Flew fifteen missions with the Van Wie Crew and became a Lead Crew Bombardier on 24 July 1943. The Van Wie Crew was downed over Hamburg, Germany on 25 July 1943 (4 KIA and 6 POW). Lt Rice then flew seven missions with lead crew until his final mission with Lt Tippet on 2 October 1943.
Sgt Carney Rhodes (Photo). Was assigned to the 360th BS on 21 July 1943. His only combat mission was with Lt Tippet on 2 October 1943

Crew Note:
1Lt
Paul S. Tippet
(P) - Initial 6 missions as a Tail Gunner/Observer - 15 (14 July 1943), 16, 17, 26, 29 (As Bombardier) & 33 with four different Pilots. Became CoPilot for 11 dispatched (10 credited) missions with four crews: 1Lt
Arthur H. Pentz
(359BS) - 43; Capt
Jack Roller
(359BS) - 43A; Lt
Robert W. Cogswell
(P) - 49, 50, 51 (A), 52, 53, 55, 56. The Cogswell Crew ditched in the North Sea and all were rescued on mission #56 on 30 July 1943; Lt
Carl J. Fyler
(P) - 63, 67, 68. Upgraded from CoPilot to Pilot on orders dated 26 September 1943. Flew his last three missions as 1st Pilot with Lt
Lewellyn H. Nemitz
as CoPilot on his only three missions - 70 (16 Sept 1943), 71 (23 Sept 43) and 73 (2 Oct 43). Crew was killed on mission 73.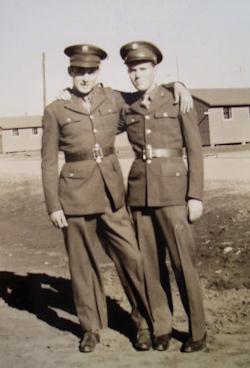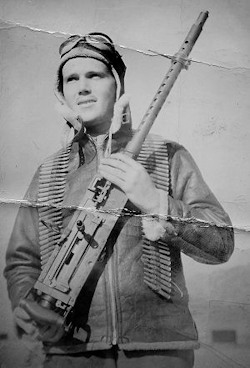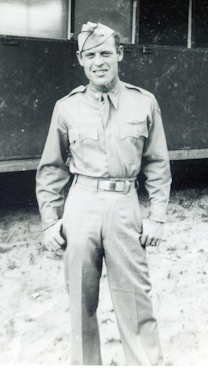 Sgts Gibney and Greason at Fort Bliss, TX — Sgt Greason with a .50 caliber machine gun— 2Lt Mims at Dyersburg, TN
[crew photo courtesy of Col. Walter K. Shayler - Greason and Gibney photos courtesy of Rebecca Greason Hein - Mims photo courtesy of Drew Crossett]
[Researched by 303rdBGA Historian Harry D. Gobrecht]