360th Van Wie Crew
John A. Van Wie, Pilot
Home

About Us

Contact Us

Donate

Newsletters

8th AFHS

Links

FAQ

Facebook

Search
Personnel

Aircraft

Nose Art

B-17 Thunderbird

Ground Support

Uniforms

Journals

More Info
Mission Reports

Combat Crews

Individual Photos

Photos

POW

KIA

MACR

Overseas Graves

TAPS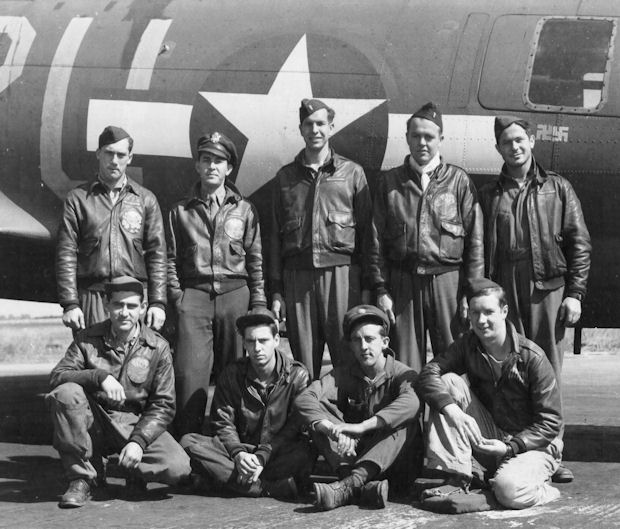 JOHN A. VAN WIE CREW - 360th BS
(crew assigned 360BS: 05 Apr 1943 - photo: 16 July 1943)

(Back L-R) 1Lt Paul Blank (N-POW);
2Lt Bernard Rice (B)(2); 1Lt John A. Van Wie (P-KIA)(1);
2Lt James D. Walsh (CP-POW)(3); T/Sgt Albert Hlebasko (E-KIA)(1)

(Front L-R) S/Sgt Robert C. Bridges (TG-POW)(5A); S/Sgt Eugene L. Morton (BTG-POW/DOW)(5B);
S/Sgt Theodore G. Swanson (RWG-POW/DOW)(5E); T/Sgt Robert W. Noll (R-POW)(5C)


(KIA-POW)
On 25 July 1943 mission #53 to Hamburg, Germany in
B-17F #42-29606 Butch aka Toots (360BS) PU-M
. B-17 lost to enemy fighters. Was on fire and burning from the bomb bay to wing roots and #3 engine. Exploded and crashed near Hamburg, Germany.
Crewmen on 25 July 43 mission (not in photo above):
1Lt Robert L. Taylor (B-POW)(5D) [360th Griffin Crew] replacing regular Bombardier 2Lt Bernard Rice (B)
S/Sgt Benjamin F. Spring (LWG-POW/Repr)(4)
The bodies of 1Lt John A. Van Wie (P) and T/Sgt Albert Hlebasko (E) were found in the wreckage of Butch.
2Lt Bernard Rice, regular Bombardier, KIA on 02 October 43 mission #73 to Emden, Germany with 1Lt Paul S. Tippet crew in B-17 #42-5260 Yardbird II (360BS) PU-A
2Lt James D. Walsh had been upgraded from CoPilot to Pilot on 09 July 43.
S/Sgt Benjamin F. Spring (LWG) was repatriated with severe head trauma on 26 October 1943. He is believed to have been the first 303rd BG(H) POW to have been repatriated from a POW camp hospital.
Wounded Crewmen:

S/Sgt Robert C. Bridges (TG) - Both of his hands and wrists were lacerated when a flak burst under the tail scattered spent shells from his tail guns.
S/Sgt Eugene L. Morton (BTG) - Died in the arms of 2Lt James D. Walsh (CP) in a barn from German fighter inflicted gunshot wounds to his stomach.
T/Sgt Robert L. Noll (R) - unknown wounds
1Lt Robert B. Taylor (B) - Had been previously wounded with facial injuries on the 26 Feb 43 mission to Wilhelmshaven, Germany flying with his regular 360th BS Griffen Crew.
S/Sgt Theodore G. Swanson (RWG) - Died in the hospital from stomach wounds. S/Sgt Bridges was in the bed next to S/Sgt Swanson.
[photo from the 303rdBGA Archives - photo ID and comments courtesy of Robert L. Taylor]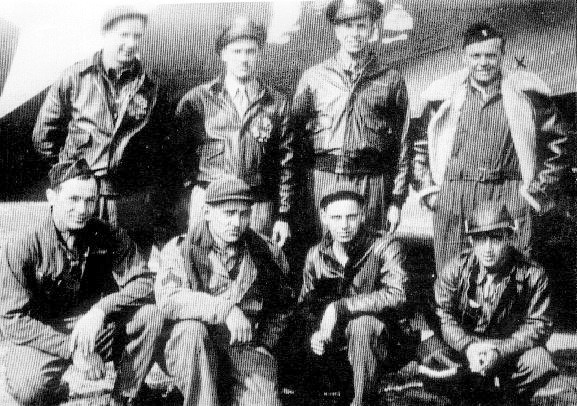 JOHN A. VAN WIE CREW - 360th BS
(photo: February 22, 1943 in Mobile Alabama)

(Back L-R) T/Sgt Robert W. Noll (R), 1Lt Paul Blank (N),
1Lt John A. Van Wie (P), 2Lt James Walsh (CP)

(Front L-R) T/Sgt Albert Hlebasko (E), S/Sgt Robert C. Bridges (TG),
S/Sgt Eugene L. Morton (BTG), S/Sgt Benjamin F. Spring (LWG)

[photo courtesy of Robert L. Taylor]
[Researched by 303rdBGA Historian Harry D. Gobrecht]