360th Juns Crew
Frank Juns, Jr., Pilot
Home

About Us

Contact Us

Donate

Newsletter

8th AFHS

Links

FAQ

Facebook

Search
Personnel

Aircraft

Nose Art

B-17 Thunderbird

Ground Support

Uniforms

Journals

More Info
Mission Reports

Combat Crews

Individual Photos

Photos

POW

KIA

MACR

Overseas Graves

TAPS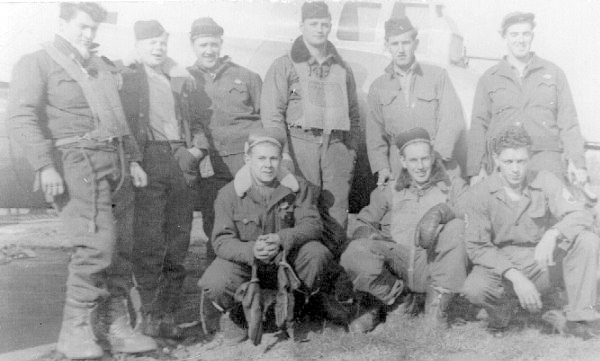 FRANK JUNS, JR. CREW - 360th BS
(crew assigned 360BS: 01 Aug 1944 - photo: Molesworth, date unknown)

(Back L-R) T/Sgt Louis P. Girard (E)(3), 2Lt Edward H. Thomas (B),
Sgt James J. Branin (WG), 2Lt Frank Juns, Jr. (P)(1),
2Lt Warren G. Harding (N), T/Sgt Hiram E. Englis (TG)

(Front L-R) Sgt Eldridge C. Oberly (BT),
2Lt Roland C. Beasley (CP)(2), T/Sgt Maurice H. Wimer (R)
Crew Notes:
Lt Frank Juns, Jr. - Flew with several different CoPilots and crews after Lt Beasley was upgraded from CoPilot to Pilot.
2Lt Roland C. Beasley (CP) - Was upgraded from CoPilot to Pilot on mission #277 (11/26/44) and completed his combat tour as Pilot on 8 missions and as CoPilot on the Capt William E. Jones Crew on his final two missions (#298B - 7 Jan 1945 and #299 - 8 Jan 1945). Most of the Juns enlisted crewmen flew their final missions with Lt Beasley.
Original crew Flight Engineer was T/Sgt Calvin E. Finnell who flew only three missions with the Juns Crew (#228, 229 and 231). T/Sgt Louis P. Girard (originally a replacement Flight Engineer with the Lt Arley L. Atwell Crew, Missions #227, 228,229 and 231) flew his first mission with the Juns crew on mission #234, 30 August 1944 when Lt Atwell was removed from combat flying status after his 14th combat mission. Original Juns crewman Sgt Henry P. Baker (WG) was deleted from the crew when the crew size was changed from 10 to 9 men. Sgt Baker flew no combat missions with the 303rd BG(H).
[photo courtesy of Fate L. Thomas, brother of Edward H. Thomas, Jr.]
[crew identification by Eldridge C. Oberly]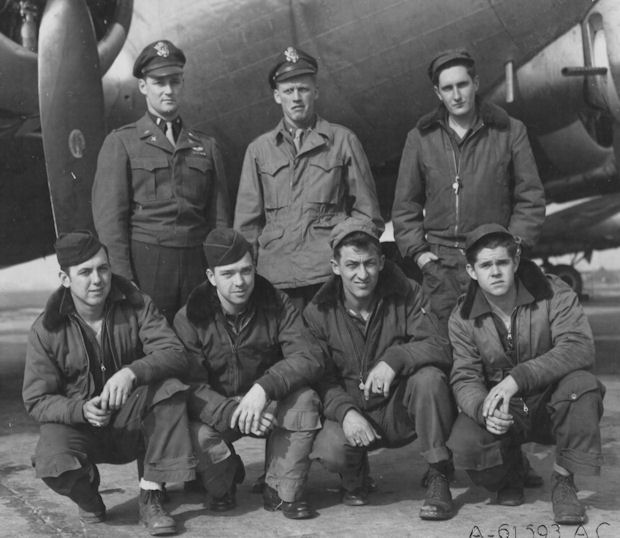 FRANK JUNS, JR. CREW - 360th BS
(crew assigned 360BS: 01 Aug 1944 - photo: 30 Mar 1945)

(Back L-R) 2Lt Frank Juns, Jr. (P),
2Lt Howard C. Lacker (P-KIA), Sgt Louis V. Garbarino (TG-KIA)

(Front L-R) Sgt Robert R. Reynolds (BT-KIA),
S/Sgt Clarence Mooneyham, Jr. (TOG-KIA), T/Sgt Lane Foster (R-KIA),
S/Sgt Francis E. Bratcher (E-KIA)
KIA Crewmen:
All were members of the 360BS
Howard C. Lacker Crew
. Were KIA on 06 April 1945, mission #353 to Leipzig, Germany in B-17G #44-8647 (no name)(360BS) PU-M - 8 KIA. The Lacker crew was involved in a mid-air collision with B-17G #43-38958
Green Hill Belle
(427BS) GN-H - 9 KIA, just before reaching the target. No parachutes were seen leaving either aircraft.
[photo from the 303rdBGA Archives]
[Researched by 303rdBGA Historian Harry D. Gobrecht]