360th Jones Crew
William E. Jones, Pilot
Home

About Us

Contact Us

Donate

Newsletter

8th AFHS

Links

FAQ

Facebook

Search
Personnel

Aircraft

Nose Art

B-17 Thunderbird

Ground Support

Uniforms

Journals

More Info
Mission Reports

Combat Crews

Individual Photos

Photos

POW

KIA

MACR

Overseas Graves

TAPS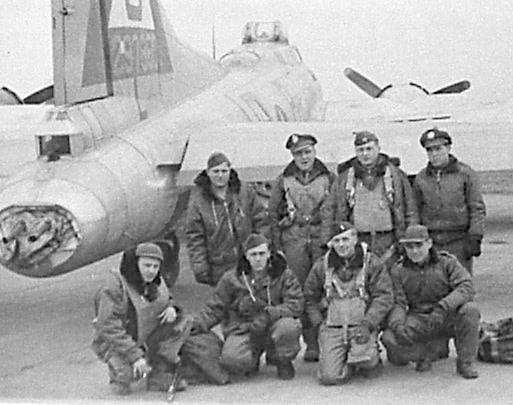 WILLIAM E. JONES CREW - 360th BS
B-17G #42-97860 (no name) (360BS) PU-L
(photo: 06 March 1945)

(Back L-R) unknown, F/O James H. Hardy (CP)(1),
Capt William E. Jones (P), unknown

(Front L-R) unknown, unknown,
1Lt Melvin E Papp (B)(2), T/Sgt Joseph D. Lillis (R)(2)
Photo is believed to be taken following the 06 March 1945 Air Sea Rescue Mission in the North Sea. The crewmen had been missing for three days. Four 360th BS B-17s turned back about two hours after takeoff. Ceiling was very low (400 feet) with rain and fog. The sea was rough and the wind was strong. The search area was not reached and no observations were made.
Additional Crewmen on mission:
1Lt James L. Puryear (N)(2), T/Sgt George F. Bostwick (E)(2),
S/Sgt James H. Gilbert (BT)(2), Sgt Leo F. Wotanis (WG)(2),
Sgt Joseph R. Bausone (WG), Sgt James O. Carter (TG) (2),
1Lt Richard C. Carr (Pass)
Member of the George A. Kyle Crew who were assigned to the 360th BS on 25 November 1944.
Members of the Harold L. Stouse Crew who were assigned to the 360th BS on 27 October 1944.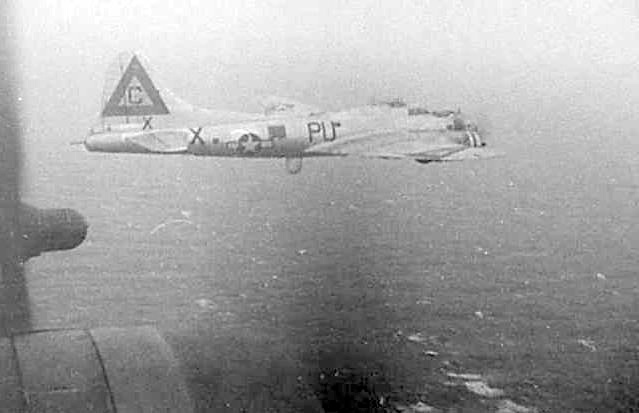 B-17G 44-8552 (no name) 360BS PU-X
Flown by Col William S. Raper, who was leading the Search and Rescue Mission
Twenty-four Combat Missions flown by Capt William E. Jones:
CoPilot missions: With 1Lt William C. Crawford (P) - One mission (250); with 1Lt Frank Juns (P) - Two missions (273, 274); with 2Lt Loy R. Norris - Seven missions (282, 286, 287, 288, 290, 294, 295)
First Pilot combat crew missions: Three missions (296, 298B, 299)
As Lead Crew CoPilot & Pilot: Ten missions (316, 321, 336, 340, 344, 348, 352, 352, 359, 361)
Air Sea Rescue mission Pilot: - One mission (330A)
First mission 3 Oct 1944. Final mission 15 April 1945
For mission dates and targets see the missions list.
Capt William E. Jones was assigned to the 360th BS at Molesworth as a Captain, without a combat crew, on an unknown date sometime prior to October 1944. Never had an assigned crew. Flew ten missions as CoPilot, seven with 2Lt Loy R. Norris as Pilot. 2Lt Norris had been the CoPilot on the Lt Roger L. Kuykendall crew. Capt Jones was then upgraded from CoPilot to Pilot on mission 296, 3 January 1945. Flew on a B-17 Air Sea Rescue mission (330A), with three other B-17s, on 06 March 1945, led by 303rd BG(H) Commanding Officer Colonel William S. Raper. The ASR effort was to search for the crew of a downed aircraft that had been spotted in the North Sea off the coast of Denmark. Capt Jones completed his combat missions as a PFF Lead Crew CoPilot (4 missions) and PFF Lead Crew Pilot (7 missions).
[photos courtesy of William E. Jones, Jr.]
[Researched by Historian Harry D. Gobrecht]