358th Moffat Crew
James Moffat, Pilot
Home

About Us

Contact Us

Donate

Newsletters

8th AFHS

Links

FAQ

Facebook

Search
Personnel

Aircraft

Nose Art

B-17 Thunderbird

Ground Support

Uniforms

Journals

More Info
Mission Reports

Combat Crews

Individual Photos

Photos

POW

KIA

MACR

Overseas Graves

TAPS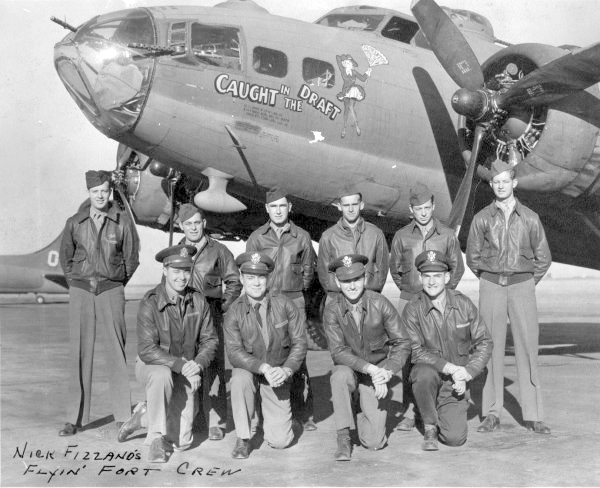 JAMES MOFFAT CREW - 358th BS
(crew assigned 358BS: 20 Jan 1944 - photo: US Training Base)

(Back L-R) S/Sgt Richard E. Rowan (E-POW), Sgt Nicholas J. Fizzani * (TG-POW),
Sgt Wilbur R. Sanders (WG-KIA), Sgt Enos H. Odell (R-KIA),
Sgt Vincent C. Loeffel (BT-KIA), Sgt Jack Slagle (WG-KIA)

(Front L-R) 2Lt James Moffat (P-POW), 2Lt Gayle W. Dearborn (N-KIA),
F/O Paul L. Mazey (B-POW), 2Lt Myron M. Goldman (CP)
* Name later changed to Fizzano)

Three credited combat missions flow by the 2Lt James Moffat Crew:
Mission 109 - 20 Feb 1944 to Leipzig, Ger in B-17F 42-24561 The Duchess (359BS) BN-T
Mission 110 - 21 Feb 1944 to Diepholz, Ger in B-17G 42-38154 (No Name) (358BS) VK-E
Mission 111 - 22 Feb 1944 to Aschersleben, Ger in B-17F 42-5052 Mizpah) (358BS) VK-E
All crewmen listed above except for 2Lt
Myron M. Goldman
(CP) flew on these three missions. Regular crew CoPilot, 2Lt Myron Goldman flew on two missions (105,106) before the 2Lt Moffat Crew's first mission. He was KIA on mission #106, 6 February 1944, to Dijon, France flying as CoPilot on the 1Lt
Julius Bass Crew
in B-17G 42-07498
Padded Cell II
(358BS) VK-J.
CoPilots substituting for 2Lt Myron Goldman on the three 2Lt Moffat crew missions:
Mission 109 - 2Lt James Moffat flew as CoPilot with mission orientation Pilot, 1Lt Joe R. Worthley who was flying on his 13th dispatched mission. 1Lt Worthley was KIA on 24 May 1944 (Mission 159).
Mission 110 - 2Lt James D. Moody - CoPilot on the 1Lt Wendell Z. Ferguson crew on his first combat mission. Was dispatched on 32 additional missions. Completed his combat tour on 19 June 1944 (Mission 185).
Mission 111 - 2Lt Frank G. Pringle (POW) - Mission 111 was his first and only combat mission
(KIA-POW) Mission #111, 22 February 1944 to Aschersleben, Germany:
B-17F #42-5052 Mizpah, piloted by 2Lt James Moffat, was shot down at Garzweyler, Germany. The No. 1 and 2 engines were smoking after passing the flak area. The ship was descending under control when last seen. It crashed near Nordhausen, Germany. 2Lt Gayle W. Dearborn, Sgt Enos H. Odell, Sgt Vincent C. Loeffel, Sgt Wilber R. Sanders and Sgt Jack A. Slagle were all killed. Lt Dearborn, Sgt Odell and Sgt Loeffel are buried in Netherlands American Cemetery, Margraten, Netherlands. Lt. Moffat, 2Lt F.G. Pringle, F/O Paul L. Mazey, S/Sgt Richard E. Rowan and Sgt Nicholas J. Fizzani were captured and became POWs.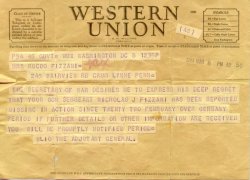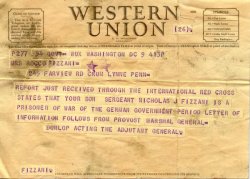 [photos courtesy of Gary Fizzano]