358th Bass Crew
Julius E. Bass, Pilot
Home

About Us

Contact Us

Donate

Newsletters

8th AFHS

Links

FAQ

Facebook

Search
Personnel

Aircraft

Nose Art

B-17 Thunderbird

Ground Support

Uniforms

Journals

More Info
Mission Reports

Combat Crews

Individual Photos

Photos

POW

KIA

MACR

Overseas Graves

TAPS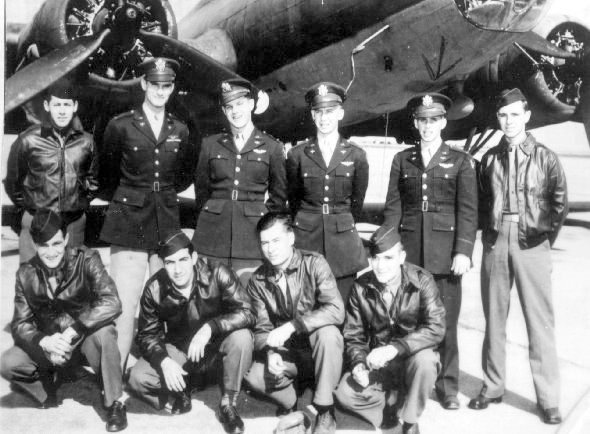 JULIUS E. BASS CREW - 358th BS
(crew assigned 358BS: 14 Nov 1943 - photo: Oct 1943)
(Upgraded from CoPilot, 2Lt Martin L. Clark Crew, to Pilot: 5 Feb 1944)

(Back L-R) S/Sgt Alfonso Quevedo (E-POW), 1Lt Julius E. Bass (P-POW),
2Lt James Burns (CP), 2Lt Matthew S. Zientar (B-POW),
2Lt Milton B. Abernathy (N-POW), S/Sgt James C. Hensley, Jr. (R-POW-ESC)

(Front L-R) Sgt John P. Grsetic (RWG-POW), Sgt Michael J. Canale (LWG-POW),
Sgt Anthony Hendricks (TG), Sgt Harold J. Brown (BT-POW)

[photo courtesy of Julius E. Bass]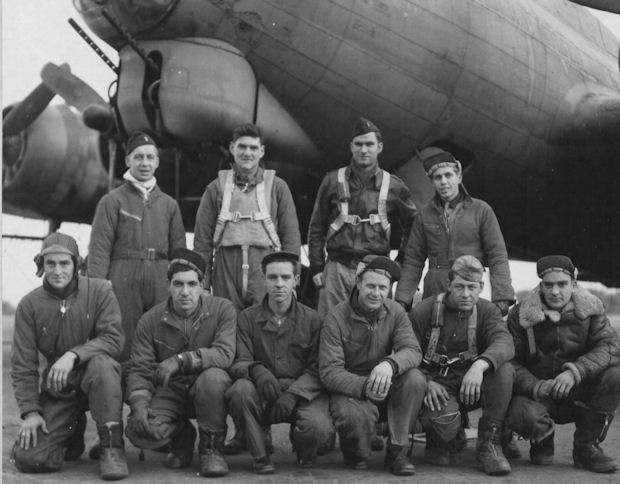 JULIUS E. BASS CREW - 358th BS
B-17G #42-39810 Big "A" Bird VK-E
(photo: 05 Feb 1944)

(Back L-R) 2Lt Matthew S. Zientar (B-POW), 2Lt Myron M. Goldman (CP-KIA),
1Lt Julius E. Bass (P-POW), 2Lt Milton B. Abernathy (N-POW)
(Front L-R) Sgt John P. Grsetic (RWG-POW), Sgt Michael J. Canale (LWG-POW),
S/Sgt James C. Hensley, Jr. (R-POW-ESC), Sgt Cyril J. Dockendorf (TG-POW),
S/Sgt Alfonso Quevedo (E-POW), Sgt Harold J. Brown (BT-POW)

[photo courtesy of Harold J. Brown]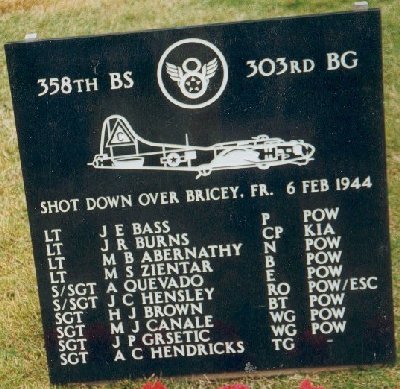 Memorial Plaque in the Mighty Eighth Air Force Heritage Museum, Savannah, GA.
Original Crewmen are shown.
[photo courtesy of Harry D. Gobrecht]
[Researched by 303rdBGA Historian Harry D. Gobrecht]
Crew Notes:
2Lt Julius E. Bass (P) - Assigned as CoPilot on the 2Lt Martin L. Clark crew, 14 Nov 1943. Flew 8 missions as CoPilot. Upgraded from CoPilot to Pilot. Flew two missions as 1st Pilot - #105 on 5 Feb 1944 & #106 on 6 Feb 1944
2Lt Myron M. Goldman (CP-KIA) was a substitute CoPilot on 6 Feb 44 for regular CoPilot 2Lt James R. Burns. Lt Goldman was a new First Pilot flying with the Bass Crew on his combat orientation flight. He died in the stricken B-17. See: James Moffat Crew.
Sgt Cyril J. Dockendorf (TG-POW) was a substitute crewman on 6 Feb 44 for regular Gunner Sgt Anthony Hendricks.
(POW) 6 Feb 44 mission #106 to Dijon, France in B-17 #42-97498 Padded Cell II 358BS (VK-J). Went down with a fire in the cockpit. The B-17 crashed near Bricy, in the Paris, France area. Lt Julius E. Bass suffered from a broken left shoulder and facial bums. Two German Luftwaffe soldiers were waiting for him on his parachute landing. Arguments over custody were made between Luftwaffe men and SS soldiers who soon arrived. Custody remained with the Luftwaffe. One of the Luftwaffe Sergeants, who made the rescue and capture, was friendly and promised to write Lt Bass after the war. Correspondence and a close friendship developed after the war (See: It's a Small World, Charlie Brown). Lt Zientar was hit by exploding plane parts as he exited from the B-17 Lt Abernathy and S/Sgt Quevedo landed in a plowed field and were captured by Luftwaffe Cadets from a nearby airfield. The 20 cadets took their prisoners past the downed B-17 and joined them up with the rest of the crew who had been captured.
Related Web Pages:
"It's a Small World, Charlie Brown"
by Julius E. Bass
It's1300 Hours, Sunday, 06 February 1944
, sixty miles-south of Paris, over Bricey, France and having just sold a brand spanking new B-17G (Burning, I might add) back to the taxpayers; I found myself floating down into the middle of the German airfield . . .
continued . . .