358th McLeod Crew
William S. McLeod, Jr., Pilot
Home

About Us

Contact Us

Donate

Newsletters

8th AFHS

Links

FAQ

Facebook

Search
Personnel

Aircraft

Nose Art

B-17 Thunderbird

Ground Support

Uniforms

Journals

More Info
Mission Reports

Combat Crews

Individual Photos

Photos

POW

KIA

MACR

Overseas Graves

TAPS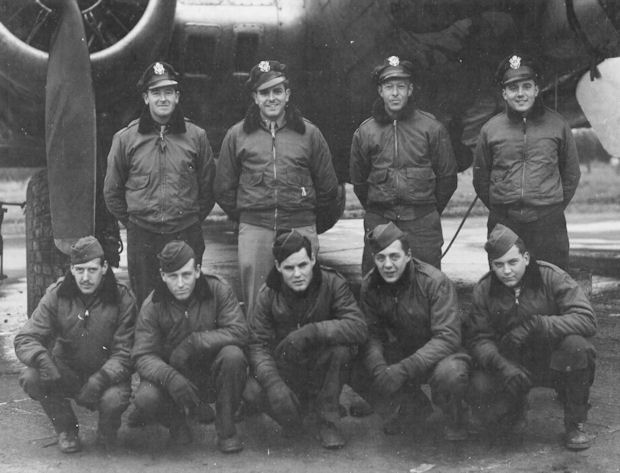 WILLIAM S. McLEOD CREW - 358th BS
B-17G #43-39160 G-for-George (aka Lil Bit)
(crew assigned 358BS: 11 Dec 1944 - photo: 15 Dec 1944)

(Back L-R) 1Lt William S. McLeod, Jr (P)(1), 2Lt Richard A. Elkins, Jr. (CP)(2),
2Lt William S. Hopkins (N)(3), F/O Robert O'Donnell (B)(WIA)(4)

(Front L-R) Sgt William A. Rafferty (WG/TOG)(7), T/Sgt Edgar DeWillers (E)(5),
Sgt William A. Nichols, Jr. (BT)(6), T/Sgt Wayne E. Guenin (R)(5), Sgt Frank Jones (TG)(5)
Crew Notes:
1Lt William S. McLeod, Jr. (P) - Flew his first two missions with combat orientation Pilots - #290 with 1Lt Harry D. Gobrecht, #292 with 1Lt William H. Cox. 1st mission 24 Dec 44 (#290) 36th mission 15 Apr 45 (#352)


2Lt Richard H. Elkins, Jr. (CP) - Flew 35 missions. 1st mission 27 Dec 44 (#291) 35th mission 3 Apr 45 (#350). Two missions with other Pilots (#291 & 315). The McLeod Crew had substitute CoPilots on missions #292,315,322, 351 & 352.


2Lt William S. Hopkins (N) - Flew 32 missions. 1st Mission 29 Dec 44 (#292) 35th mission 03 Apr 45 (#350). One mission with another Pilot (#350) The McLeod Crew had substitute Navigators on six missions #315,316,347,350, 351 & 352.


F/O Robert O'Donnell (B)(WIA) - Flew on seven 303rd BG(H) Missions - (#292,293,294,300,301,335 & 344 with the McLeod Crew), #335 & 334 as a Lead Crew "Mickey" Navigator with other Pilots Flew other unknown Lead Crew missions as a Mickey Navigator with other Bomb Groups. The McLeod crew utilized Toggliers on their other missions.


T/Sgt Edward DeWillers (E), T/Sgt Wayne E. Guenin (R), Sgt Frank Jones (TG) - Flew all of their 35 missions with the McLeod Crew. 1st Mission 29 Dec 44 (#292) - 35th mission 04 Apr 45 (#351)


Sgt William A. Nichols, Jr (BTG) - Flew 35 missions - 1st Mission 29 Dec 1944 (#282) 35th mission 06 Apr 1945 (#353). One missions with another Pilot (#353). McLeod Crew flew with a substitute Ball Turret Gunner on mission #293 & 298A.


Sgt William A. Rafferty (WG/TOG) - Flew 31 credited missions - 1st mission 15 Jan 45 (#302) - 31st mission 9 Apr 45 (#356) - Flew four missions with other Pilots (#327, 354, 355 & 356). First 12 missions flown as a Waist Gunner. When Waist Gunner Crew position was eliminated was made the McLeod Crew Togglier (26 Feb 45 mission #324)
Combat mission B-17Gs flown by the McLeod Crew:
The McLeod's Crew favorite B-17G was #43-39160
G-for-George aka Lil Bit
358th BS (VK-G) in which they flew fifteen credited missions (6 Feb through 12 March 1945). This was the only 303rd BG(H) B-17G that sported white sidewall tires. G for George came to an untimely end on 20 March 1944 when she was lost on a combat mission.
Four named 358th BS B-17Gs were flown, Shasta, Emma, Sky Demon & Henn's Revenge and 427th BS B-17G Sweet Rose O'Grady. Six B-17Gs with no names were also flown.
McLeod Crew Unusual Experiences:
24 December 1944 Mission #290 in B-17G #43-97949 (No name) 358th BS (VK-O) Lt McLeod was flying as CoPilot with the 1Lt Harry D. Gobrecht Crew on his first combat mission orientation flight The Molesworth airfield was covered by fog and low clouds and take off was made by instruments where the wing tip lights could be barely observed. The Fortress broke into clear skies and reached 10,000 feet. The Ball Turret Gunner reported gas fumes and spotted gasoline flowing on the wing's underside. Lt Gobrecht decided to land at Ridgewell, England to have the leak repaired. The #1 engine propeller shaft sheared. The engine was feathered and landing was made on three engines. The crew sat up all night at Ridgewell on hard benches. Lt McLeod commented - "Are all of my combat missions going to be like this?"


31 December 1944 - Mission #294 to Neuss, Germany in B-17G #44-6316 (No name) 358th BS (VK-C). A flak burst just before reaching the target shattered the Plexiglas nose. Bombardier F/O Robert E. O'Donnell, stayed at his bombsight despite the fact that his eyes were painfully wounded with Plexiglas fragments. He insisted on staying at his bombsight and was moved to the radio room for emergency treatment of his wounds after the bombs were released. He was hospitalized after landing at Molesworth. He earned the Distinguished Flying Cross for his courageous mission actions.


07 January 1945 - Mission #303 to Paderborn, Germany in B-17G #44-6006 (No name) 358th BS (VK-D). The mission was aborted at 9,000 feet while the formation was circling to be formed. An oxygen leak effecting the Pilot, Navigator and Engineer was discovered. Lt McLeod hoped to land at Molesworth get a spare aircraft and rejoin the formation. The crew transferred to B-17G #43-38638 took off but was unable to catch the 303rd formation before reaching the Dutch coast. The crew returned to Molesworth. The Squadron Engineering Section submitted a negative report stating that the Oxygen system check satisfactorily. Lt McLeod was ordered to fly an extra mission towards the completion of his required combat tour despite his claim that his action were justified under the in-flight circumstances.
[photo courtesy of William S. McLeod, Jr.]
[Researched by 303rdBGA Historian Harry D. Gobrecht]