358th Gobrecht Crew
Harry D. Gobrecht, Pilot
Home

About Us

Contact Us

Donate

Newsletters

8th AFHS

Links

FAQ

Facebook

Search
Personnel

Aircraft

Nose Art

B-17 Thunderbird

Ground Support

Uniforms

Journals

More Info
Mission Reports

Combat Crews

Individual Photos

Photos

POW

KIA

MACR

Overseas Graves

TAPS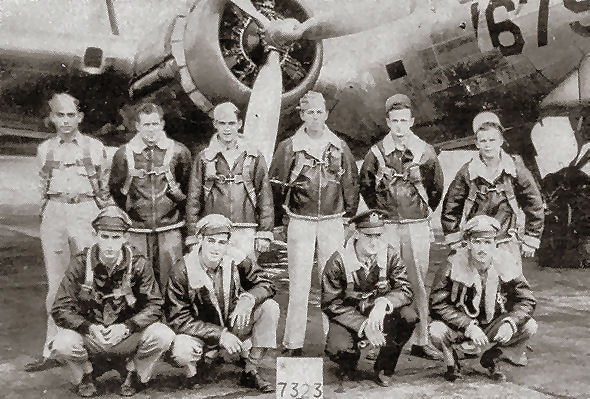 HARRY D. GOBRECHT CREW - 358th BS
(crew assigned 358BS: 12 Nov 1944 - photo: 01 Aug 1944)

(Back L-R) Cpl Lenvil H. Benefield (E), Cpl Edgar H. Quick (R), PFC Gerald S. Hawes (BT)(1),
PFC Thomas G. Mays (WG), PFC Robert J. Miller (WG)(2). PFC Phillip R. Buske (TG)

(Front L-R) 2Lt Harry D. Gobrecht (P), 2Lt Joe M. Eby (CP),
2Lt Walter H. McDonald (N), 2Lt Wesley H. Thompson (B)(3)

Hawes - Removed from crew before departing from USA when crew size was reduced from 10 to 9 men.
Miller - Overseas crew position was changed from WG to Togglier.
Thompson - left the crew just before departing USA. Didn't want to fly combat.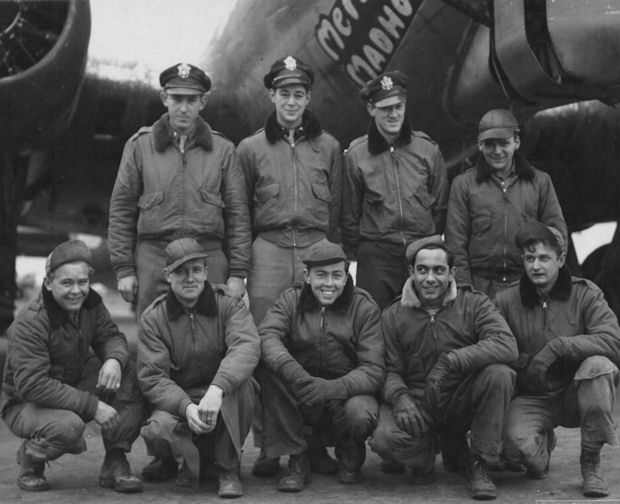 HARRY D. GOBRECHT CREW - 358th BS
B-17G #42-97557 Mercy's Madhouse (358th BS) VK-X
(crew assigned 358BS: 12 Nov 1944 - photo: 01 Dec 1944)

(Back L-R) 1Lt Harry D. Gobrecht (P), 1Lt Joe M. Eby (CP), 2Lt Walter H. McDonald (N),
S/Sgt William H. McGrory, Jr. (BTG)(1)

(Front L-R) Sgt Phillip R. Buske (TG), T/Sgt Edgar H. Quick (R), Sgt Thomas G. Mays (WG)(2),
T/Sgt Lenvil H. Benefield (E), Sgt Robert J. Miller (TOG)


McGrory - Flew two combat tours: 23 Mar 44 to 18 Jun 44, 33 missions with the 323rd BS/91st BG(H) -- 26 Nov 44 to 04 Apr 45, 28 missions with 358th BS/303rd BG. Total of 61 combat missions.
Mays - flew 5 missions as Ball Turret Gunner as a substitute for McGrory.
Gobrecht Crew's Favorite B-17
The Gobrecht Crew flew combat missions in 14 different B-17Gs. Twenty missions were flown in their favorite and lucky
B-17G #43-37590 Neva-The Silver Lady (358th BS) VK-Q
. Crew Chief, M/Sgt
Albert C. Fox
, named this B-17 to honor his wife. It completed 126 combat missions. The Gobrecht Crew was lucky to finish their combat tours without any injuries.
Gobrecht Crew's most memorable combat mission incidents:
04 Dec 44 mission #282 Soest, Germany - Flak hit #4 engine. Forced to depart formation after feathering propeller. Made emergency three engine landing at a recently liberated German fighter field at Florennes/Juxaine. Crew spent the night repairing the engine and refueling from "Jerry" cans. Returned to Molesworth on 05 Dec.
23 Dec 44 - Mission #289 to Ehrang Germany. Lt Gobrecht salvoed bombs while on the bomb run before reaching target. He observed the lead B-17 dropping its bombs while on the bomb run and hit the cockpit bomb salvo switch when Togglier Robert J. Mille did not salvo bombs upon seeing bombs dropping from the lead B-17. After landing Lt Gobrecht was told to report to office of Squadron Commander, Major George T. Mackin - 1st and only face-to face meeting and conversation with the 358th BS Squadron Commander. Was advised that the salvo of bombs was a Pilot error and was not given an opportunity to explain my action. Was ordered to fly 36 missions rather than 35 to complete combat tour.
24 Dec 44 - mission #290 to Merzhausen,Germany - No visibility during taxiing and take-off. Could barely see wing tip lights due to heavy fog. Made instrument take-off. Substitute Co-Pilot was Pilot Lt William S. McLeod on his first mission and combat orientation flight. Propeller shaft sheared on #3 engine while climbing through clouds. Smelled severe gas fumes and observed gasoline flowing on the underside of the wing. The badly vibrating engine was feathered. The mission was aborted when clear weather was reached above 10,000 feet. Flew above clouds for several hours to consume gasoline and searching for an airfield with enough visibility to make a safe landing. Found a break in the clouds and made an emergency three engine landing at the 381st BG(H) airfield at Ridgewell, England with a full load of incendiary bombs. Was the crews most harrowing mission.
13 Jan 45 - mission #301 to Mannheim, Germany - Experienced intense and accurate flak en route to and over target. Some damage to B-17. Exhausted fuel required a landing at a 9th AF fighter field at Merville, France. Refueled and returned to Molesworth on 14 Jan.
22 Jan 45 - mission #306 to Sterkrade, Germany - Target was one of the most heavily defended in Germany. #2 engine was hit and feathered. Electrical system was knocked out. Could not keep up with formation. Flew back to England in and out of clouds to avoid enemy fighters. Lt McDonald located our position through a break in clouds over Holland. Made successful three engine landing at Molesworth. The Crew Chief counted over 100 holes in his B-17 after landing. Lt Gobrecht was awarded a belated DFC (In March 1999) for his actions on this mission.
20 Feb 45 - Mission #318 to Nurnberg, Germany - Anti-aircraft shell crashed through Navigator's table without exploding. Caused an cold draft that iced the nose plexiglas and windshield. Scraped clear a small portion of windshield ice in minus 50 degree temperature to gain enough visibility to maintain position as leader of the low flight in the Squadron formation. Icing continued for over one hour.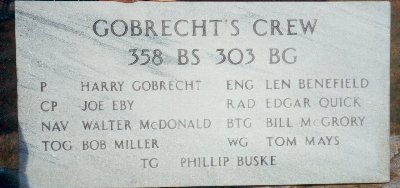 Memorial to Gobrecht's Crew
Mighty Eighth AF Heritage Museum - Savannah, GA
Thirty-six Credited Missions flown by 1Lt Harry D. Gobrecht:
277 (26 Nov 1944), 279, 280, 281, 282, 283, 285, 296, 288, 289, 290(A), 291, 295, 296, 297, 298A, 298B, 301, 303, 306, 309, 311, 312, 313, 314, 317, 318, 319, 321, 322, 326, 327, 329, 331, 332, 334, 335 (12 March 1945)
For Mission dates, targets and Mission Reports, see Combat Missions. (A) Non credited aborted mission.



CREW NOTES
CREWMAN
MISSIONS WITH
OTHER PILOTS
STOOD DOWN
MISSIONS
DATE COMPLETED
COMBAT TOUR
1Lt Harry D. Gobrecht (P)
None
None
12 March 45 (#)
1Lt Joe M. Eby (CP)
277, 290, 321, 350
322, 329, 335
03 April 45
2Lt Walter H. McDonald (N)
312
335(+)
11 March 45
S/Sgt Robert J. Miller (TOG)
277, 322, 330, 338
301, 314, 318
17 March 45
T/Sgt Lenvil H. Benefield (E)
None
335(+)
11 March 45
T/Sgt Edgar H. Quick (R)
None
335(+)
11 March 45
S/Sgt William P. McGrory (BTG)
355, 356
297, 313, 317, 321,
326, 329, 331
09 April 45 (*)
Sgt Thomas G. Mays (WG/BTG)
330
322, 327
12 March 45
Sgt Phillip P. Buske (TG)
None
335(+)
11 March 45
(+) Crewman had completed 35 mission combat tour
(#) 36 credited missions (*) S/Sgt McGrory - 28 missions
GOBRECHT CREWMEN MISSIONS FLOWN WITH OTHER PILOTS
MISSION
NUMBER
DATE
GOBRECHT
CREWMAN
PILOT
FLOWN WITH
GOBRECHT CREW
SUBSTITUTE CREWMAN
277
11/16/44
Eby (CP)
W.J. Mayer
Lt. Raymond B. Gradle
277
11/26/44
Miller (TOG)
W.J. Mayer
Sgt James L. Brown
288
12/19/44
Miller (TOG)
C.J. Goodberlet
2Lt Charles A. Mott (B)
290(A)
12/24/44
Eby (CP)
M.H. Heckendorf
2Lt William H. McLeod
312
02/06/45
McDonald (N)
H.D. Snider
2Lt Rex Chambers
321
02/23/45
Eby (CP)
R.I. Murray
2Lt Joseph Gordon
322
02/24/45
Miller (TOG)
R.D. Greenbaum
None - 8 man crew
330
03/04/45
Mays (WG)
R.D. Greenbaum
No Gobrecht mission
330
03/04/45
Miller (TOG)
R.D. Greenbaum
No Gobrecht mission
338
03/17/45
Miller (TOG)
R.D. Greenbaum
No Gobrecht mission
350
04/03/45
Eby (CP)
E.H. Thornton
No Gobrecht mission
355
04/08/45
McGrory (BTG)
H.E. Nester
No Gobrecht mission
356
04/09/45
McGrory (BTG)
F. Craig
No Gobrecht mission
SUBSTITUTE CREWMEN WHO FLEW ON MISSIONS
WITH THE GOBRECHT CREW
MISSION
* (#)
DATE
SUBSTITUTE CREWMAN
SUB CREWMAN
PILOT
SUB FOR GOBRECHT
CREWMAN
277 (01)
11/26/44
Lt Raymond B. Gradle (CP)
W.J. Mayer
Eby (A)
277 (01)
11/26/44
Sgt James L. Brown (TOG)
W.J. Mayer
Miller (A)
288
12/19/44
2Lt Charles A. Mott (Bom)
C.J. Goodberlet
Miller (Tog)
290 (A)
12/24/44
2Lt William F. McLeod (CP)
W.F. McLeod
Eby (A)
297 (14)
01/05/45
S/Sgt C.W. Houseman (BTG)
W.G. Goering
McGrory (B)
301 (17)
01/13/45
2Lt Charles A. Mott (Bom)
C.J. Goodberlet
Miller (B)
312( 22)
02/06/45
2Lt Rex Chambers (Nav)
J. Milman
McDonald (B)
313 (23)
02/09/45
Sgt Norman Sexton (BTG)
D.R. Walter
McGrory (B)
314 (24)
02/14/45
2Lt George W. Jones (Bom)
A.R. Sims
Miller (B)
317 (25)
02/19/45
Sgt David Garzia, Jr. (BTG)
J.A. Thompson
McGrory (B)
318 (26)
02/10/45
2Lt Charles A. Mott (Bom)
C.J. Goodberlet
Miller (B)
321 (28)
02/23/45
2Lt Joseph Gordon (CP)
A.R. Sims
Eby (A)
322 (29)
02/24/45
2Lt Bob Laubham (CP)
J.W. Woodward
Eby (B)
322 (29)
02/24/45
2Lt Charles A. Mott (Bom)
C.J. Goodberlet
Miller (A)
329 (32)
03/03/45
2Lt Thomas A. Geile (CP)
J. Milman
Eby (B)
335 (36)
03/12/45
2Lt Malcolm J. Magid (CP)
C.J. Goodberlet
Eby (B)
335 (36)
03/12/45
2Lt Edward F. Kuester (Nav)
H.E. Nester
McDonald (C)
335 (36)
03/12/45
S/Sgt J.T. McGreevy (Eng)
J.A. Thompson
Benefield (C)
335 (36)
03/12/45
S/Sgt Stanley Jasut (Rad)
B.F. Walker, Jr
Quick (C)
335 (36)
03/12/45
T/Sgt Robert H. Reece (TG)
Various Crews
Buske (C)
* - 303rd BG(H) mission number (#) 1Lt Gobrecht mission number
(A) Crewman flew with another Pilot (B) Gobrecht crewman stood down
(C) Crewman had completed his 35 mission combat tour
[photos, comments and research courtesy of Harry D. Gobrecht, 303rdBGA Historian Emeritus]