| | | |
| --- | --- | --- |
| | | 1999 Oklahoma City Reunion |
Home

About Us

Contact Us

Donate

Newsletter

8th AFHS

Links

FAQ

Facebook

Search
Personnel

Aircraft

Nose Art

B-17 Thunderbird

Ground Support

Uniforms

Journals

More Info
Mission Reports

Combat Crews

Individual Photos

Photos

POW

KIA

MACR

Overseas Graves

TAPS

OCTOBER 8 - 11, 1999
Come to Oklahoma City
and join your fellow Members of the
303rd Bomb Group Association
, their Family Members and Guests in an exciting celebration of the Association's 16th Annual Reunion. Visit and enjoy the sights of one of the most Outstanding Great Plain Cities.
A WELCOME MESSAGE:
"PLANNING FOR OUR FUTURE - OUR NEXT 303rd BG (H) MISSION"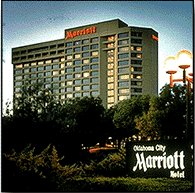 Greetings to all members and friends of our 303rd Bomb Group Association (H) Inc. As President, I am honored to invite each of you to attend our 16th Annual Reunion at the beautiful Marriott Hotel in Oklahoma City, October 8th through 11th, 1999. It was in October 1942, 57 years ago, that the first elements of our untested 303rd Bombardment Group (H) arrived at our Molesworth, England airfield. These original aircrews and ground support personnel were followed by many new personnel who spent the next thirty-two months at Molesworth, compiling a remarkable record of air successes. And our Association has continued this Hell's Angels wartime tradition of excellence by becoming a proud top Eighth Air Force Group Association. Your Board of Directors has declared, unlike some other Eighth Air Force Unit Associations, that the time has not yet arrived to finalize plans for the dissolution of our Association. We remain a strong and active organization. We have plans to better preserve our heritage through new written and internet records that will enable all who served at Molesworth, to trace their personnel wartime activities and records. Please join my wife Barbara and myself, your Reunion hosts Ed and Jill Miller, and your many 303rd BGA Hell's Angels friends at Oklahoma City. Help us to again renew our bonds and have fun. Most important learn how we are planning for our future and how you can contribute to the next 303rd BG (H) mission Goal.
Harry D. Gobrecht, President
OKLAHOMA CITY:
ONE OF THE BEST CITIES TO OBTAIN A GOOD PICTURE
OF THE "GREAT PLAINS AREA"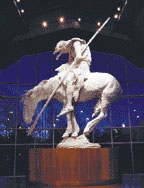 Oklahoma City is the city where the "east" meets the "west" and the old mingles with the new, creating a modem city with a frontier spirit ... the city in the middle of America. This is a city that shows its genuine hospitality. No where in America will you find people who will outwardly demonstrate that they are the most friendly of anywhere you have visited. One hundred and ten years after the historic "Land Run" on April 22, 1899, Oklahoma City has grown from a town of 10,000 people in a single day, to a thriving metropolis, with a population of over one million. It has the only State Capital building that is setting on an oil patch, with pumping wells, day in and day out. No visit to Oklahoma City is complete without a visit to The National Cowboy Hall of Fame and Western Heritage Center to enhance its western flavor. It is supported by 17 western states and is a treasury of western art. Take a trip through the model of the old west, that clearly portrays the manner of living that our early pioneers, their wives, and children experienced. Oklahoma City has one of the most modern medical complexes in the country, situated right across the street from your Marriott Hotel. It has the world's largest stockyards, where more cattle are moved through it in one day, than at Chicago or Kansas City.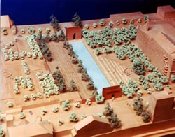 HISTORIC DISTRICTS: Several historic districts can be seen. The Heritage Hills area with its mansions of early day cotton and oil kings. It is OKC's oldest preservation area. See the Overholser Mansion, which was built in the middle of a corn field in 1903. It is now known as the 'Grand Old Lady." You can also see "Church Row" and "Automobile Alley." In the area known as Remington Land, you can visit many of the city's outstanding museums and attractions. Remington Park, the $100 million Thoroughbred Horse Racing Track, with its glass enclosed, climate controlled facility is the finest in the US. By the time we arrive, the Bricktown Canal will have opened. It offers an idle place to visit the old historic district that has been renovated, with over three dozen restaurants. It is OKC's attempt to bring you the Trivoli Gardens of Copenhagen, Denmark. And of course, the site of the Alfred P. Murrah Federal Building bombing, where we lost 165 of our citizens. Now underway is the building of the Monument dedicated to those who died in 1995.
TOURS -While in Oklahoma City, you may wish to depart from the Optional 303rd BGA Tours, and strike out on your own. There are many tours available, either by self-driving, or by using one of the many tour companies in the city. Tourist information is available at the OKC Visitors Bureau, 189 Sheridan. (405) 297-8912 The City Limousine Company at (405) 733-5466 offers 14 passenger van's that can be hired for $40.00 per hour to take a small group of you to different locations around the city. There is a three hour minimum for the use of these vans. By getting at least ten of you in a group, that would mean about $12 per person per trip.
SHOPPING - The city offers several giant shopping malls, with the closest to your hotel being the Penn Square Mail, located at 1901 NW Expressway. It is about two miles east of the Marriott Hotel. For those with automobiles, the newer and larger Quail Springs Mall is located about 10 miles north of the Hotel, at Memorial Road and May Avenue.