Charles J. McClain
Biography
Home

About Us

Contact Us

Donate

Newsletters

8th AFHS

Links

FAQ

Facebook

Search
Personnel

Aircraft

Nose Art

B-17 Thunderbird

Ground Support

Uniforms

Journals

More Info
Mission Reports

Combat Crews

Individual Photos

Photos

POW

KIA

MACR

Overseas Graves

TAPS
Charles J. McClain Biography
359th Harold S. Boslover Crew
359th Noel E. Shoup Crew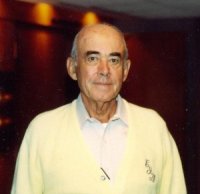 Born 12 September 1919. Entered U.S.Army 13 October 1941 completing basic training in the Corps of Engineers, Ft. Belevoir, VA. Tranferred to U.S. Army Air Corps and was commissioned as a Second Lieutenant on 13 May 1943 after graduation from Bombardier training at San Angelo, Texas. Was assigned to the 359th BS on 28 May 1943 as Bombardier on the Lt Harold S. Bolsover Crew. His first mission was flown on 16 November 1943.
On 28 February 1944, as a First Lieutenant, was shot down on his 13th mission. to Bois Coqueral, France - A "Crossbow" target (German Missle Launching site) in the Pas De Calais area. Three crew members were blown out of his B-17 when it exploded and three other died in the crash of the B-17 near Translay, 13 km SW of Abbeville, France. Was captured by a German squad and three days later escaped. Evaded through France, climbed the Pyrenees Mountains, and returned to Allied control on 6 June 1944 and back to Molesworth on 21 June 1944. The navigator, 2Lt B.F. Clark became a POW. S/Sgt N. Avestos (LWG) also evaded capture and made his return on 17 May 1944.
Was awarded the Silver Star for Gallantry in Action on November 26, 1943 while on a bombing mission to Bremen and a Distinguished Flying Cross on the 20 February 1944 mission to Leipzig, Germany for extraodinary achievment while serving as the 303rd BG(H) Lead Crew Bombardier. See Lead Crew photos for Missions 88, 100 and 109.
In 1945 married Patricia O'Brien of Corona, NY. Completed advanced navigation, radar and bombing training in 1948. Retired as a LtColonel; in USAF in 1968. Has seven children, 11 grandchgildren and resides in Rockledge, FL
Elected to the following 303rd BGA positions: 30 August 1975 - 1st Vice Chairman; 27 August 1977 President; 25 August 1979 - Chairman Board of Directors; 359th BS Representative - 30 September 1989 to 21 September 1991.
Deceased 22 May 2003