Eddie Deerfield
Biography
Home

About Us

Contact Us

Donate

Newsletters

8th AFHS

Links

FAQ

Facebook

Search
Personnel

Aircraft

Nose Art

B-17 Thunderbird

Ground Support

Uniforms

Journals

More Info
Mission Reports

Combat Crews

Individual Photos

Photos

POW

KIA

MACR

Overseas Graves

TAPS
Eddie Deerfield Biography
360th Robert W. Cogswell Crew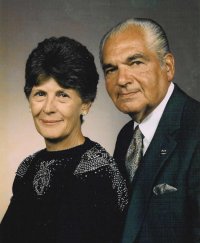 Mary Lee and Eddie Deerfield
Eddie Deerfield
, editor of the
Hell's Angels Newsletter
, author and past president of the 303rd Bomb Group Association, served abroad as a Foreign Service diplomat for more than two decades in the U.S. Information Agency. His assignments were in India, Pakistan, Canada, Malawi, Uganda and Nigeria. He retired in 1988 as Counselor in the U. S. Senior Foreign Service.
He received the USIA Career Achievement Award for promoting a better understanding of the United States among peoples abroad, the USIA Superior Honor Award for establishing an American Center in war-ravaged Uganda after the fall of dictator Idi Amin, and the State Department's Meritorious Honor Award for assisting American news correspondents covering a cyclone disaster which took the lives of an estimated 300,000 persons in East Pakistan.
Eddie enlisted in the U.S. Army Air Corps in 1942 as a Private, and flew 30 combat missions over Europe during World War II as radio operator/gunner on a B-17 Flying Fortress in the 303rd Bomb Group. He survived a crash in the North Sea on his sixth mission, a parachute jump from a flaming B-17 on his 14th mission, a crash landing on his 20th mission and was wounded by flak on his 30th and final mission. He was awarded the Distinguished Flying Cross, the Air Medal with three Oak Leaf Clusters and the Purple Heart. He was discharged in 1945 in the grade of Technical Sergeant.
He was commissioned as 2nd Lieutenant in the U.S. Army Reserve in 1949, and recalled to duty in 1951, serving as detachment commander of a psychological warfare unit based in Pusan, Korea. He was awarded a citation by the Republic of Korea for "aggressive leadership" during the Korean conflict in radio broadcasts beamed to the enemy. He was retired in 1983 as a Lieutenant Colonel.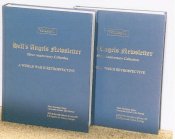 Eddie was editor of the two-volume 1,300-page anthology "Hell's Angels Newsletter Silver Anniversary Collection--A World War II Retrospective," published by the 303rd Bomb Group Association in 2002. A third book in the series, "Hell's Angels Newsletter; The Final Six Years--A World War II Retrospective," was published in 2008.  The books are in more than a hundred university, military, museum and community libraries, in the Library of Congress and in more than a thousand private collections.  His historical novel, "The Psy-Warriors," about a fateful Christmas week in the lives of six U.S. Army reservists in Korea during the 1950-53 war, was published in 1994.
From 1997 to 1999, he was Chairman of the Foreign Service Retirees Association of Florida, the largest state chapter in the country. In 1996, he was elected President of the 303rd Bomb Group Association, and has served as the newsletter editor since 1998. In 1965, he was elected Vice-President of the State of Illinois Chapter of the Reserve Officers Association. In 1958, as a resident of Hoffman Estates, Illinois, he won public election to the community's first Board of Trustees with the highest vote total among eight candidates.
Prior to entering diplomatic service, Eddie was a reporter and bylined columnist at the Chicago Daily Times, news editor at superstation WGN-TV, and vice-president of Theodore R. Sills, Inc., an international public relations corporation.
He attended Northwestern University in Evanston, Illinois, graduating in 1950 with a Bachelor of Science degree in journalism. He was elected to Sigma Delta Chi, the journalism honor society, and Phi Eta Sigma, the freshman academic honor society.
Eddie and his wife, Mary Lee, retired to Rockville, Maryland in 1988 and then to Palm Harbor, Florida in 1991. There are two sons, James in Palatine, Illinois and Richard in Chicago, Illinois. A third son, Scott, passed away in 1996. There are five granddaughters: Donna, Cindy, Tracey, Anastasia and Samantha.
He was born in Omaha, Nebraska, on August 24, 1923.
Elected or appointed to the following 303rd BGA positions: 03 April 1994--Elected Vice President Reunions (1995 Colorado Springs reunion); 17 September 1995--Elected Vice President Administration (Manager 1996 San Francisco reunion) ; 27 August 1996--Elected President (Manager 1997 Pittsburgh reunion); 18 September 1997--Elected Chairman Past President's Committee, followed by three years as member of the Committee; November 1998--Appointed Editor Hell's Angels Newsletter; 11 October 1999--Elected Editor Hell's Angels Newsletter; September 2000--Appointed Editor of Hell's Angels Newsletter Silver Anniversary Collection books; August 2003--Appointed manager 2004 Savannah reunion. August 2005--Appointed manager 2006 San Antonio reunion.  September 2006--Appointed manager 2007 Washington DC reunion.  September 2006--Appointed editor of final book in Hell's Angels Newsletter series.