"Rainbow Corner"
Red Cross Club
Home

About Us

Contact Us

Donate

Newsletters

8th AFHS

Links

FAQ

Facebook

Search
Personnel

Aircraft

Nose Art

B-17 Thunderbird

Ground Support

Uniforms

Journals

More Info
Mission Reports

Combat Crews

Individual Photos

Photos

POW

KIA

MACR

Overseas Graves

TAPS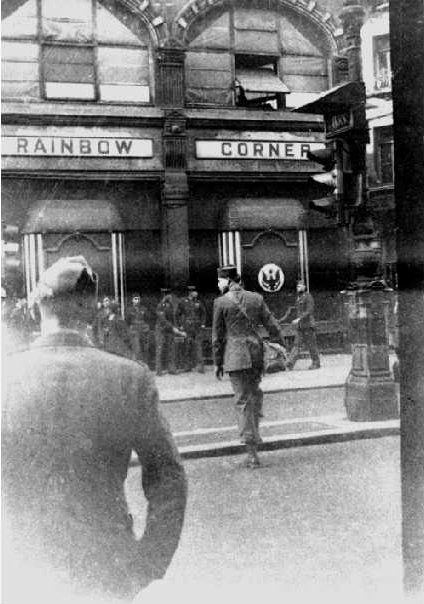 Rainbow Corner Red Cross Club in London - 1945
23 Shaftesbury Avenue, W.I., London
During World War II, Rainbow Corner, the American Red Cross Club near Piccadilly Circus in London, was the most famous in the ETO. For 24 hours a day, every day, it was open to American servicemen from 11 November 1942 to 9 January 1946. In addition to extensive recreation facilities and programs, the club offered excellent food service.
THE GENIAL GHOSTS OF RAINBOW CORNER
By Gwendoline Hollingshead
A delightful reminiscence by an English dance hostess at London's American Red Cross Club, as told exclusively to the Hell's Angels Newsletter

(Hell's Angels Newsletter May 2000, Copyright © Gwendoline Hollingshead, used by permission)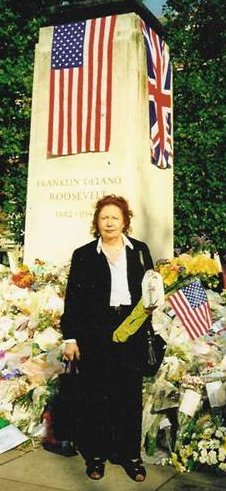 Gwendoline Hollingshead pays her respects to the victims of September 11. The floral tributes surround the base of a monument to Franklin Delano Roosevelt in London's Grosvenor Square.
A girl I used to meet on the tube worked for Rainbow Corner. She asked me if I could dance. I told her I had taken ballroom dancing classes. She asked me if I would be interested in being a hostess at Rainbow Corner. I told her, "yes."
I went for an interview with "Sally" (Mrs. Helen Elting), and was accepted as everyone was carefully vetted. My time would be after I had finished work, in the evenings. She gave me an identity Card which showed I was a valid member.
On my first evening on the dance floor, a G.I. asked me to dance and started jitterbugging, which I couldn't do. Fortunately, I could follow his instructions and picked it up very quickly. I had a good time dancing and talking with all servicemen-Air Corps, Infantry and Navy.
One evening, the crew from an LST, which was in for an overhaul, said they would ask the Captain if he would allow the hostesses to come on board. The Captain agreed, so we were taken on board to have a tour of the ship, and were given a splendid meal, which included ice cream, a special treat.
Another happy day was our "Picnic". We were able to get an open truck filled with straw for our "Hayride". People had to look twice as we drove through war-time London to get to our destination. We had a great time.
We put on a show for our Navy friends. They kindly loaned us some of their uniforms. It was a good laugh, thanks to our organizer Blossom Brown.
A place we liked very much was the basement "Dunker's Den", where coffee and doughnuts were enjoyed by all. "Men Only!"
Fred Astaire's sister Adele (Lady Charles Cavendish) was also there to help the boys. She would write letters to their mothers, wives and sweethearts. A girl with a big heart. So, too, was "Ma" Whittaker, a volunteer who has sewn on over 10,000 stripes. She had a plane named "Lady Irene" after her. Wonder if the plane is still around? She sewed on over 10,000 stripes inserting a lucky farthing coin under the stripes for every boy who flies. Wonder if there are any airmen around who still carry their lucky piece? The boys really loved her.
One might see Irving Berlin, George Raft, James Stewart and many others who came in for a few minutes. Kim Hunter looked terrific. Other important personages who wanted to see how the Red Cross was taking care of the G.I. included General Theodore Roosevelt, General Dwight Eisenhower and many more.
Glenn Miller made his "Eagle Broadcasts" here. On a special occasion, Artie's Shaw's Navy Band, with Sam Donoghue conducting. Sometimes Petula Clark as a youngster sang for us. She is now a star. The joint really rocked.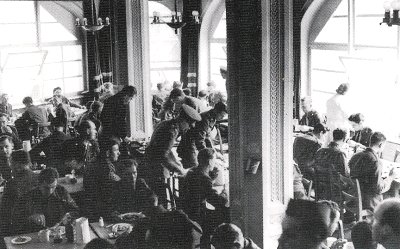 We couldn't have our dances without the help of our great bands to dance to. Just to name a few: The Flying Forts, The Thunder Bolts, The Flying Yanks, Hepcats, Rosato, The Skyliners.
We were always happy to have a break and go to the soda fountain to have a coke. Sometimes I helped there, and was always amazed to see the syrup which came in barrels become a glass of coke, with ice, which we were not accustomed to, and a very welcome relief after all the dancing we did.
However, one day Mrs. Eleanore Roosevelt came to finally close the doors on a great building which had helped so many servicemen and provided them with over 62,000 main meals and over 412,000 snacks. A barber shop, valet service, hot showers, and other amenities.
For a "Special Thank You" we were each given a letter and pin by Mrs. Roosevelt for our time and effort to help, especially when air raids had us rushing down to the basement for safety, as bombs were dropped close by.
I only hope I gave some relief to all the servicemen who came to have an enjoyable evening, to have a dance and chat about their home town and life, before leaving all this behind to venture into the unknown.
"Tex" stationed at Cambridge, and all the airmen in East Anglia, who died. I knew so many boys who went on missions and never returned. This left me with such a sad feeling, as in the main they were really happy-go-lucky guys, and always said how many more missions they had to complete before going home.
The volunteer staff was approximately 379. Total number of hours volunteers worked monthly -- 5,485.
To look at Rainbow Corner in terms of brick and mortar, it is five story building, fairly modern, but over three months of hard work were necessary to convert it for club use. Rainbow Corner is located at the corner of Shaftesbury Avenue and Denman Street, a short distance from Piccadilly Circus. It was a fairly inconspicuous building in peace time, operated as part of a chain of Lyons Corner Houses and the Monico Restaurant, built to accommodate a few thousand people who would leisurely come in, eat and depart.
The "sister" Corner House was a short distance away on Coventry Street, and was extremely popular with men and women, and the window display for wartime was a joy to behold. Many of your readers will have also, no doubt, visited the latter.
On opening day, November 11th, 1942, ten G.I.'s were fished out of one of London's dense fogs and invited to see their new Red Cross Club. On December 5th, 1943, over 70,000 entrances to the building were made on its First Birthday Party -- the largest number to enter its doors on one day. Then came the big finale, V.E. Day. What a wonderful day for us all. So many people in Rainbow Corner! The flag flying on the balcony, and with so many people congregated, it might have collapsed with the weight. There was singing, dancing, we were all kissing each other, joy beyond belief.
Now, the ships and planes which had brought to these shores all these weary men would soon be returning them to their own country, and loved ones.
After the war, the building "Rainbow Corner" was sold for development and is now an office block with nothing on the outside to indicate the important role it had in the war. The "Sister House" in Coventry Street was also sold and is now a restaurant.
Shaftesbury Avenue and Coventry Street will never ring with the excitement it generated. A war, so bad for us all, has left me with poignant memories.
[Rainbow Corner photo by Horace Deane]