Lt Marshall Draper
First 8th AF POW
Home

About Us

Contact Us

Donate

Newsletter

8th AFHS

Links

FAQ

Facebook

Search
Personnel

Aircraft

Nose Art

B-17 Thunderbird

Ground Support

Uniforms

Journals

More Info
Mission Reports

Combat Crews

Individual Photos

Photos

POW

KIA

MACR

Overseas Graves

TAPS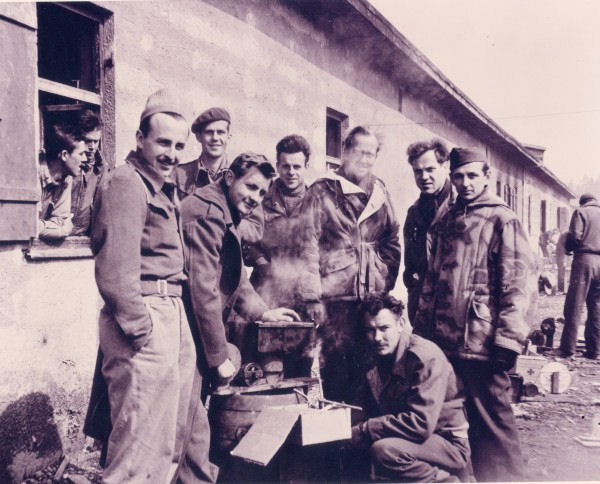 POWs at Stalag VII-A, Moosburg, Bavaria
Lts. Charles Woehrle (2nd from right), Ernie Sands (2nd from left without hat) and Marshall Draper (kneeling). Draper had the unfortunate distinction of being the first 8th Air Force POW.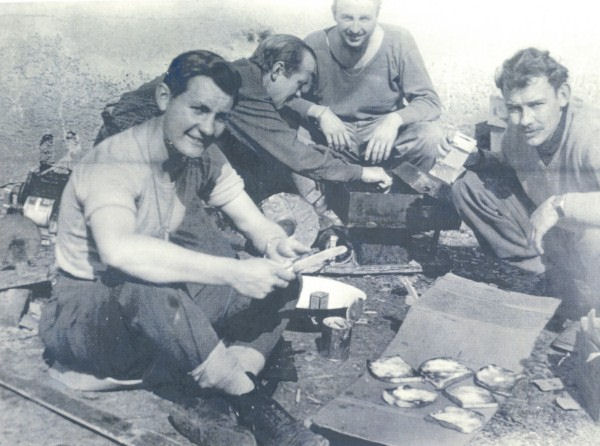 Ernie Sands (L) and Marshall Draper (R)
MOLESWORTH, ENGLAND: Independence Day was selected as the date for the US to enter combat from England. RAF 226 Squadron leaders had judged that most of the 15th Bombardment Squadron (L) crews were ready for war. Six American crews accompanied six 226 Squadron crews, all flying 226 Squadron Bostons. The twelve aircraft were divided into four flights of three aircraft each to bomb four Dutch airfields.
From the Molesworth-based US crews, two crews were assigned to bomb the airfield at De Koog, one crew to Bergen/Alkamaar, one to Haastede, and two to Valkenberg. The flight to hit De Koog was led by an experienced RAF pilot, with CAPT Kegelman flying one wing and 2Lt F.A. Loehrl, the other.
As they neared the target, Lt Loehrl's aircraft was hit by intense enemy anti-aircraft fire and crashed in flames. CAPT Kegelman's aircraft took a direct hit in the right engine, shearing off the propeller and setting the engine on fire. He simultaneously released his bomb load. The lightened Boston surged upward and then down, its right wingtip hitting the ground and ripping off part of the lower fuselage. With full throttle on the left engine, his forward guns silenced a flak tower. Through a combination of skill and luck CAPT Kegelman brought his crew home.
Lt Marshall Draper became the first 8th Air Force POW. Seven other crewmen's lives were lost on 8th Air Force Mission Number 1.
[photos courtesy of Charles Woehrle - taken with a German made camera "liberated" from a German]