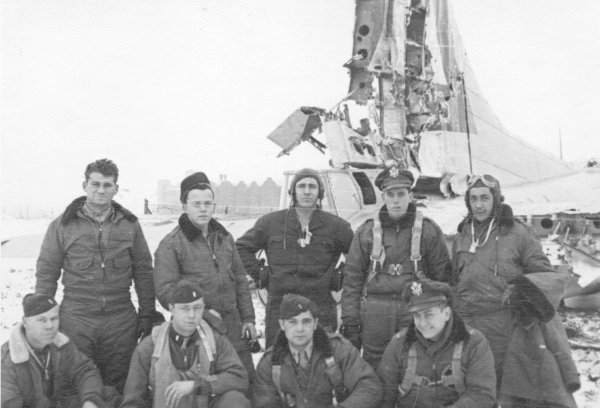 381st BG Crew
(Back L-R)
Sgt. Irvin Schlom (Radio Operator)
Sgt. Richard E. Davis (Right Waist Gunner)
Sgt. William "Pete" C. Sprouse (Tail Gunner)
1st Lt. Earl J. Malerich (GH Navigator)
Sgt. Michael Stohazu (Flight Engineer & Top Turret Operator)
(Front L-R)
Lt. Adrian L. Lemon (PFF Navigator)
1st Lt. Robert J. Roush (Pilot)
Lt. Fred L. Crouse (Co-Pilot)
2Lt Stuart G. Newman (Dead Recogning Navigator)
Missing from photo:
Lt. Hugh W. Treadwell (Bombardier) - taking picture
S/Sgt. Arthur C. Hafner (Left Waist Gunner)
- obtaining medical attention as right leg was blown off by anti-aircraft fire.
Malerich was a 303rd BG Navigator specially trained in GH Navigation.
He and the B-17 were borrowed from the 303rd Bomb Group for this mission.