In their eyes, A thousand skies
Where furling flags of freedom fly
Faces old, the story's told
In lines and creases, within the folds.

A lifetime ago, it must have seemed
So far away, More like a dream,
Or maybe a nightmare if you asked them,
Remembering all, of what has been.

They say to us, 'Why won't we learn'?
from all of history that's been burned
into the pages of countless books,
you'd think we'd take the time to look.
To learn from it, and not repeat
what comes from things so dark and bleak.

Many times, I asked my dad,
So was it, really, all that bad?
Tossing and turning in his sleep
After so many years,
He still won't speak

Of the things he saw and did and said
Memories never far from his head
Or from his heart, or on his mind
The visions that are never kind.

Their warrior souls have now grown old
Holding memoirs, never told.
The things they did to keep us free
To hold on to democracy,
To help the world, to keep us safe
To keep aggression in its' place.

So when we see them on the street,
Shuffling along on tired feet,
Dim eyesight, and ears gone bad,
We whisper softly, 'That's my dad.'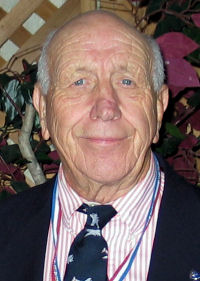 Walt Mayer


To all our dads, who went before,
To keep us from the hell of war.
They can't begin to know the pride,
A hero in our mind and eyes.

So, thank you, for your loyalty
To God, and country, to keep us free.
The worlds a better place, you see,
Because of what you did for me.

Here's to all of the bold brave men
Of the 303rd, both now, ….and then,
For all you've done, and all you are,
May your planes fly high, among the stars.

On that last flight, the final test,
The one you'll make, before you rest,
I hope you know…You are the best!
On wings of eagles, with Angel guides,
Through Heaven's gates, may you arrive.