Lead Crew - Mission #192
25 June 1944 - (High)
Sens/Coulanges, France
Home

About Us

Contact Us

Donate

Newsletters

8th AFHS

Links

FAQ

Facebook

Search
Personnel

Aircraft

Nose Art

B-17 Thunderbird

Ground Support

Uniforms

Journals

More Info
Mission Reports

Combat Crews

Individual Photos

Photos

POW

KIA

MACR

Overseas Graves

TAPS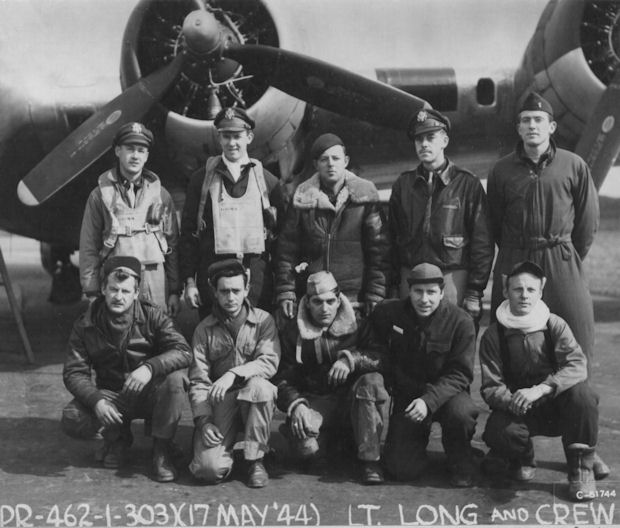 B-17G #42-97187 Miss Umbriago (360BS) PU-I
303rd/379BG Composite High Group - Pilot 1Lt Paul H. Long / CoPilot 2Lt Oscar A. Tellinghuisen

(Back L-R) 2Lt Ona Lawrence Vell (N), 2Lt Oscar A. Tellinghuisen (CP),
Sgt Wesley C. Abbott (WG)*, 2Lt Paul H. Long (P)(ESC)*, 2Lt Theodore D. McDevitt (B)

(Front L-R) S/Sgt John D. Mours (E)(ESC)*, unidentified, S/Sgt Joseph E. Flammia (BTG)*,
S/Sgt Arthur I. Habich (R)*, Sgt Keith R. Olson (TG)(ESC)*

There are 10 men in the photo but only 9 men listed in the crew for this mission.
The mission has this crew listed for an abortive sortie.
* - Crewmen landed in Switzerland on mision #203, 13 July 1944 and were interned.
(ESC) - Escaped from Internment and returned to England in October 1944.
[photo courtesy of Col. Walter K. Shayler - identification by Mark Forlow and Ron Olson, son of Keith R. Olson]