Lead Crew - Mission #172
D-Day 1st Mission
06 June 1944
Caen, France
Home

About Us

Contact Us

Donate

Newsletters

8th AFHS

Links

FAQ

Facebook

Search
Personnel

Aircraft

Nose Art

B-17 Thunderbird

Ground Support

Uniforms

Journals

More Info
Mission Reports

Combat Crews

Individual Photos

Photos

POW

KIA

MACR

Overseas Graves

TAPS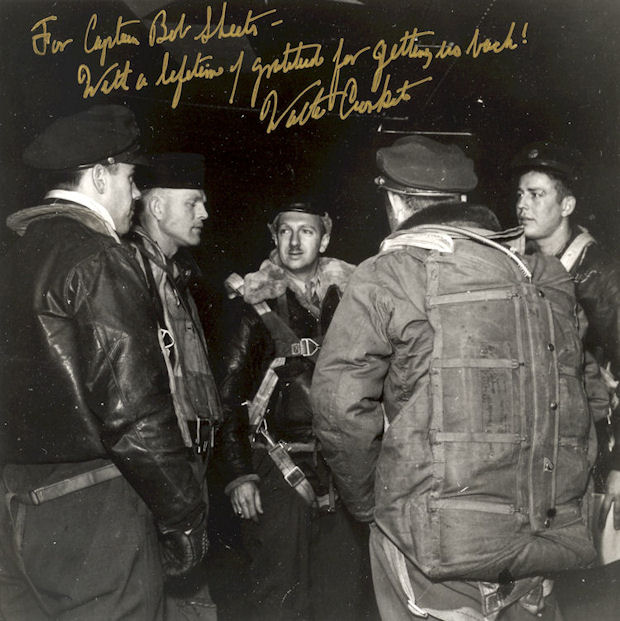 B-17G Shoo Shoo Baby #42-97311 (427BS) GN-O
303rdBG-B Low Lead (427BS) - Pilot Capt Robert W. Sheets / CoPilot 2Lt Darwin D. Sayers

(L-R) 1Lt F.E. Umphress, Jr. (B), Capt Robert W. Sheets (P),
Walter L. Cronkite (United Press), T/Sgt Francis X. Neuner (E)

Lead Crew Members:
Capt Robert W. Sheets (P), 2Lt Darwin D. Sayers (CP),
1Lt Kenneth L. Olsen (N), 1Lt F.E. Umphress, Jr. (B)

T/Sgt Francis X. Neuner (E), S/Sgt Earl J. King (BT), T/Sgt Andrew G. Benevento (R),
Sgt Tom C. Sullens (TG), S/Sgt Leonard C. Smith (LWG),
S/Sgt James F. Donnelly (RWG), Mr. Walter L. Cronkite (United Press)
Mission Note: Briefing was held at an early 0330 hours after crews were awakened at 0200. Colonel Kermit D. Stevens made a simple briefing announcement, "This is D-Day. This is the day we have all been waiting for. Make 'em know it."
LtCol Lewis E. Lyle (DCO 303BG) flew as bombardier in the 303BG-B 359BS high Squadron lead B-17 #42-97058 Scorchy II, 359BS, piloted by Capt. L.E. Daub. Lt. Col. C.M. Taylor (ExO/Ops 8th AF) flew as an observer on this aircraft. 1Lt. John H. Austin, a flight surgeon, flew as a passenger on #42- 97272 Duchess' Daughter, 359BS, piloted by 1Lt. G.R. Sirany. B/Gen F.J. Smith (8th AF) flew as an observer in #42-97405 Mary Cary, 360BS piloted by 1Lt. E.N. Thomas. Mr. Walter Cronkite, news correspondent, flew in #42-97311 Shoo Shoo Baby, 427BS, piloted by Capt. R.W. Sheets.
Flying in support of ground troops in the long-awaited invasion of western Europe, two Groups of 303rd BG(H) Fortresses took off between 0600 and 0622 hours to bomb German communication points on the northern coast of France. Crews returned from the morning mission between 1101 and 1138 hours and had little to say. Expected enemy opposition never materialized over the invasion area — no flak, no enemy fighters and only a few ground-fired rockets that went wide of their mark. A bridge at Caen, important to the enemy's transport system, was the morning target. Thirty-four B-17s took off with two PFF aircraft from the 305th BG. One aircraft in the lead 303BG-A formation returned early due to excessive oil leaking from the No. 1 engine – #42-31739 Pugnacious Peter, 358BS (2Lt. H.P. Bailie). Another B-17 in the 303BG-B also aborted with the failure of the No. 1 propeller governor – #42-38050 Thunderbird, 359BS (1Lt. D.S. Fackler).
Sixteen aircraft of the lead Group dropped 192 500-lb. G.P. and 30 1,000-lb. G.P. bombs on the primary target by PFF. Results could not be observed. The 303BG-B low Group dropped no bombs because the lead ship's Gee box failed over the channel. The PFF "Mickey" equipment became useless due to a disappearance of its sweep arm. Thus, no picture was visible on the screen.
During the mission, crewmen crowded to the bomber windows for a glimpse of invasion activities. They were deeply disappointed because a thick blanket of clouds hung over the Channel. Only an occasional sight of a craft in the water could be glimpsed through breaks in the undercast.
[photo courtesy of Sally Sheets-Wiggins]