| | | |
| --- | --- | --- |
| | | Post-War Molesworth |
Home

About Us

Contact Us

Donate

Newsletters

8th AFHS

Links

FAQ

Facebook

Search
Personnel

Aircraft

Nose Art

B-17 Thunderbird

Ground Support

Uniforms

Journals

More Info
Mission Reports

Combat Crews

Individual Photos

Photos

POW

KIA

MACR

Overseas Graves

TAPS
MOLESWORTH, ENGLAND
Following World War II
[exert from "Might in Flight" Copyright ©1997 Harry D. Gobrecht]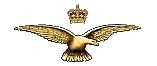 Royal Air Force - 1945 to 1946
01 July 1945 RAF repossessed the Molesworth airfield. Assigned to RAF 12 Group.

16 July 1945 RCAF 441 and 442 Squadrons arrive with their Mustang II and IV fighters
27 July 1945 1335 Conversion Unit came in from Colerne with Meteor IIs. The Unit converted from a piston to a jet Fighter Squadron.
10 Aug 1945 RCAF 441 and 442 Squadrons disbanded. RAF 234 Squadron moves in from Hutton Cranswick.
07 Sept 1945 RAF 19 Squadron moved in with Mustang IVs
March 1946 RAF 19 Squadron replaced Mustangs with Spitfire XVIs
August 1945 RAF 124 Squadron arrived with Meteor IIIs.
06 Oct 1945 RAF 124 Squadron departs Molesworth.
15 Oct 1945 First Meteor accident. Ran out of fuel. Came down two miles from Polebrook.
Late Oct 1945 RAF 223 Squadron arrived from Weston Zoyland to convert to Meteors.
09 Nov 1945 RAF 129 Squadron arrived from Brussels, Belgium with Spitfire IXs.
03 Dec 1945 RAF 129 Squadron departed for Hutton Cranswick.
11 Dec 1945 RAF 222 Squadron left for Exeter.
Mid Feb 1946 RAF 234 Squadron arrived to convert to Meteors.
March 1946 RAF 234 Squadron departed for Boxted.
28 June 1946 RAF 19 Squadron. Replaced their Mustang IVs with Spitfire XVIs

28 June 1946 RAF 19 Squadron departs Molesworth.
September 1946 RAF 54 Squadron arrives with Tempest IIs
October 1946 RAF 54 Squadron departs. Molesworth put on care and maintenance status.
United States Air Force - 1951 to 1957
July 1951 Molesworth station re-opened for the USAF. A long single runway was laid superimposed upon the conventional three runway site.
February 1954 USAF 582nd Air Resupply Group arrives. Brought twelve B-29s, four Grumman SA-16A Amphibians, three C-119s (able to use RATO gear) and a C-47. The primary mission was search and rescue of reconnaissance aircraft forced down in hostile territory Base Commander Colonel Thomas A. Holdman
Mid 1956 USAF 47th Bomb Wing was at Molesworth with a few B-45s while their home base at Alconbury, England had runway repairs. WB-50 weather reconnaissance aircraft. 86th Bomb Squadron and 801st Engineer Aviation Battalion at Molesworth.
25 Oct 1956 USAF 582nd ARG dissolved into 42nd Troop Carrier Squadron (M) directly controlled by USAFE Hq 3rd AF. Aircraft - C-119, C-54, C-47 and SA 16A
31 May 1957 USAF 42nd TCS transferred to Alconbury where they remained until 8 Dec 1957
08 Dec 1957 USAF 42nd TCS de-activated. Molesworth was used as a family housing annex, Defense Reutilization and Marketing Office supply and spare parts storage depot, a reserve airfield and a Defense Mapping Agency site. A few WB-50s made use of Molesworth.
1973 The Molesworth Airbase was closed.
Molesworth Runways Removed
1980 The ARC Eastern Region with the approval of the Ministry of Defense, began a two-year demolition project at the Molesworth airfield. Hardcore runway concrete was used on motor ways and trunk road construction. The debris of crumbling buildings left over from the war years was removed

303rd Tactical Missile Wing - 1981 to 1989
1981-1985 Molesworth was designated as one of Britain's Cruise Missile Bases. Parts of the outside perimeter became the site of a "Peace Camp" for those demonstrating against the missiles to be deployed in 1985.
06 Feb 1985 Defense Secretary Michael Haseltine led a midnight raid to oust the Molesworth base "peaceniks" - Campaign for Nuclear Disarmament squatters. They secured the base with 7 1/2 miles of razor-tipped steel fencing. Three Battalions of 1,500 Royal Engineers, 100 Defense Ministry Police and 600 civilian police descended upon the base. They ousted the protester campers and fenced the entire perimeter of RAF Molesworth in the "Battle of Molesworth".
10 July 1986 Headquarters USAF granted approval to change the numerical designator of the 550th Tactical Missile Wing to the 303rd in honor of Molesworth's illustrious wartime inhabitants.
12 Dec 1986 The 303rd Tactical Missile Wing was activated by MajGen William K. James, 3rd AF Commander. Colonel Kent Harbaugh was given command , It operated out of newly constructed RAF facilities. Responsibilities included the employment of four BGM 109 Ground Launched Cruise Missiles (GLCM) flights within the United Kingdom in support of NATO objectives. The GLCM (pronounced "glick-um") was a mobile ground-to-ground tactical Nuclear missile. Its sophisticated guidance system enabled it to penetrate enemy territory at low altitudes and subsonic speeds. The 303rd TMW was a part of the 3rd Air Force, RAF Mildenhall, England. It reported to Headquarters, United States Air Forces in Europe, Ramstein Air Base, West Germany. A unit of the Royal Air Force Regiment was employed in support of or as integral members of the 303rd Missile Security Squadron. The groups primary task was to provide security for GLCM flights during dispersal and providing security for the GLCM alert and maintenance areas.
23 July 1987 RAF Molesworth was returned to USAF command by the RAF
17 Dec 1987 The 303rd TMW achieved initial operational capability, ahead of schedule. After lengthy Initial Nuclear Surety Testing, by USAF and RAF authorities, the 303rd TMW achieved excellent ratings in all areas and won the best ever ratings of a GLCM Missile Wing.
30 May 1988 The Intermediate Nuclear Forces (INF) Treaty was ratified despite last-minute reservations by members of Congress. The 303rd TMW began looking forward to drawdown and closure. The 1983 deployment of GLCMs in Europe by President Reagan helped force the Soviet Union to the bargaining table, beginning a process that culminated in the INF Treaty between the U.S. and USSR which was signed in December 1987. The INF Treaty eliminated two entire classes of nuclear weapons -- the GLCM and the Ground Launched Ballistic Missile (GLBM), both of which had been deployed in Europe. It was the first time in the history of the Cold War that an entire class of nuclear weapons were eliminated from the U.S. and USSR arsenals.
20 July 1988 Ten Soviet inspectors, per INF treaty conditions, arrived and began their inspection of RAF Mosesworth. The inspection went off without a hitch.
08 Sept 1988 At a Media Day Presentation, 150 of the worlds press corps, including members of the Eastern European press, witnessed the departure of the first two Cruise Missiles. They were taken by road to RAF Alconbury, for return to the USA for destruction. During the next few weeks the 303rd continued the drawdown and return of missiles and warheads to the USA.
31 Jan 1989 The 303rd TMW was deactivated. USAF Security Police and MOD Police still manned Molesworth gates and patrolled her fences.
MOLESWORTH OPENS AGAIN WITH A NEW MISSION
THE JOINT ANALYSIS CENTER

JAC APPROVAL AND ACTIVATION
Approximately a year after the 303rd Tactical Missile Wing left RAF Molesworth the base was assigned a new mission. On 1 September 1989 four individuals arrived at Molesworth bringing with them the whispers of a new intelligence mission.
During the Fall of 1990 and Spring of 1991 the rumblings of a new mission grew louder. After discussions between the British Government, the United States and NATO authorities, the United States European Command decided to develop RAF Molesworth as a new intelligence base. In late Spring of 1991 Prime Minister Margaret Thatcher authorized the formation of a Joint Analysis Center ("JAC") at RAF Molesworth. After additional planning and high level approvals, final approval for the JAC was granted. The JAC was activated at Molesworth on 1 October 1991.
JAC MISSION AND PERSONNEL
The role of the JAC is to process and analyze military information from a variety of sources for the benefit of the United States and NATO. Responsibility consists of eighty-three countries across Europe, Africa and the Middle East. The JAC reports to the Director of Intelligence (J-2), Headquarters, USEUCOM, in Stuttgart-Valhingen, Germany.
The JAC employs over 750 military and civilian employees from the four military services (Air Force, Army, Navy and Marines) and other Government Agencies as well as civilian contractors. The 423rd Air Base Squadron, with approximately 250 employees at Molesworth, provides support services to RAF Molesworth, Alconbury and Upwood.
PRESERVATION OF THE 303RD BOMBARDMENT GROUP (H) HERITAGE
A new JAC Headquarters and Operations Building No. 100 was dedicated on 15 August 1994. It was named the
303rd Bomb Group (Heavy) Memorial Building
also known as the
Might in Flight Building
. A beautiful billboard size sign was placed in front of the building with the 303rd BG(H) and JAC insignias, a 303rd BG(H) B-17 silhouette, the building name plus "Might in Flight 1942-1945." The "Might in Flight" name was approved after being suggested by members of the 303rd BG(H) Association. Attending the dedication ceremony, representing the 303rd BG(H) were:
J. Ford and Betty Kelley
,
Quentin and Virginia Hargrove
,
Harry and Thomas Gobrecht
,
Carlton Smith
,
Eugene Girman
,
Malcolm and Iris Magid
.
15 August 1944 was the fiftieth anniversary of the bombing of the Wiesbaden, Germany airfield that was the subject of artist Keith Ferris' 25 foot by 75 foot mural in oil
Fortresses under Fire
which covers the entire back wall of the World War II Gallery of the Smithsonian Institution's Air and Space Museum in Washington, DC. Keith Ferris attended the ceremony, which included the unveiling of a print of his painting. Two original paintings of the famed British artist Keith Hill were also unveiled. The two paintings,
Molesworth Dawn
and
Might in Flight
were done specifically for the occasion. Original paintings by other British artists have since been added to the building including two by Mike Bailey and one,
The Courage of Eagles
, by Ronald Wong.
Other JAC buildings commemorating the 303rd BG(H) heritage are the
Mathis Headquarters Building
and
Vosler Hall
named in honor of the two 303rd BG(H) Medal of Honor award recipients, and the
Thunderbird Lounge
named after the 303rdBG(H)
B-17G Thunderbird
.
A large red triangle "C" B-17 tail insignia is reproduced on the WWII Molesworth "J" hangar door - one of the few remaining WWII Molesworth structures. The new JAC "Might in Flight" building Conference Room was named the
Major General Lewis E. Lyle Conference Room
after one of the 303rd BG's most distinguished Commanders. The "Might in Flight Building," the "Heritage Room" in building 320 and other RAF Molesworth building proudly display paintings and prints by
Keith Ferris
,
Keith Hill
,
Mike Baily
and
Richard Wong
, as well as prints by other artists, photographs, artifacts and memorabilia of the 303rd BG(H) crews and activities. Numerous wood carvings by
William F. Adams
are also displayed. JAC Commanders and personnel make a continuous effort to preserve the heritage of the 303rd BG(H) and have commissioned some of the paintings and prints that are displayed.
JAC Commanders have been: Colonel (later Major General)
Glen D. Shaffer
, USAF, Colonel
Philip C. Marcum
, USA, Colonel
Frances M. Early
, USAF, Captain
Michael A. Noll
, USN, Captain (later Rear Admiral)
Tony L. Cothron
, USN, Colonel
Richard R. Ayres
, USAF. Colonel
D. J. Reyes
, USA, Colonel
Peter H. Devlin
, USMC
423rd Air Base Squadron Commanders have been: LtCol Evans, LtCol John Howe, USAF, LtCol Carl E. Zimmerman, USAF, LtCol William R. Renfro, USAF LtCol Scott R. Calisti, USAF.
423rd Air Base Group Commanders have been: Colonel Jack L. Jones, USAF, Colonel Robert G. Steele, Jr., USAF, Colonel Jan L. Rosko, USAF, Colonel John J. Jordan, USAF.