303rd BG Original Crew
427th Reber Crew
Ehle H. Reber, Pilot
Home

About Us

Contact Us

Donate

Newsletters

8th AFHS

Links

FAQ

Facebook

Search
Personnel

Aircraft

Nose Art

B-17 Thunderbird

Ground Support

Uniforms

Journals

More Info
Mission Reports

Combat Crews

Individual Photos

Photos

POW

KIA

MACR

Overseas Graves

TAPS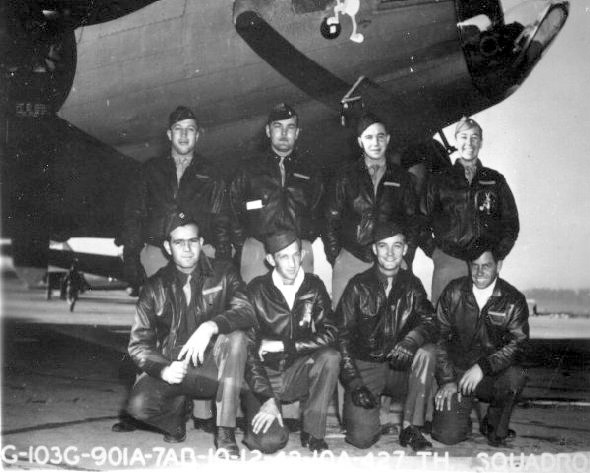 EHLE H. REBER CREW - 427th BS
B-17F #41-24619 S-for-Sugar (427BS) GN-S
(original crew assigned 427BS: 01 May 1942 - photo: 12 Oct 1942)

(Back L-R) 1Lt Ehle H. Reber (P-KIA); 2Lt Allan D. Mitchell (CP-KIA);
2Lt Jarold J. Byrom (N-KIA); 2Lt Robert J. Swindle (B-KIA)(2)

(Front - not in order) T/Sgt Duke L. Hamilton (E-KIA);
S/Sgt Irwin D. Blankenship (BT/R-KIA - 2nd from left);
S/Sgt Darius R. Gray (R)(1); Sgt Victor G. Hand (RWG-KIA - 2nd from right);
Sgt Luther N. Gross (LWG-KIA); T/Sgt Donald A. Nicholson (passenger)
(KIA) On 23 Jan 43 mission #11 to Lorient, France in B-17F #41-24607 Jerry Jinx (427BS) GN-W. Ditched in Bay of Biscay after being downed by German fighters caused by break up of the formation when another Group flew above the 303rd BG(H) on the bomb run. (10 crewmen KIA) Substitute crewmen (not in Photo) on the 23 Jan 43 mission were: S/Sgt D.A. Mayo (BTG-KIA) and Sgt Roger W. Milford (TG-KIA).
Sgt Darius R. Gray, flying as Engineer with the Lt Fort W. Lipe Crew, was seriously wounded on 14 May 1943 mission #35 to Kiel, Germany with a shell through his right thigh. Was not on the 23 Jan 43 mission.
Swindle Field, Walnut Ridge, AR was named in honor of Lt Robert J. Swindle.
-click the images below for the full-sized picture-

Jerry Jinx Crew

"We Made it Again"
by Robert Morris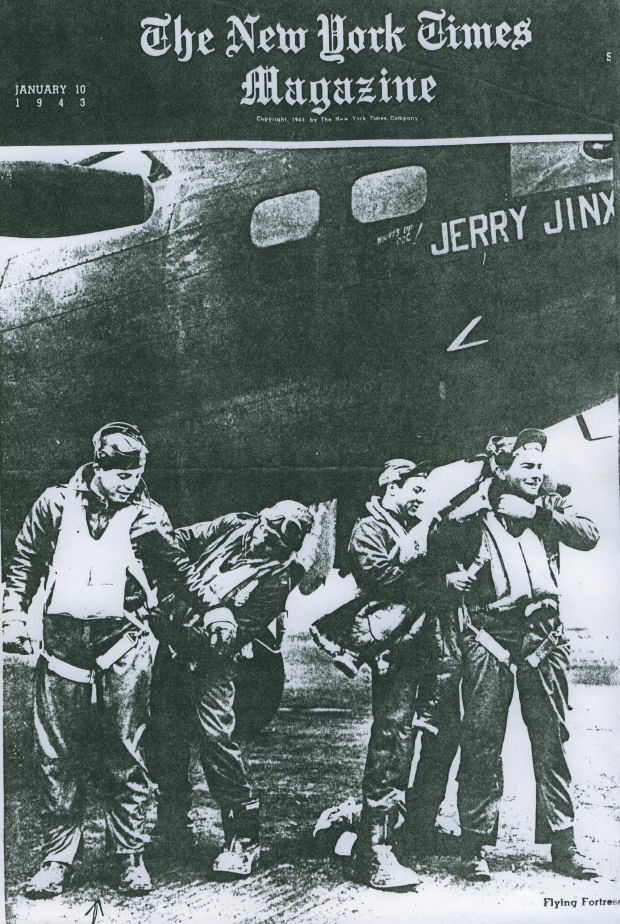 Cover of the New York Times Magazine, 10 January 1943
1Lt Reber is at the far left.
Ehle Reber (pronounced E-Lee) kept a journal up until he was killed. It is the most interesting account of the very early days of the 303rd I have ever read. See this WORD file.
[crew photo from the 303rdBGA Archives - NY Times Magazine cover courtesy of Betty Roby]
[Researched by 303rdBGA Historian Harry D. Gobrecht]