303rd BG Original Crew
427th Hagenbuch Crew
Glenn E. Hagenbuch, Pilot
Home

About Us

Contact Us

Donate

Newsletters

8th AFHS

Links

FAQ

Facebook

Search
Personnel

Aircraft

Nose Art

B-17 Thunderbird

Ground Support

Uniforms

Journals

More Info
Mission Reports

Combat Crews

Individual Photos

Photos

POW

KIA

MACR

Overseas Graves

TAPS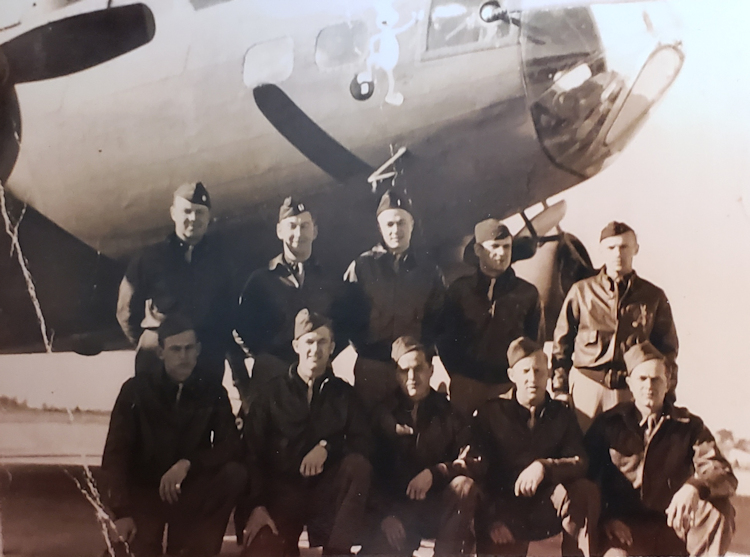 GLENN E. HAGENBUCH CREW- 427th BS
B-17F S for Sugar #41-24619 (GN-S)

Original Hagenbuch Crew - October 1942
(Back L-R) Major Charles C. Sheridan (427th BS Commanding Officer), Captain Glenn E. Hagenbuch (P),
2Lt Robert L. Bostick (CP), 1Lt Walter M. Soha (N), 1Lt Albert W. Dieffenbach (B)

(Front L-R) S/Sgt Charles E. Zipfel (E), S/Sgt Gordon D. Miller (R), Sgt Durward L. Hinds (WG),
Sgt James L. Pennington (BTG), Sgt George W. Henderson (TG)

Bostick was transferred to the 385th BG and flew no missions with the 303rd BG. He was replaced by 2Lt John C. Barker (CP).
(Ranks and grades at time of overseas flight)
| | | |
| --- | --- | --- |
| Capt Hagenbuch (P) | 1Lt Soha (N) | 1Lt Dieffenbach (B) |
| | | | |
| --- | --- | --- | --- |
| S/Sgt Zipfel (E) | S/Sgt Harmon (WG) | Sgt Hinds (WG) | Sgt Henderson (TG) |
GLENN E. HAGENBUCH CREW- 427th BS
B-17F S for Sugar #41-24619 (GN-S)
Twenty-Five combat missions flown by Glenn E. Hagenbuch:
3 (22 Nov 42), 5, 7, 8, 10, 11, 15, 17, 18, 19, 21, 23, 24, 27, 28, 30, 31, 34, 36, 38, 40, 42, 43, 46, 47 (29 June 43). For mission dates and targets see the missions list. All missions, except 5 and 11, were flown as a 427th BS or 303rd BG(H) lead crew. Mission #43 was with the 384th BG(H) in a 381st/384th Task Force to Antwerp, Belgium.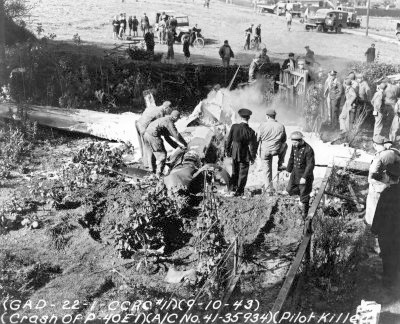 Crashsite of Maj Hagenbuch's P-40 Warhawk -- 9 Oct 1943
Major Glenn E. Hagenbuch:
1st Lt Glenn E. Hagenbuch was assigned as a Pilot in the 427th BS on 01 May 1942, Gowen Field, Boise, Idaho. Assigned a crew in August 1942 at Biggs Field, El Paso, Texas. Was promoted to Captain on 2 September 1942. Was part of the 427th BS Air Echelon and flew B-17F 41-24619
S-for-Sugar
(427BS) GN-S from the USA to Molesworth, England in October 1942. Capt Hagenbuch called his B-17 "good ole 619." A passenger on his overseas flight was Major
Charles C. Sheridan
, 427th BS Commanding Officer. The Bugs Bunny nose art on B-17 41-24619 was later adopted as the 427th BS insignia. On 03 January 1943, mission #9 to St. Nazaire, France the B-17 in which Major Sheridan was flying blew up in mid-air over the target. The entire crew was killed. This was the only instance where a 303rd BG(H) Squadron Commander was killed in Action on a combat mission. Capt Glenn E. Hagenbuch was then appointed 427th BS Commanding officer. He was promoted to Major on 30 March 1943. After completing his 25 mission combat tour on 29 June 1943, Major Hagenbuch was made part of a special mission to North Africa and upon his return to England was transferred to the VIII Bomber Command. Shortly thereafter he was killed while flying a P-40 on a short flight in England. He was awarded the
Silver Star Medal
on 13 May 1943 and an Oak Leaf Cluster to this medal on 26 September 1943.
At 1010 hours, 9 October, 1943, P-40E-CU 41-35934, 8th AFHQ, piloted by Major Glenn E. Hagenbuch, on a flight from Bovingdon, spun into the ground near Whipsnade, Bedfordshire. The aircraft crashed into the front garden of the Land Army Hostel, opposite the Chequers public house. Pilot status Killed on Non-Operational flight. Buried at Brookwood Cemetery, plot K-8-13 but later re-interred in Illinois.
Crew Notes:
The Original Hagenbuch crewmen flew the following number of combat missions with Major Hagenbuch - (All ranks and grades at time of last combat mission): 1Lt
John C. Barker
(CP) - 8, Capt
Walter W. Soha
(N) - 19, Capt
Albert W. Dieffenbach
(B) - 13, T/Sgt
Charles C. Zipfel
(E) - 4, T/Sgt
Gordon D. Miller
(R)(POW) - 4, S/Sgt
James L. Pennington
(BTG)(KIA) - 5, S/Sgt
Edward C. Harmon
(WG & TG) - 16, S/Sgt
Durward L. Hinds
- 6, S/Sgt
George W. Henderson
(TG) - 10. All completed combat tours with the following two exceptions: T/Sgt
Gordon D. Miller
(R)(POW) and S/Sgt
James L. Pennington
(BTG)(KIA) Their B-17 ditched on mission #14 on 4 February 1943, Capt Lloyd R. Cole (P).
[crew photo courtesy of Terry Hirsch, WWII Genealogist]
[Researched by Historian Harry D. Gobrecht]