B-17 Bail Out
Procedures
Home

About Us

Contact Us

Donate

Newsletters

8th AFHS

Links

FAQ

Facebook

Search
Personnel

Aircraft

Nose Art

B-17 Thunderbird

Ground Support

Uniforms

Journals

More Info
Mission Reports

Combat Crews

Individual Photos

Photos

POW

KIA

MACR

Overseas Graves

TAPS
HOW TO BAIL OUT OF THE B-17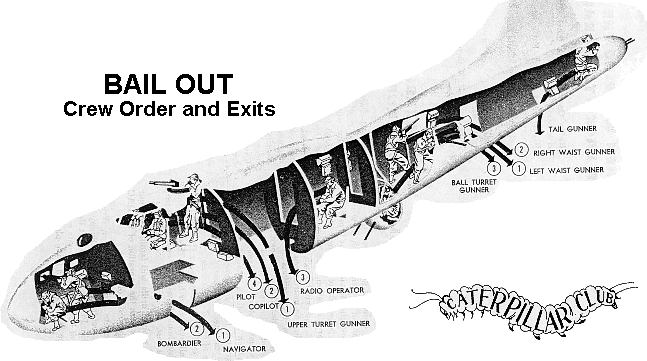 Pilot Training Manual for the Flying Fortress
Published for Headquarters, AAF, Office of Assistant Chief of Air Staff Training
by Headquarters, AAF, Office of Flying Safety (circa 1943-44)
How to Ditch the B-17
When an emergency develops and it becomes necessary to abandon the airplane in flight, there is no time for confusion or second guessing. Procedure of the entire crew in bailing out of the airplane must be almost automatic. Each crew member must know (1) his duties, (2) through what hatch he is supposed to exit, and (3) how to bail out, open his parachute, and land.
As airplane commander, your first responsibility is to be sure that your crew is thoroughly trained, by regular ground drill, in the proper procedure for bailing out of the B-17.
Before taking off on any flight make absolutely sure that:
An assigned parachute, properly fitted to the individual, is aboard the airplane for each person making the flight.
The assigned parachute is convenient to the normal position in the airplane occupied by the person to whom it is assigned.
Each person aboard (particularly if he is a passenger or a new crew member who has not taken part in your regular ground drill) is familiar with bailout signals, bailout procedure, and use of the parachute.
DUTIES OF THE CREW
The Airplane Commander
Notify crew to stand by to abandon ship. The bell signal consists of three short rings on alarm bell. At first alarm all crew members put on parachutes.
Notify crew to abandon ship. Bell signal consists of one long ring on alarm bell.
Check abandoning of airplane by crew members in nose.
Clear bomb bay of tanks and bombs, using emergency release handle.
Turn on autopilot.
Reduce reduce airspeed, if possible. Hold ship level.
Copilot's Duties
Assist airplane commander as directed.
Navigator' Duties
Determine position, if time permits.
Direct radio operator to send distress message, giving all pertinent information.
Stand by emergency exit in nose of airplane.
Bombardier's Duties
Assist navigator.
Stand by emergency exit in nose of airplane.
Engineer's Duties
Assist pilot as directed.
Notify pilot when crew in nose has abandoned the airplane.
Stand by to leave via bomb bay immediately after crew in nose has abandoned airplane.
Radio Operator's Duties
Find exact position from navigator.
Send distress call.
Stand by to leave via bomb bay.
Bail Turret Gunner's Duties
Stand by to leave via main entrance door, or most practical rear exit as occasion demands.
Tail Gunner's Duties
Stand by to leave via tail gunner's emergency exit.