"Clancy's Journal"
by Steven Leahy
Home

About Us

Contact Us

Donate

Newsletter

8th AFHS

Links

FAQ

Facebook

Search
Personnel

Aircraft

Nose Art

B-17 Thunderbird

Ground Support

Uniforms

Journals

More Info
Mission Reports

Combat Crews

Individual Photos

Photos

POW

KIA

MACR

Overseas Graves

TAPS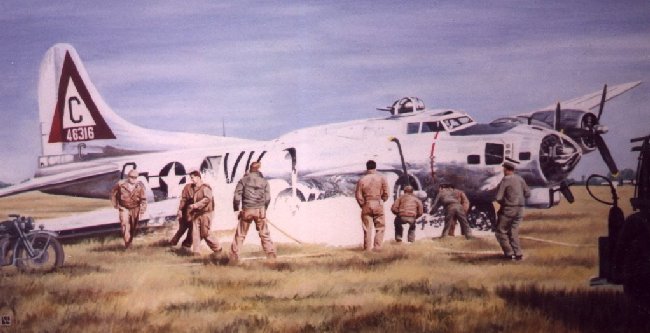 Clancy's Journal
Crash of B-17G #44-6316 358BS (VK-C) - 12 September 1944
Oil 15" x 30" - 2000
by Steven Leahy
Wrapping the K18 cameras in insulation and carefully installing them into the radio room floor of the B-17s before each mission insured invaluable target and damage assessment during World War 2. Once the planes returned the film was quickly developed and sent to HQ. This was the primary mission of the photography technicians of the 303rd Bomb Group. John Howell Clancy of the 358th was one of these men. Only John offered us more. During the war he captured a visual history of life at Molesworth. From the photographic portraits of the brave flight crews, the tenacity and dedication of the ground crews to the light hearted moments with Bob Hope. His photographs always showed us the human element of the war.
This painting is an extension of John's vision; the moments just following the crash landing of 44-6316 after its mission over Brux, Czechoslovakia on September 12, 1944. More than a portrait of a plane, this is an account of her crew. From the pilot and Lieutenant William P. Lay who brought the wounded bomber safely home to the swarm of crewmembers that saved the plane so that it may too, continue its mission. John's photos have inspired me to continue his story and offer this entry into Clancy's Journal.
See the actual photo of the crash here.
[photo and text courtesy of Steven Leahy]