427th Thomas Crew
Blaine E. Thomas, Pilot
Home

About Us

Contact Us

Donate

Newsletters

8th AFHS

Links

FAQ

Facebook

Search
Personnel

Aircraft

Nose Art

B-17 Thunderbird

Ground Support

Uniforms

Journals

More Info
Mission Reports

Combat Crews

Individual Photos

Photos

POW

KIA

MACR

Overseas Graves

TAPS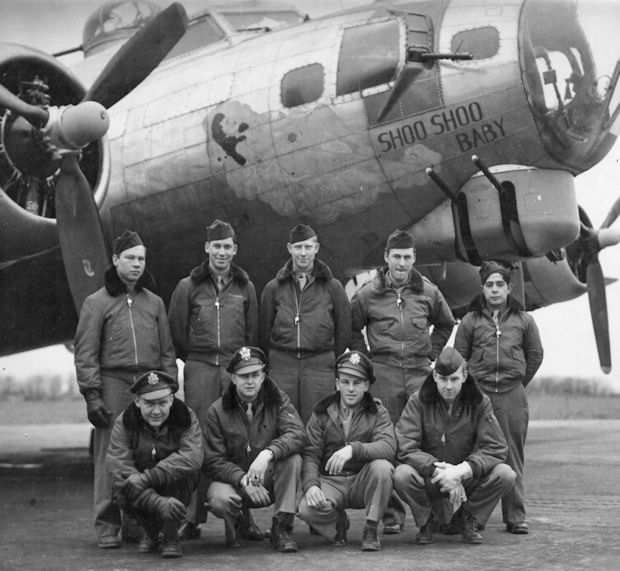 BLAINE E. THOMAS CREW - 427th BS
B-17G #42-97311 Shoo Shoo Baby (427BS) GN-O
(crew assigned 427BS: 28 Feb 1945 - photo: 10 Mar 1945)

(Back L-R) S/Sgt Walter E. Smith (R-POW),
S/Sgt Harry W. Haynes, Jr. (E-POW), Sgt Melvin C. Carlson (TG-KIA)(1),
Sgt Edward G. Eschinger (WG/Tog-KIA)(1), Sgt Louis L. Contreras (BT-POW)(2)

(Front L-R) 2Lt Max R. Bartholomew (CP-POW), 2Lt Blaine E. Thomas (P-POW),
2Lt Roger C. Lee (B), 2Lt Walter L. Lacy (N)
(KIA-POW) - On 17 April 1945 mission #362 to Dresden, Germany in B-17G #42-102544 Sack Time (360BS) PU-K. Was on its 110th mission without aborting. Was hit by flak north of Brux. The #2 engine was smoking and was feathered. Bombs were dropped on the third bomb run and Sack Time crossed the target with the formation. It then slipped off to the left and exploded in the air about three minutes after it started descending. Six parachutes were seen. The B-17 crashed near Dresden. The men in the rear went out the waist hatch. Carlson (TG) went first followed by Smith (R) and Contreras (BT). Other crewmen jumped from the nose hatch.
Sgt Eschinger (Tog) - Was shot in the back by Air Defense Guard Helmut Otto from Halsbrucke after a successful parachute jump. The guard was never punished for the murder.
Sgt Contreras (BT) - Landed separately from the rest of the crew, sought shelter and was captured by angry civilians. He witnessed an unknown airman being shot by the civilians, was beaten, abused and placed in a city jail for four days. He was then turned over to the German military and thence to several POW camps.
[photo courtesy of Robert E. Lee]
[Researched by 303rdBGA Historian Harry D. Gobrecht]