427th Jones Crew
Wilbur H. Jones, Pilot
Home

About Us

Contact Us

Donate

Newsletters

8th AFHS

Links

FAQ

Facebook

Search
Personnel

Aircraft

Nose Art

B-17 Thunderbird

Ground Support

Uniforms

Journals

More Info
Mission Reports

Combat Crews

Individual Photos

Photos

POW

KIA

MACR

Overseas Graves

TAPS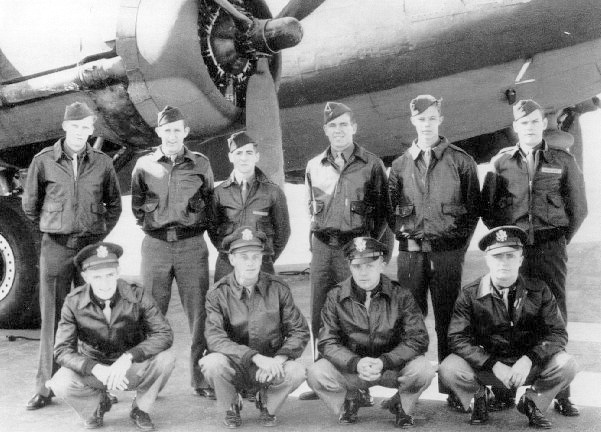 WILBUR H. JONES CREW - 427th BS
(crew assigned 427BS: 19 Feb 1944 - photo: Kearney, NE Jan 1944)

(Back L-R) Sgt William P. Duerr (E)*; Sgt Morris Dimowitz (WG)*;
Sgt Frederick A. Thompson (BT)*; Sgt Albert J. Kosher (R)*;
Sgt Horace S. Kenney, Jr. (TG)(1); Sgt Frederick N. Calnon (WG)*

(Front L-R) 2Lt Wilbur H. Jones (P)(2)*; 2Lt Walstein W. Wallace (CP)(3)*;
2Lt Albert S. Skarsten (N)(4)*; 2Lt William J. Kennedy (B)*
* Completed combat tour and returned to USA
Kenney (TG) Was wounded on his 6th mission, 26 March 1944, with flak wound in his left arm. In 303rd Station Hospital for several weeks, then in Linconshire General Hospital. Returned to the USA by air on 13 June 1944.
Jones (P) Became a Lead Crew Pilot
Wallace (CP) Upgraded from Co Pilot to Pilot on 25 June 1944
Skarsten (N). Participated on the 28 May 1944 "Glide Bomb" mission to Cologne, Germany - B/Gen Robert F. Travis and Major A.C. Strickland Pilots. Completed his combat tour on 28 June 1944. Returned to the USA, via boat, on temporary duty, on 25 July 1944. Returned to Molesworth, via boat, on 30 September 1944 for a second combat tour. Promoted to Captain. Became 427th Squadron Navigator on 01 November 1944 and Assistant 303rd Group Navigator on 16 January 1945. Flew 37 combat missions. Retired as a USAF Colonel on 01 February 1970 after 27 years 7 months service.
[photo courtesy Horace "Hod" S. Kenney, Jr]
[Researched by 303rdBGA Historian Harry D. Gobrecht]