427th Hullar Crew
Robert Hullar, Pilot
Home

About Us

Contact Us

Donate

Newsletters

8th AFHS

Links

FAQ

Facebook

Search
Personnel

Aircraft

Nose Art

B-17 Thunderbird

Ground Support

Uniforms

Journals

More Info
Mission Reports

Combat Crews

Individual Photos

Photos

POW

KIA

MACR

Overseas Graves

TAPS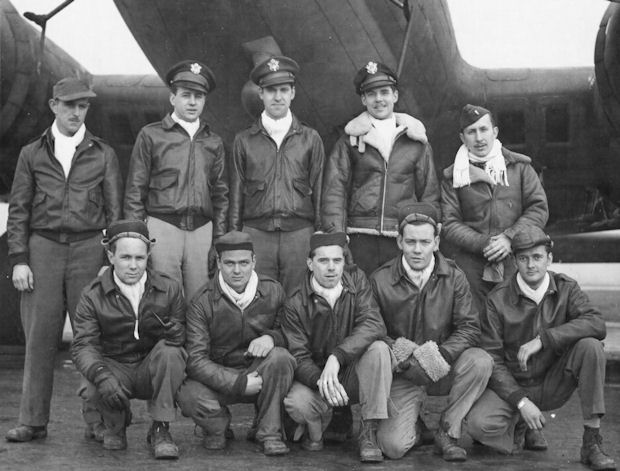 ROBERT HULLAR CREW - 427th BS
(crew assigned 427BS: 06 July 1943 - photo: 7 Dec 1943)

(Back L-R) S/Sgt Charles H. Marson (WG), 1Lt Robert J. Hullar (P),
2Lt Elmer L. Brown (N), 2Lt Wilbur "Bud" Klint (CP), 2Lt James E. McCormick (B)

(Front L-R) S/Sgt Merlin D. Miller (TG), S/Sgt Norman A. Sampson (BTG),
S/Sgt Charles Fullem (LWG), T/Sgt Dale W. Rice (E), T/Sgt George F. Hoyt (R )
CREW INCIDENT: On 06 Sept 43 mission #67 to Stuttgart, Germany in B-17F #42-3002 The Old Squaw (427BS) GN-Z. The target was circled several times which consumed gasoline. Knowing that crashing in France or ditching was probable, the crew threw overboard all non-essential items. After passing the French coast and lagging behind the formation, all guns, ammunition and other items were discarded. The #1 & #2 engines had quit running because of no fuel. The radio operator was busy sending out SOS signals. Soon the #2 engine quit and Lt Hullar ditched his B-17 near a boat he had seen. All men were rescued by an Air-Sea Rescue boat that soon arrived. The crew, with the exception of S/Sgt Marson, who has a ruptured eardrum and a wrenched knee, were transported back to Molesworth.
The crewmen went on to complete their combat tours of 25 missions. Lt Wilbur "Bud" Klint was upgraded from CoPilot to Pilot on 31 Dec 43 [See 427th Klint Crew Photo]
Robert J. Hullar (P) - Completed his 25 mission tour (#59 - 11 Aug 43 to #109 - 20 Feb 44 ) - 6 missions as a Lead Crew Pilot. Returned to combat and flew an additional nine missions as a Lead Crew Pilot (#247 - 27 Sept 44 to #355 - 8 Apr 45) Became 427th BS Operations Officer and later became the 303rd Group Operations Officer. Was promoted to Major. Completed 34 combat missions
James E. McCormick (B) - Flew his first twelve missions with the Hullar Crew (Mission #59 - 16 Aug 43 to #77 - 10 Oct 43). Completed twenty additional missions as a Lead Crew Bombardier (Missions #78 - 14 Oct 43 to #362 - 17 Apr 1945). Became 303rd Group Bombardier in September 1944 and was promoted to Major. Completed 32 Combat missions.
[photo courtesy of Wilbur Bud Klint]
[Researched by 303rdBGA Historian Harry D. Gobrecht]