427th Healy Crew
Richard F. Healy, Pilot
Home

About Us

Contact Us

Donate

Newsletters

8th AFHS

Links

FAQ

Facebook

Search
Personnel

Aircraft

Nose Art

B-17 Thunderbird

Ground Support

Uniforms

Journals

More Info
Mission Reports

Combat Crews

Individual Photos

Photos

POW

KIA

MACR

Overseas Graves

TAPS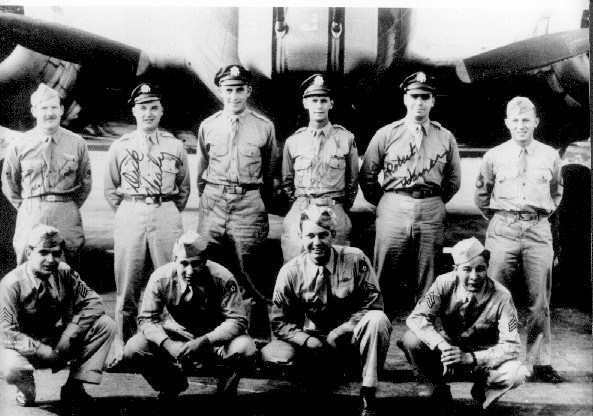 RICHARD F. HEALY CREW - 427th BS
(crew assigned 427BS: 25 July 1944 - photo: Sioux City, IA, May 1944)

(Back L-R) T/Sgt Joseph J. Robertson (E-RTD), Capt Richard F. Healy (P-RTD),
2Lt Ronald R. Smith (CP)(*), 2Lt Norman L. Stuart (N-KIA),
2Lt Robert A. Warner (B)(*), S/Sgt Phillip E. Smith (R-RTD)

(Front L-R) Sgt Maurice Deustch (TG)(*), Sgt Vincent A. DeLiso (WG-POW),
Sgt Zane O. Whitlow (WG)(*), Sgt Raymond T. Leal (BT-POW)
(KIA-POW-RTD) 26 November 1944, mission #247 to Osnabruck, Germany in PFF B-17G #42-97691 (No name) 427th BS (GN-Y) Substitute crewmen on the 26 November 1944 mission:
1Lt Wallace W. Walstein, Jr. (CP-RTD) from Lt Wilbur H. Jones Crew
2Lt William G. Mylan (MN-RTD)-PFF Lead crewman. See Lead Crews missions 298B & 339
1Lt Ramon L. Spooner (N-KIA) f rom Lt John E. Fletcher Crew
1Lt Paul K. Sanderhagen (B-KIA) from Lt Carl L. DuBose, Jr. Crew
(*) Original Lt Healy Crew members who were not on the 26 November 1944 mission: 2Lt Smith (CP), 2Lt Warner (B), Sgt Deustch (TG), Sgt Whitlow (WG)
KIAs - The nose of the PFF B-17 was hit by an 88mm anti-aircraft shell that blew the nose to pieces and killed three men in the nose: 1Lt Stuart (N), 1Lt Spooner (N) and 1Lt Sandhagen (B). 1Lt Sandhagen is buried in the Netherlands American Cemetery at Margraten, Netherlands.
POWs - Capt Healy gave the bail-out order shortly after the B-17 was hit and damaged. Crewmen in the rear of the B-17 could not see forward since the radio compartment door was closed. Sgt DeLiso questioned the bail-out order but it was reaffirmed by Capt Healy. S/Sgt Leal (WG) and Sgt DeLiso (TG) then bailed out. Sgt Leal was captured by German S.S. Troops who beat him with their rifle butts and fractured most of the bones in his face. Sgt's DeLiso and Leal were imprisoned in Stalag Luft IV in Poland. They were on the 87 day march across Northern Germany (5 Feb to 8 May 1945) and were liberated by the 2nd Canadian Infantry Division.
RTDs - Capt Healy expertly landed his heavily battered and smoking B-17 with a dangling main landing gear at an advanced P-47 base near Volkel, Holland making a straight-in wheels-up landing. They were first waved off but when Capt Healy made it apparant that he was coming in there was a frenzied exedus of the ground personnel. There were no injuries on the landing and surviving crewmen were returned to Molesworth. The five returning crewmen were: Capt Healy (P), 1Lt Walstein (CP, 2Lt Mylan (N), T/Sgt Robertson (E) and T/Sgt Smith (R). Capt Healy later related that "if he hadn't been so damned cold, he'd have enjoyed the sight of scaring the "bejesas" out of the fighter base "Peashooter" personnel.


[photo and comments courtesy of Raymond T. Leal]
[Researched by 303rdBGA Historian Harry D. Gobrecht]