427th Carothers Crew
John W. Carothers, Pilot
Home

About Us

Contact Us

Donate

Newsletters

8th AFHS

Links

FAQ

Facebook

Search
Personnel

Aircraft

Nose Art

B-17 Thunderbird

Ground Support

Uniforms

Journals

More Info
Mission Reports

Combat Crews

Individual Photos

Photos

POW

KIA

MACR

Overseas Graves

TAPS

JOHN W. CAROTHERS CREW - 427th BS
(Assigned 427BS: 16 November 1943)

Lt John W. Carothers (P)(KIA), Lt Charles E. Frost (CP)(KIA),
Lt Arthur Linnehan (N)(POW), Lt Howard W. Barriscale (B)(POW)

S/Sgt Harvey E. Scott (E)(POW), S/Sgt George S. Rajcula (R)(KIA),
Sgt Robert T. Peavy (BTG)(KIA), Sgt Francis J. Morneau (LWG)(KIA),
T/Sgt Wiley A. Rogers (RWG)(KIA), Sgt Roland R. Ziegler (TG)(KIA)
Five combat missions flown by the Carothers crew:
90 (20 Dec 1943), 92 (Spare),93, 97, 98 (11 Jan 1944)
(Spare) Spare B-17 - returned to Molesworth - Non-credit mission
For mission dates and targets see the missions lists.
Crew Note:
Crewmen flew on all of the Carothers crew missions with the following exceptions, where substitute crewmen were used:
CoPilot - Lt Frost did not fly on mission #90
Right Waist Gunner - T/Sgt Rogers did not fly on mission #92
Sgt Robert T. Peavy (KIA)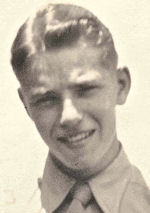 Last Mission:
Mission #98, 11 January 1944 to Oschersleben, Germany in B-17F #42-3131
Flak Wolf
aka
Winnie the Pooh
(427BS) GN-U. B-17 crashed at Kloster Oesede just south of Osnabruck, Germany. Was one of eleven B-17s and crews lost on this mission led by B/Gen
Robert F. Travis
. A mission recall order was issued when weather started closing in over English airfields. B/Gen Travis claimed that he never received the recall order. P-47s who were to provide mission withdrawal support obeyed the recall order and left the bombers to fend for themselves. Eleven 303rd BG(H) B-17s were lost when attacked by numerous German fighters. This was the greatest loss suffered by the 303rd BG(H) on any of its combat missions. The 1st Division lost 42 B-17s and 430 crewmen. Three of the Lt Carothers crewmen became POWs the other seven crewmen were KIA. Lt Carothers (P) and Sgt Morneau (RWG) are buried in the Netherlands American Cemetery at Margraten, Netherlands.
[Researched by Historian Harry D. Gobrecht]