427th Alex Crew
Alexander Alex, Pilot
Home

About Us

Contact Us

Donate

Newsletters

8th AFHS

Links

FAQ

Facebook

Search
Personnel

Aircraft

Nose Art

B-17 Thunderbird

Ground Support

Uniforms

Journals

More Info
Mission Reports

Combat Crews

Individual Photos

Photos

POW

KIA

MACR

Overseas Graves

TAPS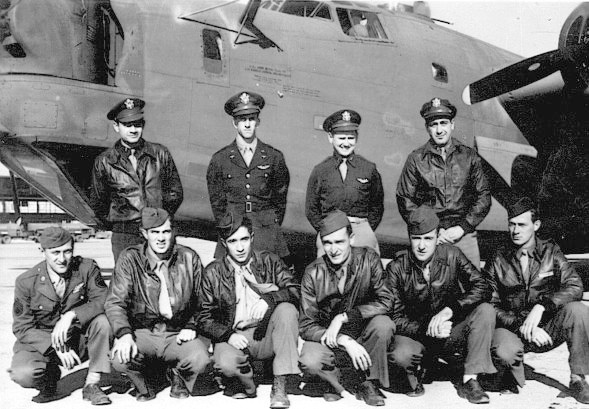 ALEXANDER ALEX CREW - 427th BS
(crew assigned 427BS: 16 Nov 1943 - photo: taken by B-24 "Liberator" in USA)

(Back L-R) 2Lt Lon E. Jackman, Jr. (CP)(KIA), 2Lt Alexander Alex (P)(POW),
2Lt Nicholas J. Goldschmidt (N)(POW), 2Lt Albert L. Farrah (B)(POW)

(Front) S/Sgt Joseph Adamczyk (E)(POW), S/Sgt W.R. McCarren (R)(POW),
Sgt Harold Micheles (BT)(POW), Sgt Harold A. Brown (RWG)(POW)(front, 4th from left),
Sgt Robert J. Newcomb (LWG)(POW/REP), Sgt Stewart G. Hall (TG)(POW/REP)

(crewmen in photo not in order - some may not be in photo)
Crew Notes:

2Lt Lon E. Jackman, Jr. (CP)(KIA) - Assigned to 427th BS on 27 October as a Member of the Lt Robert W. Sheets Crew. Flew five missions with the Sheets crew (#82,85,86,88 & 89). Buried in The Netherlands American Cemetery, Margraten, Netherlands.


2Lt Nicholas J. Goldschmidt (N)(POW) - On second mission. First mission was with Lt John C. Barker Crew


(POW/KIA)
- On mission #90, 20 December 1943 to Bremen, Germany in B-17G #42-39764
Santa Ana
(360BS) PU-B. The crew, except for 2Lt Jackman and 2Lt Goldschmidt was on their first combat mission. Anti-aircraft fire knocked out one engine and a subsequent fighter attack resulted in the crew bailing out and their B-17 crashing near Bremen, Germany. Sgts
Newcomb
and
Hall
were badly wounded and were repatriated after their capture.
Sgt Brown was wounded, captured and sent to Sandbostal Hospital. He stayed there until about May 1944 at which time he was sent to Luft IV in Tychow, Poland. He remained at Luft IV until January 1945. Sgt Brown was then sent by train, to Luft I at Barth, Germany and was liberated in May 1945 by the Russian Army.
During the war, the German radio broadcasts were picked up Americans on the shortwave radio. About 20 different USA citizens, living mostly on the East Coast, learned of Harold Brown's capture and wounds.  The Germans confused Kansas with Canada and said that Harold Brown of Ottawa, Canada (living on North Sycamore Street) was a POW.  All the USA citizens sent their letters to Canada to inform our family of Harold's capture.  Someone in the post office in Ottawa, Canada stamped all the letters "no such address" and then crossed out Canada and wrote by hand "try Kansas".  The family got the letters.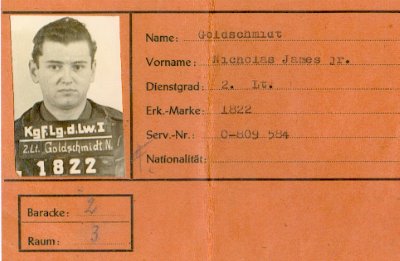 POW Identification Card
2Lt Nicholas J. Goldschmidt, Jr. - Stalag Luft I, Barth Germany
[photos courtesy of Nicholas J. Goldschmidt, Jr.]
[Sgt H.A. Brown information courtesy of his nephew Bruce A. Ames]