360th Stiver Crew
Merrill M. Stiver, Pilot
Home

About Us

Contact Us

Donate

Newsletters

8th AFHS

Links

FAQ

Facebook

Search
Personnel

Aircraft

Nose Art

B-17 Thunderbird

Ground Support

Uniforms

Journals

More Info
Mission Reports

Combat Crews

Individual Photos

Photos

POW

KIA

MACR

Overseas Graves

TAPS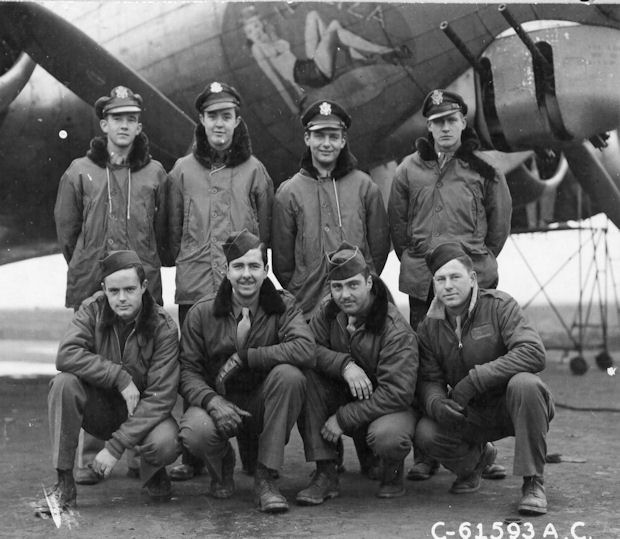 MERRILL M. STIVER CREW - 360th BS
B-17G Idaliza #42-97546 PU-E
(crew assigned 360BS: 01 Dec 1944 - photo: 03 Jan 1945)

(Back L-R) 2Lt Basil D. Hight, Jr. (B)(3), 2Lt Leon O. Beasley (N)(3),
2Lt Alexander T. Kacus (CP-KIA)(1), 1Lt Merrill M. Stiver (P)(3)

(Front L-R) T/Sgt Walter M. Godley (R)(3), T/Sgt Kenneth R. Auer (E)(3),
S/Sgt Robert A. Gilbert (TG-POW)(2), S/Sgt Robert W. Pilgrim (BT)(3)
2Lt Alexander T. Kacus (CP) - Was KIA on mission #353, 6 April 1945, to Leipzig, Germany flying as CoPilot with the 2ndLt H.C. Lacker Crew (9 KIA)
Sgt Robert A. Gilbert (TG) - Was POW on mission #341, 20 March 1945 to Hamburg, Germany flying as a "Spot Jammer" with the 2Lt F.R. Taub Crew (3 KIA & 7 POW)
Completed their 35 mission combat tours: Stiver (20 Mar 45); Beasley, Godley, Auer, Pilgrim (21 Mar 45); Hight (4 Apr 45)
Sgt Robert T.C. Wilson (WG) was a Waist Gunner on the original crew assigned to the 360th BS. Was injured by shrapnel on Mission #291, 27 Dec 1944, and didn't fly again.
S/Sgt Guido P. Marchionda became the crew Waist Gunner in late January 1945. Crew flew with a number of different substitute WGs and/or TGs on most of their missions. Many missions were flown with a Togglier as a substitute for the crew's Bombardier.
Crew Incident: 05 February 1945, on a local night training flight in B-17G #44-8318 (No name) (360th BS) PU-P, the crew was shooting night landings at Molesworth. On the third landing, 1Lt Merrill M. Stiver encountered a high speed stall about 15 feet off the ground. He applied full power, but the B-17 completed the stall, dropped in, and bounced back up. The hard landing broke the right landing gear drag link and the wheel was swinging free. The crew assumed crash landing positions and Lt Stiver made a successful one-wheel landing. The B-17 sustained minor damaged and the seven man crew was unhurt. 2Lt Emerson H. Shields was flying as a third Pilot. There was no Bombardier, Waist Gunner or Tail Gunner on the flight.
[photo from the 303rdBGA Archives]
[Researched by 303rdBGA Historian Harry D. Gobrecht]