360th Parrott Crew
John H. Parrott, Pilot
Home

About Us

Contact Us

Donate

Newsletters

8th AFHS

Links

FAQ

Facebook

Search
Personnel

Aircraft

Nose Art

B-17 Thunderbird

Ground Support

Uniforms

Journals

More Info
Mission Reports

Combat Crews

Individual Photos

Photos

POW

KIA

MACR

Overseas Graves

TAPS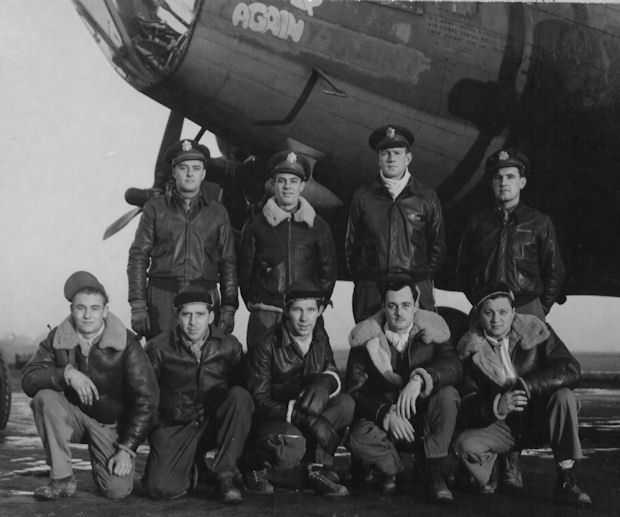 JOHN H. PARROTT CREW - 360th BS
B-17FThumper Again #42-5393 (360BS) PU-G
(John H. Parrott assigned 360BS: 05 Sep 1943 - photo: 16 Jan 1944)
(Parrott was copilot to P.C. Brinkley, upgraded to pilot 27 Dec 1943)

Original John H. Parrott Crew when he was upgraded to Pilot:
2Lt John H. Parrott (P)(1), 2Lt Leo B. McGrath (CP)(2),
2Lt Anthony D. Volk (N)(3), 2Lt George M. Walter (B)(KIA)(4)

T/Sgt Meyer Levin (E)(5), S/Sgt Victor W. DeWitte (R)(3),
Sgt James E. Mayfield (BTG)(3), S/Sgt Jack E. Green (LWG)(3),
S/Sgt D.O. Huddleston (RWG)(6), Sgt Gilbert N. Laible (TG)(3) (crewmen not in photo order)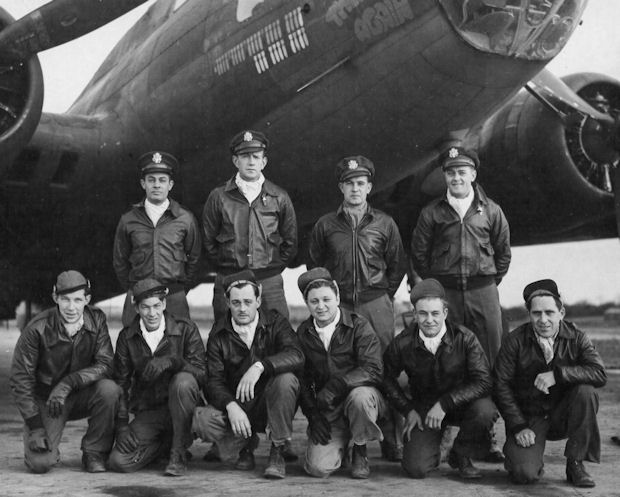 JOHN H. PARROTT CREW - 360th BS
B-17FThumper Again #42-5393 (360BS) PU-G
Eleven dispatched missions flown by the John H. Parrott Crew:
99 (14 Jan 1944),100, 101, 102, 103, 104, 106, 109(A), 110, 111, 112 (24 Feb 1944)
(A) Non credited abortive mission
Crew Notes:
2Lt John N. Parrott (P) - CoPilot on the Pharis C. Brinkley Crew on Fifteen missions (71, 72, 74, 75, 76, 77, 78, 80, 81, 82, 83, 84, 86[AS], 88, 91[AS]) - [AS] Credited abortive Sortie missions - no bombs dropped. Upgraded from CoPilot to Pilot on 27 Dec 1943. Flew ten credited missions as Pilot.
2Lt Leo B. McGrath (CP)(POW) - Flew on all of Lt Parrott's Pilot missions. Upgraded from CoPilot to Pilot and flew four missions as Pilot.
2Lt Anthony D. Volk (N)(POW), S/Sgt Victor W. DeWitte (R), Sgt James E. Mayfield (BTG)(POW), S/Sgt Jack E. Green (WG), & S/Sgt Gilbert N. Laible (TG)(POW - See 2Lt Leo B. McGrath Crew page for missions flown details.
2Lt George M. Walter (B)(KIA) - Flew on nine missions with Lt. Parrott (All except #111 & 112). Was Killed in Action on mission #111, 22 Feb 1944, to Aschersleben, Germany in B-17F #42-29931 Satan's Workshop (360BS) PU-L [MACR 2564], 1Lt George E. Underwood (P). B-17 ditched in the English Channel and all ten crewmen drowned.
T/Sgt Meyer "Mike" Levin (E) - Dispatched on 30 missions: 2Lt John A Castle Crew - 6 missions. On mission #11, 23 Jan 1943, Bailed out of his B-17, was wounded, hospitalized and removed from combat status; Returned to combat on 25 July 1943. Flew 10 missions with the with the Capt George V. Stallings Crew. Flew 5 missions with other Pilots; Final 9 credited missions with Lt John H. Parrott. Completed 25 mission combat tour on 21 February 1944
S/Sgt D.D. Huddleston (WG) - Flew on 35 combat missions with 13 different Pilots. First mission #66, 3 September 1943. Completed combat tour on 23 June 1944. Dispatched on all of the Lt John H. Parrot's missions as Pilot. Final nine missions with the 359th BS 2Lt Robert L. Cunningham Crew (Mission 167, 2 June 1944, through 187, 12 June 1944) as a Togglier after have been reduced from S/Sgt to the grade of Private for reasons unknown.
[photo from the 303rdBGA Archives]