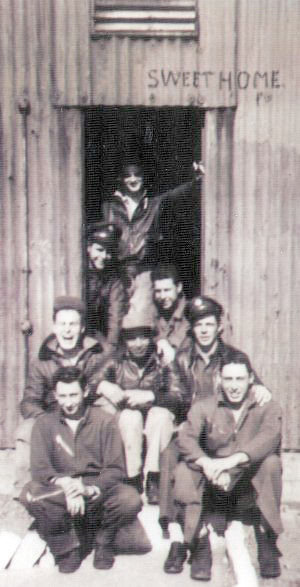 Photo taken in front of the enlisted men's
barracks in April or May 1944.
(Clockwise from the left) S/Sgt Marion Fitko (WG), unknown, T/Sgt Jack Brewster (BT), unknown, unknown, unknown, S/Sgt Marvin Edwards (TG) -
(Center) unknown
[photo courtesy of Marv Edwards]
Crew Note: Crew was assigned at Pyote AAF, TX in September 1943 with 2Lt Melvin Skerpon Pilot. Upon completion of crew training crewmen were sent Presque Isle, Maine on 29 Nov 43 for overseas deployment via Air Transport Command aircraft. The Skerpon Crew was divided into two groups for transport in separate aircraft: (1) Pilot, Navigator, Ball Turret, Radio & Engineer; (2) CoPilot, Bombardier, Waist Gunners, Tail Gunner. After several takeoff delays Lt Skerpon met one of his flight school friends who had two empty places in the B-17 he was flying to England. Lt Skerpon and Lt Fleming decided to fly in this B-17 with the others in group #1 in another aircraft. At the last minute Lt Skerpon asked the Ball Turret Gunner, Sgt Kyle E. Youngs to fly with him instead of Lt Fleming. The B-17 with Lt Skerpon and Sgt Youngs ran out of fuel and crashed near the coast of Northern Ireland with no survivors. The other eight crewmen, after arriving in England, were assigned to the 360th BS in early January 1944 with Lt John F. Coppom as Pilot and Sgt John D. Deffinger as the replacement Ball Turret Gunner. 1Lt David F. Hicks became Pilot on 6 Mar 44 when Lt Coppom completed his 25 mission combat tour. 1Lt Stevens took over his crew as Pilot on 22 Mar 44.

(*) Completed combat tour and returned to the USA
Deffinger (BTG) - Assigned to the 427BS on 06 June 43 and had flown 17 missions with several crews before being assigned to the Coppom Crew on 05 Jan 44. [See 360th Cogswell Crew]
Original members of the Lt Melvin Skerpon Crew. Assigned to 427th BS on 05 Jan 44 with Lt John F. Coppom as the replacement Pilot.
Brewster (E) - Killed on a flight training mission in the USA after WWII
Geisman (R) - Head wound on 16 Mar 44 over Munich, Germany on a mission to Augsburg. Evacuated to USA for medical care. Died a few years later from injury complications.
Coppom (P) - Was CoPilot on the Lt William C. Heller Crew assigned to 360th BS on 24 Sept 43. Upgraded to Pilot on 27 Dec 43. Assigned as Pilot on 05 Jan 44 after having completed 17 combat missions. Last mission on 02 Mar 44. Lt David H. Hicks was assigned as the replacement Crew Pilot.
Stevens (CP) - Upgraded from CoPilot to Pilot and took over the Coppom Crew as Pilot on the 22 Mar 44 mission to Berlin.