359th Scott Crew
Charles F. Scott, Jr., Pilot
Home

About Us

Contact Us

Donate

Newsletters

8th AFHS

Links

FAQ

Facebook

Search
Personnel

Aircraft

Nose Art

B-17 Thunderbird

Ground Support

Uniforms

Journals

More Info
Mission Reports

Combat Crews

Individual Photos

Photos

POW

KIA

MACR

Overseas Graves

TAPS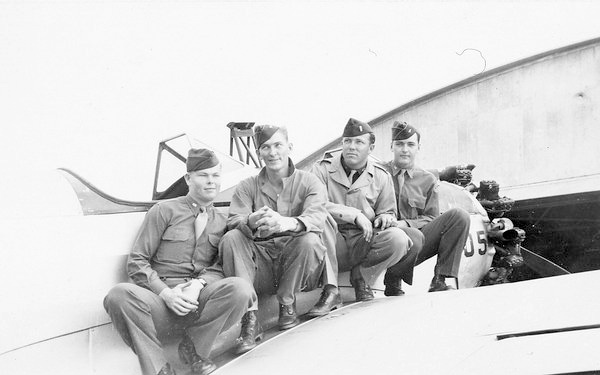 CHARLES F. SCOTT, JR. - 359th BS
(crew assigned 359BS: 07 April 1945 - photo: USA Flight Training)

Original Scott Crewmen:
F/O Charles F. Scott, Jr. (P)(2nd from left),
F/O Raymond J. Volz (CP)(right), F/O Samuel D. Blackwell (N)

Sgt Joseph R. Madden (TOG), Sgt James C. Gale, Jr. (E),
Pvt Billie G. Gilmer (R), Cpl Floyd J. Fanguy (BT), Sgt Raymond E. Hills (TG)
Four Missions flown by the Scott Crew:
360 (15 April 1945), 361, 362, 364 (25 April 1945)
Crew Notes:
F/O Charles F. Scott, Jr. (P) - Flew on one mission (360) with a crew orientation Pilot. Other missions as the Crew Pilot.
F/O Raymond J. Volz (CP) - Flew on one mission (360) as CoPilot with the 1Lt Arthur J. Tarvid Crew. Other missions as F/O Scott Crew CoPilot.
Sgt Joseph R. Madden (TOG) - Flew on one mission (361) with the F/O Scott crew. Substitute Toggliers used on three missions (360, 362 & 364). Flew on two missions (354 & 362) as Togglier with other Pilots.
Sgt James C. Gale, Jr. (E) and Pvt Billie G. Gilmer (R) - Flew on all four F/O Scott missions. Also flew on one mission (363) with 2Lt Joseph V. Leach crew
F/O Samuel D. Blackwell (N), Cpl Floyd J. Fanguy (BTG) and Sgt Raymond E. Hills (TG) - Flew on all four F/O Scott missions.
Sgt James W. Haley (RCM) flew on two missions (362 & 364) with the F/O Scott crew.
Charles F. Scott, Jr. - The Battle of Athens
by Sarah Scott
On August 1, 1946, in my east Tennessee hometown of Athens, my father was one of the GI's who led what has come to be known as "The Battle of Athens." These men had fought for liberty overseas only to see it withheld at home by a corrupt political machine. On 8/1/46, election day, things came to a head, and my father acted with bravery against a group of gun-toting "deputies" who were thugs.
As usual, ballot boxes were stolen and stuffed, but this time, the GI's, led in part by my father, put up resistance. Shots were fired throughout the night, and finally the political machine surrendered. A bipartisan slate called the "GI Ticket" was elected. In the aftermath, the Good Government League was created. It became a model nationwide for civic and electoral reform. In many towns, machine politics was supplanted by a movement toward openness and accountability, and those efforts were led by GI's. The GI's in Athens were the first.
The Battle of Athens made the front page of the New York Times, and Eleanor Roosevelt wrote about it in her newspaper column. My father and a few others spoke all over the country. The most scholarly account of the battle, a book by professor Steven Byrum, cites the time Daddy and two others were invited to speak to the national VFW convention in Boston. They raised the Tenn. flag over the Miles Standish Hotel where the convention was being held. How like him.
[photo courtesy of Sarah Scott]
[Researched by Historian Harry D. Gobrecht]