359th Hillary Crew
Jack R. Hillary, Pilot
Home

About Us

Contact Us

Donate

Newsletters

8th AFHS

Links

FAQ

Facebook

Search
Personnel

Aircraft

Nose Art

B-17 Thunderbird

Ground Support

Uniforms

Journals

More Info
Mission Reports

Combat Crews

Individual Photos

Photos

POW

KIA

MACR

Overseas Graves

TAPS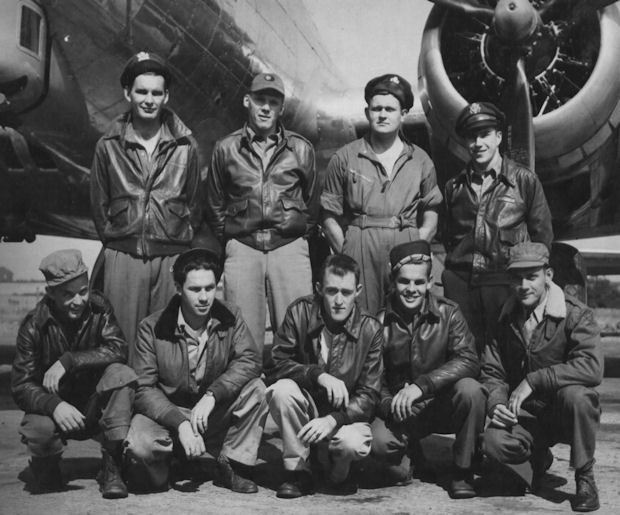 JACK R. HILLARY CREW - 359th BS
(crew assigned 359BS: 16 July 1944)

(Back L-R) 2Lt Jack R. Hillary (P-KIA);
2Lt William Robertson III (CP-KIA); 2Lt John E. Rice (N-KIA);
2Lt Rocco De Filippis (B-KIA)

(Front L-R) Sgt Neldon Reid Bishop (BT-POW)(1);
S/Sgt George E. Paul (E-KIA); Sgt Harry R. Sansum (WG-KIA)(2);
S/Sgt Eugene E. Girman (R-POW)(1)(*); Sgt James R. Watson (TG-POW)

Ranks and grades at time of last combat mission #231
S/Sgt Eugene E. Girman was later promoted to T/Sgt
Seventeen dispatched and credited combat missions flown by 2Lt Jack P. Hillary:
214 (29 July 1944), 215, 216, 217, 218, 220, 223, 224, 228, 229, 230, 231 (24 Aug 1944)
For Mission dates, targets and Mission Reports, see
Combat Missions
.
Ten B-17Gs flown by 2Lt Jack P. Hillary on his seventeen combat missions:
42-31405 Wallaroo Mk II (359BS) BN-X - Mission 214
42-107206 Old Black Magic (359BS) BN-R - Mission 215
42-102496 Special Delivery (P) (359BS) BN-M - Mission 216
42-31117 Lonesome Polecat (359BS) BN-L - Mission 217
44-6309 Duchess' Granddaughter (P) (359BS) BN-T - Mission 218
42-97944 Daddy's Delight (P) (359BS)  BN-I - Mission 220
43-37537 Queen of Heart (P) (359BS) BN-Q - Missions 223, 224
42-38050 Thunderbird (P) (359BS) BN-U - Missions 228, 229
42-31830 Marie (P) (359BS) BN-N - Mission 230
42-97291 Myasis Dragon (359BS) BN-N - Mission 231
            (P) See Nose Art Photos
Crew Notes:
(All original crewmen - Last mission #231 on 24 August 1944)
2Lt Jack P. Hillary (P)(KIA) - Completed 12 credited missions as First Pilot
2Lt William Robertson III (CP)(KIA) - Stood down on mission 214 when a combat mission orientation CoPilot, 2Lt Robert D. Quiggle was used. Flew as CoPilot on the other eleven  2Lt Hillary missions.
2Lt John E. Rice (N)(KIA), 2Lt Rocco DeFilippis (B)(KIA), S/Sgt George E. Paul (E)KIA(*), Sgt Neldon Reid Bishop (BTG)(POW), Pvt James R. Watson (TG)(KIA) - Flew on all twelve of  the 2Lt Hillary missions.
T/Sgt Eugene E. Girman (R)(POW) - Stood down on missions 218 and 220. Flew on the other ten 2Lt Hillary missions.
Sgt Harry R. Sansum (WG)(KIA)(*) - Stood down on missions 228 and 229.  Flew on the other ten 2Lt Hillary missions.
                (*) Buried at the Netherlands American Cemetery, Martgratten, Netherlands.
KIA-POW:

On 24 August 1944, on Mission #231 to Merseburg, Germany in B-17G #42-97291
Myasis Dragon
(359BS) BN-W.
Myasis Dragon
was brought down on the bomb run with the bomb bay doors open. The first of a salvo of three shells took out the #3 engine. As the second exploded under the radio room, T/Sgt
Girman
loosened his flak vest and clipped on one of his parachute rings. The third flak burst came right into the bomb bay, exploding between the two bomb racks. The B-17 immediately became an inferno, and T/Sgt
Girman
remembers seeing the aircraft melting before his eyes. Within seconds
Myasis Dragon
disintegrated in a large explosion which showered several aircraft in the formation with debris. One piece of the falling wreckage included the ball turret with Sgt
Reid Bishop
inside. T/Sgt
Girman
was unconscious. His foot was caught in the runner of the ball turret gunners hatch trapping Sgt
Bishop
inside. Soon, however, T/Sgt
Girman
fell free and Sgt
Bishop
was able to open his hatch, grab his parachute, connect it and free himself from the wreckage. T/Sgt
Girman
regained consciousness as he hit denser air, and remembers seeing Sgt
Bishop
's chute open at almost the same time as his, maybe 1500 feet above ground. The spot where T/Sgt
Girman
and Sgt
Bishop
came to earth was at Torgau, more than 30 miles east of Leipzig. This town became famous as the location where the Soviet and U.S. Forces met on a bridge over the Elbe River finally linking the Eastern and Western fronts in May 1945 and signaling the end of the Third Reich. T/Sgt
Girman
came to earth within site of that bridge and within sight of Stalag IVD where he spent his first night as a POW. T/Sgt Girman and Sgt
Bishop
were their only crew survivors. (KIA-POW Information Source: 1997 "Going Back" story by Brian McGuire as related by T/Sgt Girman.)
T/Sgt Eugene E. Girman (R ) and Sgt Neldon R. Bishop (BT) were wounded and taken to hospitals at Leipzig, Hohmalk, Menmigne and Obermassfield. They then were at POW camps at Sulag Luft IV, Gross Tychow, Nurenberg and Mooseburg. They were rescued by General Patton and the 14th Armored Division on 25 April 1945, transported to Camp Lucky Strike and transported to the USA on a Liberty Ship.
Sgt Harry R. Sansum - Was seen on the ground without a chute after the crash by Sgt Neldon R. Bishop.
The seven bodies from
Myasis Dragon
came down over a 17 kilometer wide area; the B-17 came down 5 kilometers northeast of Bergleibenau, 5 km from Merseburg. When the Germans were looking for the surviving Hillary crewmen, they came across an airman shot down earlier. They shot him during an escape attempt.
Crew Event: This is the crew that was flying Thunderbird on her 70th mission, 15 August 1944 to Wiesbaden, Germany, which is the subject of the Keith Ferris Mural Fortresses Under Fire. On that mission, the waist gunner was T/Sgt Jack F. Pordhan rather than Sgt Sansum.
(*) T/Sgt Girman was aboard the reconstructed Thunderbird, that is at the Lone Star Flight Museum in Galveston, TX, on its flight from Duxford, England to Houston, Texas in July 1987.
Listen to Gene Girman's Veterans History Project Audio Interview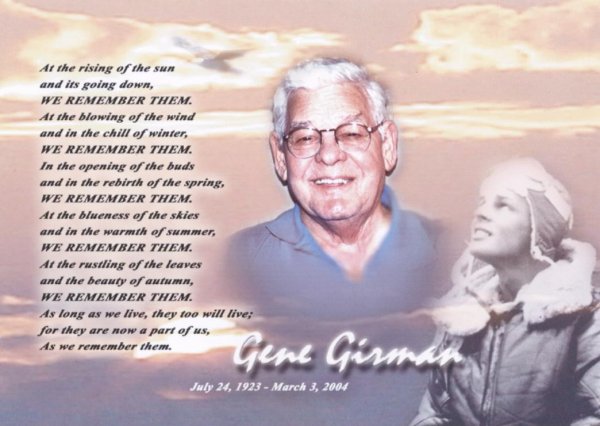 [photo courtesy of Gene Girman and the Irue Ferguson Family]
[Researched by 303rdBGA Historian Harry D. Gobrecht]