359th Haynes Crew
Charles D. Haynes, Pilot
Home

About Us

Contact Us

Donate

Newsletters

8th AFHS

Links

FAQ

Facebook

Search
Personnel

Aircraft

Nose Art

B-17 Thunderbird

Ground Support

Uniforms

Journals

More Info
Mission Reports

Combat Crews

Individual Photos

Photos

POW

KIA

MACR

Overseas Graves

TAPS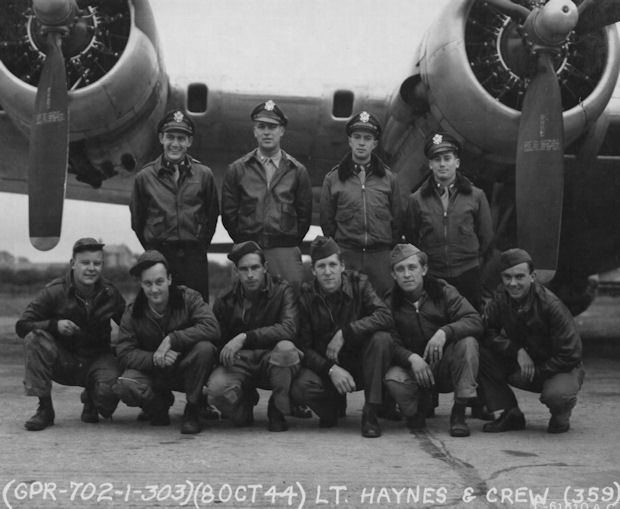 CHARLES D. HAYNES CREW - 359th BS
(crew assigned 359BS: 23 Sep 1944 - photo: 08 Oct 1944)

(Back L-R) 1Lt Charles D. Haynes (P)(1), 1Lt Galt L. McClurg (CP)(2),
2Lt Harrison K. Beder (N)(KIA), 1Lt Charles A. Dando (B)

(Front L-R) S/Sgt Robert C. Hrych (WG), Sgt Frederick D. Clubine (WG/Tog)(3),
S/Sgt Paul D. Freese (BTG), S/Sgt Allen L. Ipsen (RWG),
T/Sgt Oscar A. Deen (R), T/Sgt Elliotte W. Sherrill (E)

(Hrych and Freese may be reversed in photo)
Crew Notes:
(KIA) 2Lt Harrison K. Beder - Killed in Action mission #257, 15 Oct 1944 to Cologne, Germany in B-17G #43-38604 (No name) (359BS) BN-B, Lt Edmund W. Gaines (P). B-17 hit by flak and crashed near Cologne, Germany - 1 POW & 8 KIA. Lt Beder Flew four missions with the Lt Charles D. Haynes Crew. Lt Beder was replaced by Lt Roy P. Malone, original Navigator on the Lt Henry C. Embrey Crew. Lt Malone flew 16 missions with the Haynes Crew.
1Lt Charles D. Haynes (P) - Was upgraded to a Lead Crew Pilot on 6 December 1944 and then flew with other crewmen. Completed 31 mission lead crew combat tour on 26 Feb 45.
1Lt Galt L. McClurg (CP) - Was upgraded from CoPilot to Pilot on 18 January 1945 and completed his combat tour on 8 March 1944. Missions on 17 Jan and 10 March 1945 were flown as a Lead Crew Tail Gunner/Observer.
Sgt Frederick D. Clubine (WG/Tog) - Original Lt. Haynes Crew Waist Gunner. Deleted from crew when crew size was changed from 10 to 9 men. Flew five missions as a Togglier with various other Pilots.
Other original Haynes Crewmen - Flew as utility crewmen with other Pilots after 9 December 1944 following Lt Haynes's Lead Crew Pilot assignment. All completed their 35 mission combat tours in late February or early March 1945.
[photo courtesy of Pat Harrington]
[Researched by 303rdBGA Historian Harry D. Gobrecht]