359th Eisenhart Crew
William E. Eisenhart, Pilot
Home

About Us

Contact Us

Donate

Newsletters

8th AFHS

Links

FAQ

Facebook

Search
Personnel

Aircraft

Nose Art

B-17 Thunderbird

Ground Support

Uniforms

Journals

More Info
Mission Reports

Combat Crews

Individual Photos

Photos

POW

KIA

MACR

Overseas Graves

TAPS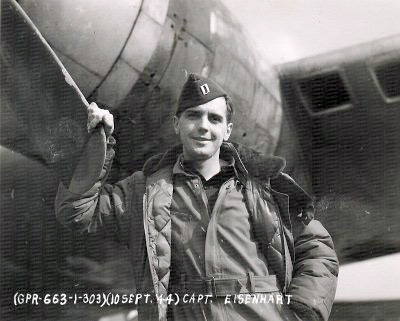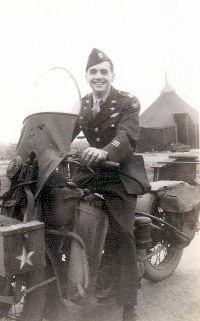 WILLIAM E. EISENHART CREW - 359th BS
(Assigned to 359th BS: 07 Sept 1943)
(Upgraded from CoPilot (Thomas J. Quinn Crew) to Pilot: 20 Feb 1944)

Capt William E. Eisenhart (P), 2Lt Joseph C. Sassone (CP),
2Lt William D. Carey (N), 2Lt John M. Robinson (B)

T/Sgt John C. Mayhaugh (E), T/Sgt Lloyd C., Mouser (R),
S/Sgt James V. Franceschini (BTG), S/Sgt Joseph E. Robichaud (WG),
T/Sgt Kurt J. Herman (WG), S/Sgt Charles W. Robb (TG)

(Ranks and grades at time of last combat mission)
William E. Eisenhart's dispatched combat missions:
As CoPilot - Capt Thomas J. Quinn crew - Twelve (71 (23 Sept 43), 73, 74, 75, 76, 77, 78, 79(AS), 90, 92, 93, 95 (4 Jan 44))
As combat crew 1st Pilot - Ten - (109(A) (20 Feb 44), 110(AS), 111, 113, 121, 125, 131, 132, 146, 150) 4 May 44))
As Lead Crew Pilot - Seventeen (157 (22 May 44),174, 176, 182, 191, 204, 213, 226, 234, 238, 245, 307, 313, 321, 341, 345, 362 (17 Apr 45)
(A) Mission aborted - no credit --- (AS) Abortive Sorties - no bombs dropped - credited
For mission dates and targets see the missions list.
Crew Notes:
Capt William E. Eisenhart (CP/P) - First twelve missions as CoPilot on the Lt Thomas J. Quinn crew. Upgraded from CoPilot to Pilots on 20 Feb 1944. Never had a regular assigned crew that flew with him on all, or most of his ten missions as an upgraded 1st Pilot. 1st mission on 23 Sept 1943. Completed first combat tour on 9 Sept 1944 and volunteered to fly a second tour. Last mission (#362) on 17 April 1944 - his 39th mission. Became the 359th BS Assistant Operations Officer and later the Operations Officer.
Missions that Crewmen indicated above flew with Lt Eisenhart:

2Lt Joseph C. Sassone - Two missions (109(A), 110(AS))
2Lt William D. Carey (N) - Four missions (109(A), 110(AS), 111, 113)
2Lt John M. Robinson (B) - Three missions 109(A), 110, 111)
Sgt James V. Franceschini (BTG) - Three missions (109(A), 110(AS), 121)
S/Sgt Charles W. Robb TG) - Four missions (109A, 110(AS), 121, 125)
T/Sgt John C. Mayhaugh, Jr (E), T/Sgt Lloyd C. Mouser (R), S/Sgt Joseph E. Robichaud (WG) and T/Sgt Kurt J. Herman, II (WG) - Six missions (109(A), 110(AS), 111, 113, 121, 125, 131). Substitute crewmen used on other missions

William E. Eisenhart Lead Crew missions: Never had assigned crewmen who flew with him on more than a few missions. Flew with thirteen different men as his CoPilot or Pilot on his seventeen lead crew missions. Was promoted to Captain shortly after he became a Lead Crew Pilot.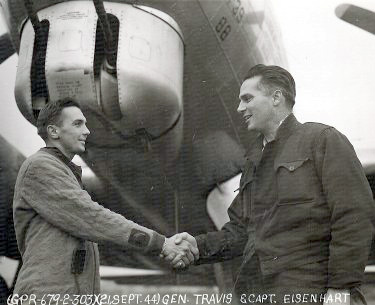 Capt Eisenhart (left) and Gen Travis - 21 Sep 1944
The day Eisenhart didn't win the DFC (see text on right)
Capt Eisenhart's Notable Lead Crew mission:
Mission #245, 21 September 1944 to Mainz, Germany. Capt Eisenhart (359th BS Operations Officer) was flying as CoPilot. with B/Gen
Robert F. Travis
(Commanding General 41st Combat Wing) as Pilot and Air Commander. They were leading the 8th Air Force. This was B/Gen Travis's 25th and final 8th AF mission, seventeen of which were flown with 303rd BG(H) lead crews.
B/Gen Travis became apprehensive about his position over the target. He took over control of the autopilot being used as he turned off the target. It resulted in throwing the entire formation all over the sky. Capt Eisenhart immediately shut off the auto-pilot and got the formation back together by decreasing the angle of bank and degree of turn. This didn't set well with B/Gen Travis.
Captain Eisenhart became somewhat of a folk hero after the mission. Several months previously the 359th BS instituted a policy that pilots should not leave the Cockpit area during a mission to urinate in the bomb bay. Pilots were advised to crack their cockpit side window, get up on their haunches and let the slipstream carry the urine outside. This effective technique was done on a strict condition that the pilot would personally clean the window area immediately after landing.
During the 21 September mission Capt. Eisenhart used this methods to relieve himself, only to discover that B/Gen Travis was smoking his cigar and had cracked his window, which created a cross draft. Some of Capt. Eisenhart's urine swirled in the cockpit and hit B/Gen Travis full in his face.
Upon landing a very upset B/Gen Travis chewed out Capt Eisenhart for a full half hour after the mission. He threatened Capt Eisenhart with a court martial and ordered him to immediately take down the bulletin board notice letter on the suggested urination method. He also advised Capt Eisenhart that he was going to award a DFC medal to Navigator Lt George H. Counts and Bombardier Lt Ralph L. Smith but was damned if he would award a DFC to Capt Eisenhart.
B/G Travis was replaced by B/Gen Maurice A. Preston as 41st Combat Wing Commanding General a month later and his threats against Capt Eisenhart were never carried out. Captain Eisenhart became known as the only Captain to urinate in the face of a General and git away with it. Such is how folk heroes are born.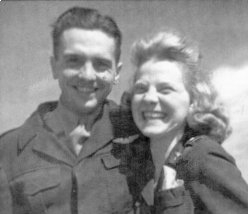 Captain William E. Eisenhart & Lt Mary Shore - Married 12 January 1945. The Best Man was Mel Schulstad.
Other Notable Achievement with the 303rd BG(H):

Post WWII with Colonel Eisenhart:
He served with the USAF from 1948 to 1978 and retired as a Colonel in 1977, after a distinguished military career in the Strategic Air Command, having been active in WWII, the Cuban Missile Crisis and Vietnam.
Bill married 2nd LT Mary M. Shore, a nurse at the 303rd Station Hospital at Lilford Hall, about four miles from Molesworth, on 12 January, 1945. They were first married by the local Magistrate in Tharpston. Then again by Capt. Merritt O. Slawson, 303rd Protestant Chaplain, at Westminster Chapel (not Westminster Abbey) in London.
After 35 years in the military, Bill and his wife, Mary, retired to St. Petersburg, FL, where they enjoyed playing golf, fishing, traveling and, in general, having fun. During their 62 year marriage they raised four very successful children, have 11 grandchildren and 3 great grandchildren. Mary passed on July 31, 2006.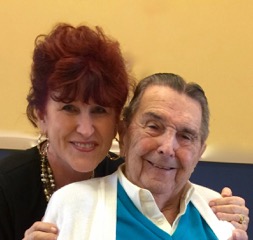 Bill remarried on November 18, 2007 to Pamela "Penny" Gahr of St. Petersburg. Bill and Penny, shown at the left in 2016, now reside in the Hilton Head, SC area.




[photos courtesy of Mary Eisenhart and Penny Eisenhart]
[Researched by Historian Harry D. Gobrecht]