359th Eich Crew
Henry J. Eich, Jr, Pilot
Home

About Us

Contact Us

Donate

Newsletters

8th AFHS

Links

FAQ

Facebook

Search
Personnel

Aircraft

Nose Art

B-17 Thunderbird

Ground Support

Uniforms

Journals

More Info
Mission Reports

Combat Crews

Individual Photos

Photos

POW

KIA

MACR

Overseas Graves

TAPS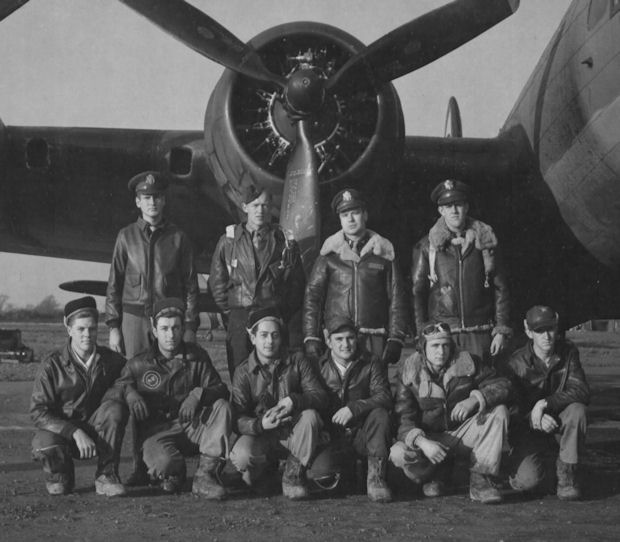 HENRY J. EICH, JR. CREW - 359th BS
(crew assigned 359BS: 27 Oct 1943 - photo: 3 Dec 1943)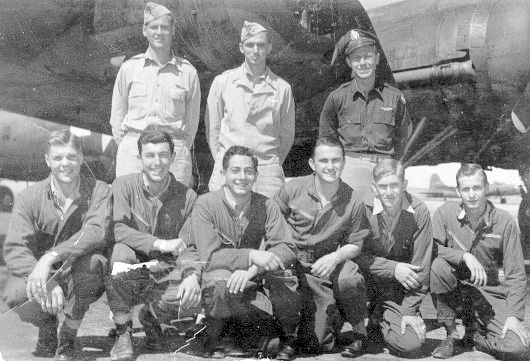 HENRY J. EICH, JR. CREW - 359th BS
(crew assigned 359BS: 27 Oct 1943 - photo: Sioux Falls, SD, summer 1943)

(Back L-R) 2Lt Henry J. Eich, Jr. (P-POW)(4),
2Lt William E. Woodside (CP-POW)(4), Unknown (N)(1)

(Front L-R) S/Sgt Delton C. Erdmann (RWG-POW),
S/Sgt Edmond A. Maggia (LWG-POW)(5),
S/Sgt Harry Lenson (E-WIA/POW/Rep)(2),
S/Sgt John P. Celoni (BT-POW), T/Sgt Daniel S. Harvey (R-KIA)(3),
S/Sgt Raymond M. Gilstrap (TG-WIA/POW/REP)(2)(6)

Not in photo: 2Lt James E. Carroll (N-POW)(1), 2Lt William G. Stein (B-POW)
Enlisted men promotions: The following promotions were made between 5 Jan and 11 Jan 1944. News of the promotions had not gotten to the men prior to their being shot down on 11 Jan 1944.
S/Sgt to T/Sgt - Daniel S. Harvey (R). Sgt to S/Sgt: - Harry Lenson (E), John P. Celoni (BTG), Delton C. Erdman (RWG), and Raymond M. Gilstrap (TG)
(KIA-POW) - All Crewmen were shot down on 11 January 1944 on mission #98 to Oschersleben, Germany. All bailed out over Germany. Their B-17 #42-3448 (No name) crashed into Steinhuder Lake, Germany.
Credited missions:
All crewmen flew on 10 missions together: #83 (26 Nov 43), 84, 85, 86, 87, 88, 90, 93, 96 & 98 (11 Jan 44). Crew flew on mission #86 as a spare B-17 and returned to Molesworth for a non-credited mission. Eight of these missions were in B-17F-60-DL #42-3448 (No Name) 359th BS (BN-W). Mission #86 was in 41-24685 "Knockout Dropper" and #96 in 42-31483 "Bonnie-B". Lt Stein (B) flew two additional missions #91 and 92. S/Sgt Gilstrap flew one additional mission (#95) as Tail Gunner. S/Sgt Maggia (LWG/TG) flew one additional mission (#82) that was aborted for a non-credited mission
Crewmen Notes:
Unknown Navigator in photo - Had an appendix operation the day before the crew was to depart for England. Was replaced by 2Lt J.E. Carroll.
S/Sgt Lenson (E) - Was wounded in the leg. S/Sgt Gilstrap (LWG) - Left arm was shot off. Both wounded men became POWs and were repaitriated.
T/Sgt Harvey (E) - Drowned when he parachuted into a lake. His body washed ashore near Nienberg, Germany on 6 March 1944. Disposition of his body by the Germans is unknown.
Lt Eich (P) and Lt Woodside (CP) remained in the USAF after WWII and were last known as being attached to a Weather Detachment
S/Sgt Edmond A. Maggia (LWG) - Mission #87 -11 Dec 44 flew as TG. Sgt Frank M. Kolanda, on his first combat mission, flew as LWG.
S/Sgt Raymond M. Gilstrap (TG) - Did not fly on mission #87 - 11 Dec 43 with the Lt Eich crew. Flew a makeup mission (#95 - 4 Jan 44) as the 2nd Lt William A. Purcell Crew Tail Gunner.
[photo and some text information courtesy of Edmond A. Maggia]
[Researched by 303rdBGA Historian Harry D. Gobrecht]