359th Clemensen Crew
Richard L. Clemensen, Pilot
Home

About Us

Contact Us

Donate

Newsletters

8th AFHS

Links

FAQ

Facebook

Search
Personnel

Aircraft

Nose Art

B-17 Thunderbird

Ground Support

Uniforms

Journals

More Info
Mission Reports

Combat Crews

Individual Photos

Photos

POW

KIA

MACR

Overseas Graves

TAPS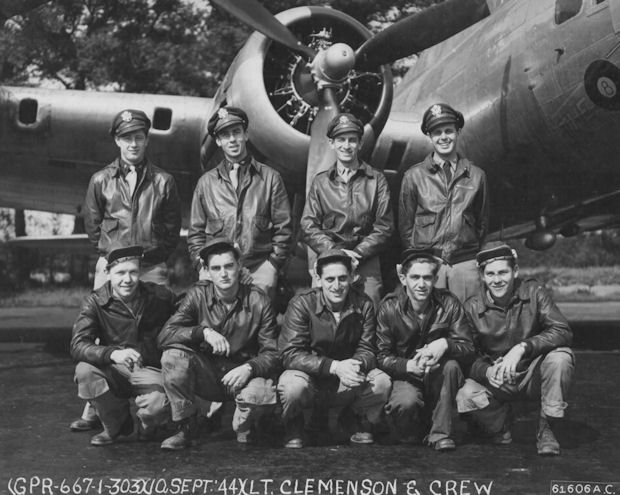 RICHARD L. CLEMENSEN CREW - 359th BS
(Assigned 359BS: 29 August 1944 - Photo: 10 September 1944)

2Lt Richard L. Clemensen (P)(KIA), 2Lt George S. Burson (CP)(POW),
2Lt James J. Crooke, Jr. (N)(POW), 2Lt Frank W. Stafford (B)(KIA)

Sgt Eugene F. McCrory, Jr. (E)(KIA), Sgt Kurt Schubach (R)(POW),
Sgt Lloyd L. Albern (BTG)(POW), Sgt Nick Kriss (WG)(KIA),
Pvt Jack R. Allerton (WG), Sgt John W. Jauernig (TG)(POW)
Three missions flown by the 2Lt Clemensen Crew:
238 (9 Sept 1944), 239, 241 (12 Sept 1944)
For mission dates and targets see the mission list
Crew Notes:
2Lt George S. Burson (CP) did not fly on one mission (238). Substitute copilot was 2Lt Duane G. Ward.
Other crewmen - Flew on all three of the 2Lt Clemensen crew missions.
Last Mission of the 2Lt Clemensen Crew [MACR 8823]
Mission #241, 12 September 1944 to Brux, Czechoslovakia, in B-17G #42-31177 Lonesome Polecat (359th BS (BN-L). The formation was hit by seven fighter attacks between 1100 and 1130 hours. Attacks were principally from high on the front of the formation out of the sun. They made a hole in the front part of the wing of Lonesome Polecat close to the No. 3 engine. Strips were flying off the wing. Another attack forced the B-17 out of formation and it slid off and dropped down. The horizontal stabilizer was also hit and strips of metal were coming off. The Wing then caught on fire. When last seen Lonesome Polecat was in a glide, about 1,500 feet below the formation, still under control.
[Researched by Historian Harry D. Gobrecht]