358th Swaffer Crew
Calvin A. Swaffer, Pilot
Home

About Us

Contact Us

Donate

Newsletter

8th AFHS

Links

FAQ

Facebook

Search
Personnel

Aircraft

Nose Art

B-17 Thunderbird

Ground Support

Uniforms

Journals

More Info
Mission Reports

Combat Crews

Individual Photos

Photos

POW

KIA

MACR

Overseas Graves

TAPS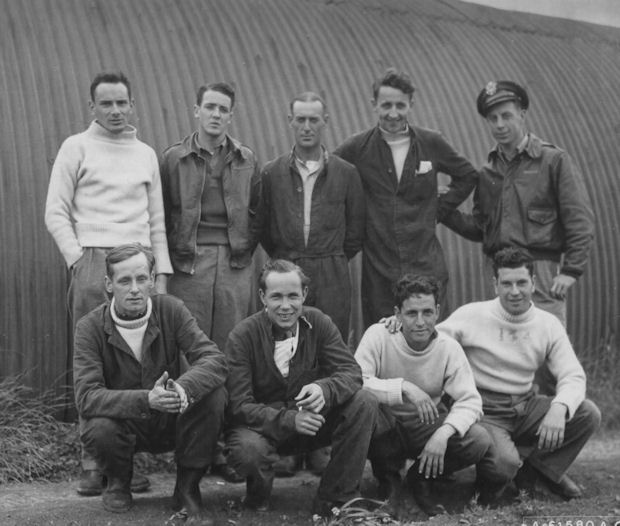 CALVIN A. SWAFFER CREW - 358th BS
(Swaffer assigned 358BS: 19 July 1942 - Photo: 15 July 1943)
(Upgraded from CoPilot, Carl H. Morales Crew, to Pilot: 25 June 1944)

(Back L-R) 2Lt William H. Karraker (N), 1Lt John R. Johnston (CP),
S/Sgt James E. Mills (RWG), 1Lt Calvin A. Swaffer (P), 2Lt William T. Sweet (B)

(Front L-R) S/Sgt Edward W. Griffin (BT), T/Sgt James O. Matthews (R),
T/Sgt Rudolph S. Lopez (E), Sgt Edward N. Cobb (LWG)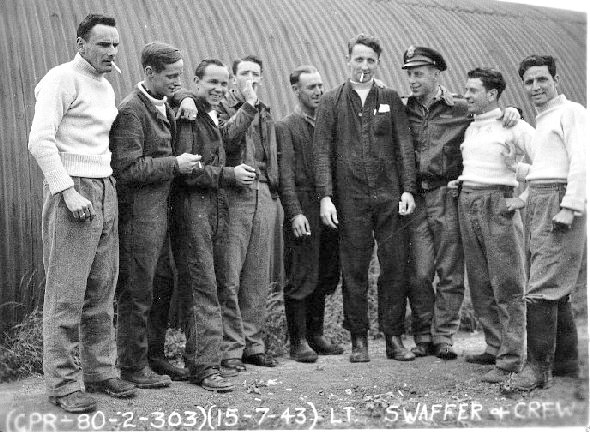 CALVIN A. SWAFFER CREW - 358th BS
(Photo: 15 July 1943)

(L-R) 2Lt William H. Karraker (N), S/Sgt Edward W. Griffin (BT),
T/Sgt James O. Matthews (R), 1Lt John R. Johnston (CP),
S/Sgt James E. Mills (RWG), 1Lt Calvin A. Swaffer (P), 2Lt William T. Sweet (B),
T/Sgt Rudolph S. Lopez (E), Sgt Edward N. Cobb (LWG)
Not in photos: S/Sgt
John P. Moody
- complained of severe pain in ear - possible perforated ear drums. All crewmen completed their tours of 25 missions.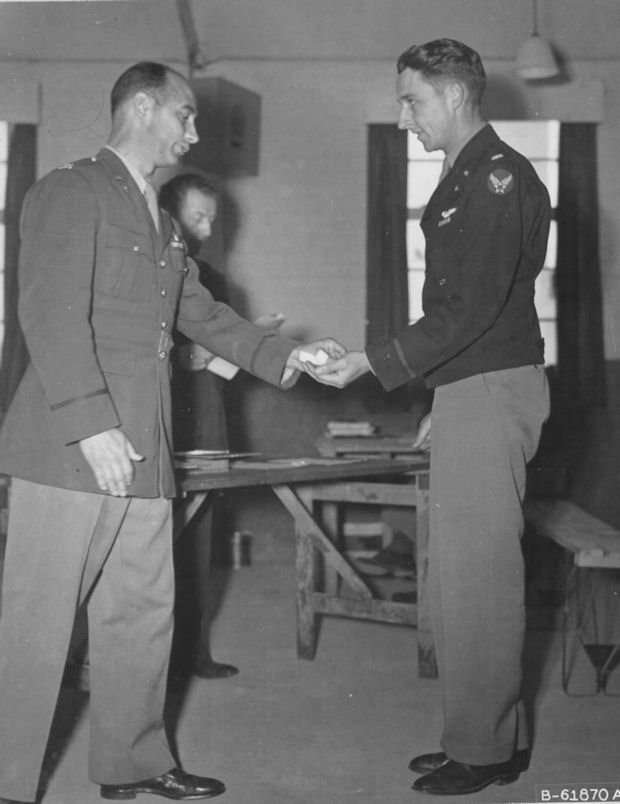 Col Marion presenting a medal to 1Lt Swaffer (8 July 1943)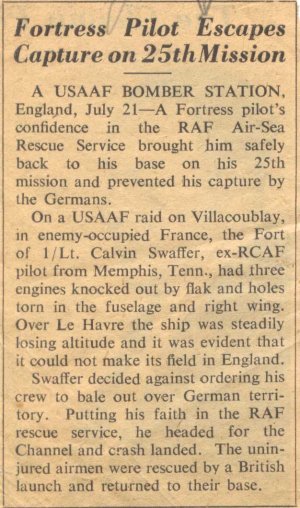 Crew Note:
1Lt
Calvin A. Swaffer
(P) - Was an original 358th BS CoPilot assigned to the 358th BS on 19 July 1942. Previously flew as an RAF Pilot. First mission on 17 November 1942. Dispatched on twenty-two combat missions with the Capt
Carl H. Morales crew
. Four no-credit missions were aborted (5, 8, 10, 13). Eighteen were credited missions: (1, 4, 12, 14, 17, 22, 23, 24, 26, 27, 28, 31, 34, 35, 36, 37, 38, 39). Upgraded from CoPilot to Pilot following the completion of Capt Morales' combat tour on 21 May 1943. Upgrade orders were effective on 12 July 1943, but first mission as 1st Pilot was flown on 25 June 1943. Flew five missions as 1st Pilot with 1Lt
John R. Johnston
as CoPilot . Combat tour completed on 14 July 1943 when 1Lt Shaffer ditched his B-17 in the English Channel.
Crew Incident:
On 14 July 43, mission #50 to Villacoublay Airdrome near Paris, France in B-17F #42-29791 Memphis Blues (358BS) VK-B. Hit by anti-aircraft fire halfway between the target and the French coast, causing one engine to catch fire. A second engine caught fire after being hit by flak in the Le Havre area. Spitfires Protected the B-17 and followed it down as it ditched in the English Channel, 30 miles off Shorham, England, 10 miles from nearest point of French Coast, 20 miles north of Le Havre. All crewmen were picked up by British Air Sea rescue.
[photos from the 303rdBGA Archives - clipping courtesy of Cy Galley]
[Researched by 303rdBGA Historian Harry D. Gobrecht]