358th Stuermer Crew
John W. Stuermer, Pilot
Home

About Us

Contact Us

Donate

Newsletters

8th AFHS

Links

FAQ

Facebook

Search
Personnel

Aircraft

Nose Art

B-17 Thunderbird

Ground Support

Uniforms

Journals

More Info
Mission Reports

Combat Crews

Individual Photos

Photos

POW

KIA

MACR

Overseas Graves

TAPS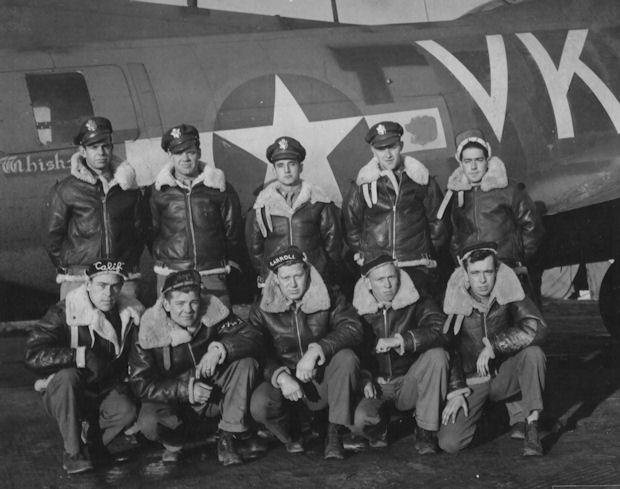 JOHN W. STUERMER CREW - 358th BS
(Assigned 358BS: 14 Nov 1943)

Original Stuermer Crewmen:
1Lt John W. Stuermer (P)(KIA)(1), 2Lt Charles E. Reynolds (CP)(KIA)(2),
2Lt William A. Tielman (N)(KIA)(3), 2Lt Clyde D. Newman (B)(KIA)(3)

Sgt David W. Harris (E)(KIA)(3), Sgt Edward F. Murray (R)(KIA)(3),
Sgt Joseph Stark (BTG)(KIA)(3), Sgt Marvin A. Carroll (LWG/RWG)(KIA)(3),
Sgt Lee E. Burch (RWG)(4), Sgt Marvin B. Collins (TG)(KIA)(3)
Fifteen Credited Stuermer Crew Missions:
88 (13 Dec 1943), 89, 90, 93, 94(AS), 100, 101, 102, 103, 104(A), 105, 106, 108, 109, 110(AS), 111 (22 Feb 1944)
(A) Non Credited Abortive mission - (AS) Credited Abortive Sortie - Bombs not dropped
Crew Notes:
1Lt John M. Stuermer (P)(KIA) - First two mission flown as CoPilot with an instructor Pilot.
2Lt Charles E. Reynolds (CP)(KIA) - Did not fly on the crew's first five missions Substitute CoPilot's used.
2Lt William A. Tielman (N)(KIA), 2Lt Clyde D. Newman (B)(KIA), S/Sgt David W. Harris (E)(KIA), S/Sgt Edward F. Murray (R)(KIA), Sgt Joseph Stark (BTG)(KIA), Sgt Marvin A. Carroll (LWG/RWG)(KIA) and Sgt Marvin B. Collins (TG)(KIA) - All combat missions with the Stuermer crew.
Sgt Lee E. Burch (RWG) - Flew on the Stuermer first three missions (88, 89, 90). Was removed from the crew and flew no other combat missions. A substitute waist gunner was used on the other twelve Stuermer crew missions.
Substitute Crewman - Mission #111:
Sgt
David I. Miller
(RWG)(B/O) - Flew as a substitute waist gunner on two Stuermer crew missions (# 108 and 111). Was able to bailout and survive on mission #111. Flew on ten additional missions with other pilots (#125, 126, 127, 129, 130, 132, 135, 136, 137, 139).
Last Stuermer crew mission:
22 February 1944, Mission #111 to Aschersleben, Germany in B-17G #42-38041 Hell's Angels II (358BS) VK-D. Crashed at Irthling Borough, England following a mid-air collision with B-17 #42-31516 384th BG(H) while assembling. Was cut in two at the rear door position. Substitute waist Gunner Sgt David E. Miller bailed out and survived. All other crewmen were killed.
[Photo courtesy of the James E. Wylde Family - Researched by Historian Harry D. Gobrecht]