358th Smith Crew
Alfred I. Smith, Pilot
Home

About Us

Contact Us

Donate

Newsletters

8th AFHS

Links

FAQ

Facebook

Search
Personnel

Aircraft

Nose Art

B-17 Thunderbird

Ground Support

Uniforms

Journals

More Info
Mission Reports

Combat Crews

Individual Photos

Photos

POW

KIA

MACR

Overseas Graves

TAPS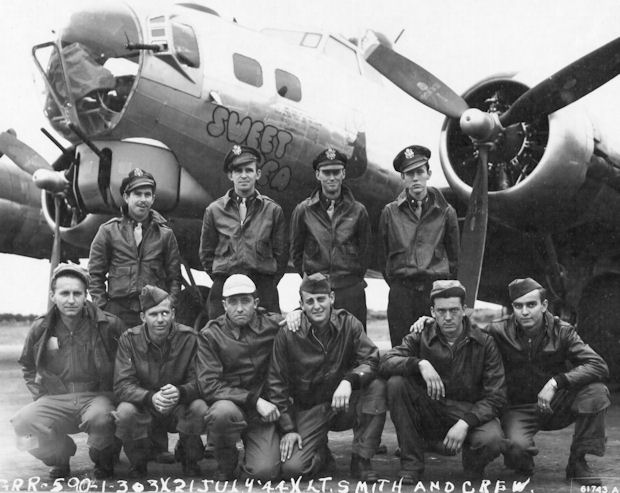 ALFRED I. SMITH CREW - 358th BS
B-17G #42-102945 Sweet Pea (358BS) VK-M
(crew assigned 358BS: 14 July 1944 - photo: 21 July 1944)

(Back L-R) 2Lt Robert G. King (CP-POW/KIA), 2Lt Stanley A. Kemp (B-POW),
2Lt Alfred I. Smith (P-POW), 2Lt Emerson Jones, Jr. (B-POW)

(Front L-R) S/Sgt Richard A. Swanson (R-POW), Sgt Jack D. Fischer (BT-POW),
S/Sgt Martin M. Harbarger (E-POW), Sgt Sam S. Bruno (TG-KIA),
Sgt Harvey A. Fulp (WG)(2), Sgt Edward Beres (WG-KIA)
Eleven credited 1944 combat missions flown by the 2Lt Alfred I. Smith Crew:
#212 - 25 July  to St. Lo Fr, #214 - 29 July to Merseburg, Gr, #217 - 03 Aug to Fresnoy, Fr, #219 - 04 Aug to Gravelines, Fr, #220 - 05 Aug to Crepieul, Fr, #221 - 06 Aug to Genshagen, Gr, #222 - 07 Aug to Chartes, Fr, #223 - 08 Aug to Caen, Fr, #224 - 09 Aug to Pirmasens, Gr, #225 - 11 Aug to Brest, Fr, #229 - 15 Aug to Wiesbaden, Gr
Crew Notes:
2lt Alfred I Smith (P) - Flew as First Pilot on all of his crew's eleven combat missions.
2Lt Robert G. King (CP) -  Stood down on mission #212 when combat experienced, 2Lt      John R. Helms, from the Capt Samuel E. Rosser Crew,  flew as the  combat orientation  CoPilot. 2lt King flew all of the other ten 2Lt Alfred I Smith Crew combat missions  .
Sgt Harvey A. Fulp (CP) (in crew photo) was deleted from the crew when the crew size       was reduced from 10 to 9 men when the second Waist Gunner was eliminated.  He       flew  on no 303rd BG(H) combat missions.  
Other seven assigned Crewmen - Flew on all of the eleven 2Lt Alfred I. Smith Crew       combat missions 
Aircraft flown on the eleven 2Lt Alfred I. Smith Crew combat missions
42-97949 (No name) (358BS) VK-O - Mission 212
44-6316   (No name) (358BS) VK-C - Missions 214, 221
44-6291   (No name) (358BS) VK-E - Missions 217, 220, 222, 223, 224, 225, 229
42-31060 Pogue Ma Hone (360BS) GN-N - Mission 219

(KIA-POW) On 15 August 1944, mission #229 to Wiesbaden, Germany in B-17G #44-6291 (No name) (358BS) VK-E:
At 1148 hours, about 45 miles from the target on the return journey the 303rd BG(H) formations were attacked by 20-25 German fighters. Up to this time friendly fighter support had been good, but the 8th AF fighters had left the bombers and were not in sight. A very intense and fast developing German fighter attack was centered on the low 358th BS formation  of 13 B-17s.  The enemy fighters, from the high and rear of the low Squadron, made a single attack from out of the sun, giving no advance warning of their presence. Nine low Squadron B-17s were quickly downed - seven from the 358th BS and two from the 427th BS.   The Keith Ferris painting "
A Test of Courage
" shows Lt Klaus Bretschneider  in his German FW-190 shooting at the 2Lt Alfred I. Smith crew in B-17G #44-6291.  Two crewmen, Sgt
Edward Beres
(WG) and Sgt
Sam S. Bruno
(TG),  were killed during the attack. 2Lt
Robert G. King
(CP) died on 20 August 1944 while a POW - Where and how his death occurred is unknown.  The B-17 crashed at Orsfield, Germany, 9 km Northeast of Bitburg. (Missing Aircrew Report 8171)
[photo courtesy of George T. Mackin]
[Researched by 303rdBGA Historian Harry D. Gobrecht]