358th Seddon Crew
John R. Seddon, Pilot
Home

About Us

Contact Us

Donate

Newsletters

8th AFHS

Links

FAQ

Facebook

Search
Personnel

Aircraft

Nose Art

B-17 Thunderbird

Ground Support

Uniforms

Journals

More Info
Mission Reports

Combat Crews

Individual Photos

Photos

POW

KIA

MACR

Overseas Graves

TAPS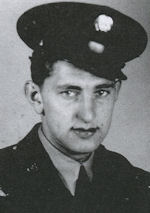 JOHN R. SEDDON CREW - 358th BS
(Assigned 358BS: 24 February 1944)

Original Seddon Crewmen:
2Lt John R. Seddon (P)(EVD)(1), 2Lt Charles D. Burks (CP)(POW)(2),
2Lt George M. Fitzpatrick (N)(POW)(3), 2Lt Walter A. Meldrich (B)(EVD)(4)

S/Sgt Edward E. Rogers (E)(POW), S/Sgt John C. Hess (R)(POW),
Sgt Donald F. Maloney (BTG)(POW), Sgt John Nemchick (LWG)(POW),
Sgt I.E. Holcomb (RWG)(POW), Sgt William T. Mummery (TG)(POW)
Seddon Crew eleven combat missions:
123 (3/29/44), 124(AS), 125, 126, 127(AS), 128, 129, 132, 135, 137, 139 (22 April 1944)
(AS) Credited abortive sortie - Bombs not dropped
Final Mission:
Mission #139, 22 April 1944, to Hamm, Germany in B-17G #42-39807 Nero (359th BS) BN-K (MACR 4273). Lt Seddon's 358th BS crew was flying in a 359th BS B-17G in a composition formation led by a 360th BS Crew. Nero was having trouble with the #2 engine just after "bombs away." The engine almost quit and then would not start up again with power surging on and off intermittently. Lt Seddon appeared to be unable to feather the prop, could not hold formation, and dropped back. When last seen the B-17 appeared to be under control and holding altitude. Sgt Mummery (TG) reported that the B-17 was hit by ME-109s after leaving the formation. The German Pilot, after disabling the B-17, lowered and raised his landing gear as a signal for the B-17 to land. The crew elected to bailout. At this time the B-17 was in a flat spin making exits difficult. Sgts Rogers, Nemchick and Mummery landed near Wevelghen, Belgium and were captured. They could see Nero crash and the engine broke off and plunged through a farmhouse. The Germans told them that several civilians were killed as a result of the crash. In truth, no one was killed in the crash. Lt Seddon evaded capture and returned to Molesworth on 9 May 1944 (E&E 1484). Lt Meldrich also evaded capture and returned to Molesworth on 15 June 1944 (E&E 744)
Crew Notes:
2Lt John R. Seddon (P)(EVD) - Flew on mission #122 with the Lt Arnold Litman Crew as CoPilot. The other eleven missions as his crew's Pilot.
2Lt Charles D. Burks (CP)(POW) - Did not fly on mission #132. Mission #138 was flown with the 1Lt Thomas R. McClure Crew. Substitute CP used by the 2Lt Seddon Crew
2Lt George M. Fitzpatrick (N)(POW) -Did not fly on mission #135 & 137. Substitutes used.
2Lt Walter A. Meldrich (B)(EVD) - Did not fly on mission #126 - Substitute used.. Mission #135 was flown with the 2Lt Seddon crew as Navigator
The enlisted crewmen flew all of their eleven missions with the Lt Seddon Crew.
[Researched by Historian Harry D. Gobrecht]