358th Sanders Crew
Roy C. Sanders, Pilot
Home

About Us

Contact Us

Donate

Newsletters

8th AFHS

Links

FAQ

Facebook

Search
Personnel

Aircraft

Nose Art

B-17 Thunderbird

Ground Support

Uniforms

Journals

More Info
Mission Reports

Combat Crews

Individual Photos

Photos

POW

KIA

MACR

Overseas Graves

TAPS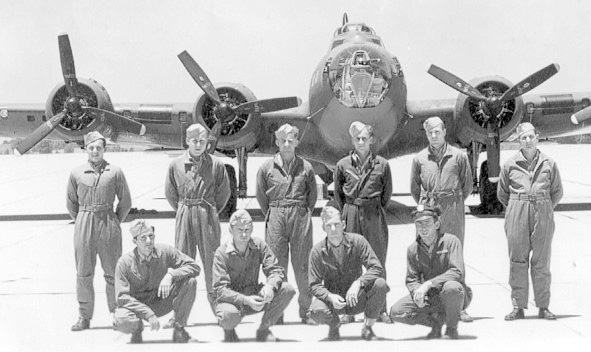 ROY C. SANDERS CREW - 358th BS
(crew assigned 358BS: 03 Sep 1943 - photo: 14 Oct 1943)

(Back L-R) T/Sgt Joseph A. Rozek (E-POW)(5), Sgt Martin V. Carll (RWG-KIA)(5)(7),
T/Sgt James G. Trest (E-POW)(4), S/Sgt Mathias J. Kremer (BT-POW/Repatriated)(6),
S/Sgt Riker K. Smith (LWG-POW)(5), S/Sgt Alfred E. Cockrum (TG-KIA)(5)(7)

(Front L-R) 1Lt Roy C. Sanders (P-POW)(1), 2Lt Henry F. Nogash (CP-POW)(2),
2Lt F.M. Peacock (N)(3), 2Lt Philip A. Peed (B-POW)(4)

[photo courtesy of Mathias J. Kremer]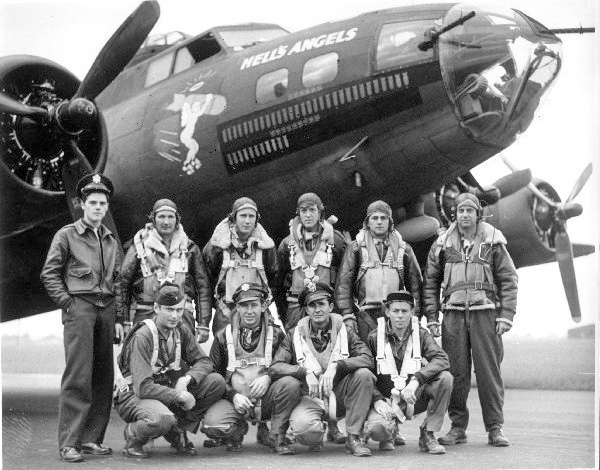 ROY C. SANDERS CREW - 358th BS
(Back L-R) 2Lt F. M. Peacock (N), T/Sgt James G. Trest (RO-POW),
Sgt Martin V. Carll (RWG-KIA), S/Sgt Mathias J. Kremer (BT-POW),
S/Sgt Alfred E. Cockrum (TG-KIA), S/Sgt Riker K. Smith (LWG-POW)
(Front L-R) 2Lt Henry F. Nogash (CP-POW), 2Lt Philip A. Peed (B-POW),
1Lt Roy C. Sanders (P-POW) T/Sgt Joseph A. Rosek (E-POW)
KIA - POW:
Crewmen MIA on 14 October 1943 Mission #78 to Schweinfurt, Germany, "Black Thursday." in 358th BS
B-17F #42-29477 Joan of Arc (VK-B)
. B-17 was hit by rocket from a ME-210 German Fighter knocking off elevator and rudder. It went down with a fire between the #3 and #4 engines and crashed near Bamburg, Germany. S/Sgt
Kremer
lost use of his left arm and lost his left leg. He was hospitalized and held prisoner until September 1944.
Peacock
was not with crew on the 14 October 1943 mission. The Navigator was 2Lt
G.W. Wood
(POW) Also on mission was Sgt
Wallace G. Martin
(Photographer-POW)
Missions flown by the Sanders Crew:
#69 - 09 Sept 43 - To Douai, France in 358 B-17F #42-3064 Star Dust (VK-I)
#70 - 16 Sept 43 - To Nantes, France in 358 B-17F #42-29524 Meat Hound (VK-K)
#71 - 23 Sept 43 - to Nantes, France in 358 B-17F #42-29571 Charley Horse (VK-L)
#72 - 27 Sept 43 - to Emden, Germany in 358 B-17F #42-29524 Meat Hound (VK-K)
#75 - 08 Oct 43 - To Bremen, Germany in 358 B-17F #42-3064 Star Dust (VK-I)
#76 - 09 Oct 43 - To Anklam, Germany in 359 B-17F #42-29824 Baltimore Bounce (BN-X)
#77 - 10 Oct 43 - To Cosefield, Germany in 358 B-17F #42-29477 Joan of Arc (VK-B)
#78 - 14 Oct 43 - To Schweinfurt, Germany in 358 B-17F #42-29477 Joan of Arc (VK-B)
Crew Notes:
1Lt Roy C. Sanders (P) - Flew as CoPilot with experienced Pilots on missions #69 & 70
2Lt Henry F. Nogash (CP) - Did not fly on missions #69 & 70
2Lt F.M. Peacock (N) - Flew no missions with the 303rd BG(H). Was replaced as Navigator by 2Lt Gordon W. Wood who flew on all of Lt Sanders Missions.
2Lt Philip P. Peed (B) and T/Sgt James G. Trest (R) - Did not fly on missions #69 & 76
T/Sgt Joseph A. Rozek (E), S/Sgt Riker K. Smith (LWG), Sgt Martin V. Carll (RWG) and S/Sgt Alfred E. Cockrum (TG) Did not fly on mission #69
S/Sgt Mathias J. Kremer (B) Did not fly on missions #69 & 70. Was repatriated while a POW as a result of his severe wounds and loss of his left leg.
Sgt Carll and S/Sgt Cockrum are buried in the Lorraine American Cemetery near Moselle, France
[photo from the 303rdBGA Archives]
[Researched by 303rdBGA Historian Harry D. Gobrecht]