358th Oliver Crew
Sam Oliver, Pilot
Home

About Us

Contact Us

Donate

Newsletters

8th AFHS

Links

FAQ

Facebook

Search
Personnel

Aircraft

Nose Art

B-17 Thunderbird

Ground Support

Uniforms

Journals

More Info
Mission Reports

Combat Crews

Individual Photos

Photos

POW

KIA

MACR

Overseas Graves

TAPS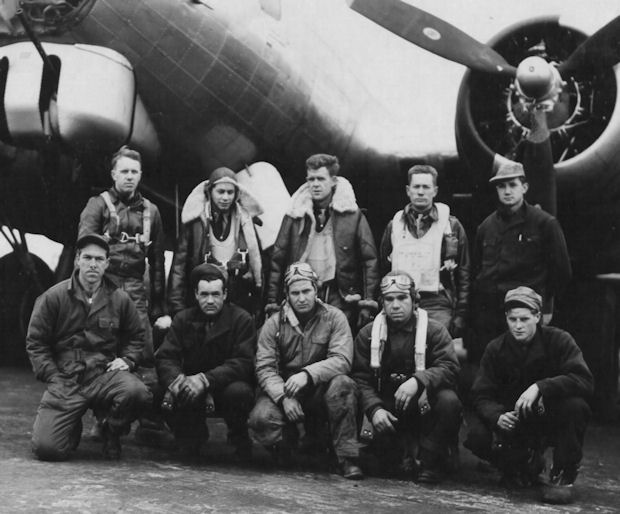 SAM OLIVER CREW - 358th BS
B-17G #42-97298 The Floose 358BS (VK-H)
(crew assigned 358BS: 25 April 1944 - photo: 6 May 1944)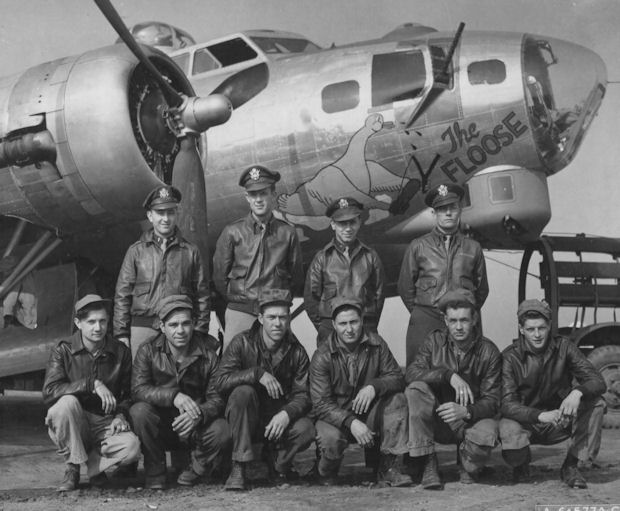 SAM OLIVER CREW - 358th BS
B-17G #42-97298 The Floose 358BS (VK-H)
(crew assigned 358BS: 25 April 1944 - photo: 11 May 1944)

(Back L-R) 2Lt Stanley R. Shankweiler (CP)(KIA), 2Lt Harry Chapple (B)(B/O),
2Lt Spiros P. Contos (N), 1Lt Sam Oliver (P)(KIA)[*]

(Front L-R) S/Sgt John P. Kissling (R)(KIA), Sgt Robert Scalco (LWG)KIA),
T/Sgt Francis H. Russell (BT)(KIA)[*], Sgt Americo S. Imbrogno (RWG)(KIA),
Sgt Wayne Humphries (TG) B/O, S/Sgt Whitney Haskell (E)(B/O)

[*] Buried in Cambridge American Cemetery, England
(KIA) Killed in Action (B/O) Bailed out of aircraft
Combat missions flown by 1Lt Sam Oliver (16 dispatched 14 Credited)
151(5/11/44), 152, 157, 158(S), 159, 160, 161, 163, 165, 170, 171, 172, 174, 175, 176, 177(NC)(6/10/44)
(S) Non-Credited -Spare aircraft - returned to Molesworth -- (NC) Non-Credited - Crash shortly after take-off
For Mission dates, targets and Mission Reports, see Combat Missions
Mission Aircraft:
B-17G #423-97298 The Floose 358th BS (VK-H) a brand new B-17G in which the 1Lt Oliver flew on three combat missions (151, 152 and 163). This was the crew's favorite B-17. Also flew: Five missions in #42-37893 Bam Bam 358th BS (VK-O) (172, 174, 175, 176, 177); Four missions in 42-107002 Mairzy Doats 358th BS (VK-A) (158, 159, 160, 161); Four missions in four other 358th BS B-17Gs (157 - Ole George,165 - Clover Leaf, 170 - Hell in the Heavens and 171 - Pugnacious Peter)
(KIA) and (B/O) - Mission 177 on 10 June 1944 Missions to Nantes, France in B-17G #42-37893 Bam Bam 358th BS (VK-O)
Substitute crewman - Lt
Earl D. Metko
(N)(B/O)
Crashed shortly after takeoff, just after joining the formation. When last seen
Bam Bam
's left wing had dipped down as if the B-17 had control problems or had been caught in a prop wash.
Bam Bam
went into a dive but Lt Oliver brought it out. It climbed again to the formation level, but the wing again dipped down and
Bam Bam
went into a second dive and into a spin. An explosion followed, apparently from the bombs, the tail was blown off and the
Bam Bam
crashed one-quarter of a mile southwest of Great Giddfing, Huntingdonshire, England. Four crewmen managed to bail out - 2Lt Metko (N), 2Lt Chapple (B), S/Sgt Haskell (E) and Sgt Humphries (TG). The other six crewmen died in the crash.
Crew Notes:
Enlisted crewmen - All six flew on all of the 1Lt Sam Oliver missions
2Lt Stanley R. Shankweiler (CP)(KIA) - Mission 151 with another pilot. Did not fly on missions 152 & 157. Other missions were with the 1Lt Oliver Crew.


1Lt Spiros P. Contos (N) - Did not fly with the 1Lt Oliver crew on four missions (157, 174, 176 & 177. Completed 10 missions with the 1Lt Oliver Crew. Became a Lead Crew Navigator after Bam Bam crashed on 10 June 1944. Flew on 19 additional missions (174, 176, 177, 178, 180, 181, 185, 192, 193, 200, 207, 209, 211, 214, 218, 222, 225, 237 & 244) Combat tour completed on 19 September 1944.


2Lt Harry Chapple (B)(B/O) - Did not fly with the 1Lt Oliver crew on mission 157 Had both risers fastened to his parachute harness but was unconscious during his fall except just before impact. The explosion propelled him through the plexiglas nose causing over 40 rents in his gabardine flying suit and fairly serious cuts in his scalp and eyelid. Was hospitalized for several weeks after returning to Molesworth. Flew on three additional combat missions after being released from the hospital with the William C. Davis Crew (201- 11 July, 202 & 203 - 13 July). Left the 303rd on 22 August 1944. Died of Parkinsons disease on 11 June 2000.


Article from "The Nashville Banner" June 23, 1944

1Lt Earl D. Metko (N)(B/O) - Was a member of the 358th BS Samuel E. Rosser Crew. Was a substitute Navigator on the 10 June 1944 mission. Was blown out of Bam Bam when it exploded with only one riser of his parachute fastened. Had an injured shoulder and was hospitalized. Became a Lead Crew Navigator and completed his 30 mission combat tour on 22 March 1945. See Lead Crew photos on missions 201, 276, 284, 293, 297.


T/Sgt Whitney Haskell (E)(B/O) - Was the third person to safely eject. Managed to exit from the nose escape hatch. Had only one riser attached to his parachute harness. Lost consciousness but regained his bearings as he was freefalling outside Bam Bam. After a futile attempt to buckle the 2nd clip he pulled the chute ripcord which immediately and safely opened. Flew on fourteen additional missions after the 10 June 1944 crash of Bam Bam as a Lead Crew Engineer (205, 224, 226, 233, 244, 260, 264, 271, 316, 340, 343, 344, 355, 356). See Lead Crew photos on missions 272,340, & 344. Completed his 30 mission combat tour on 9 April 1945.


S/Sgt John P. Kissling (R)(KIA) - Also flew on mission 155 with another pilot.


S/Sgt Wayne Humphries (TG)(B/O) - Was the last of the four men to exit from Bam Bam. Managed to reach his parachute and clasp it to his chest after the explosion severed the tail compartment from the B-17. He fell out of the B-17 just off the tail wheel in a tumbling mode. Managed to buckle both sides of his harness to the chute clips and pull the rip cord. Was able to drift clear of the remnants of Bam Bam and made a successful landing. Flew on no other 303 BG(H) missions after his 10 June 1944 bailout. Was transferred from the 303rd on 18 July 1944 to the 9th Air Force in France and flew additional combat missions in an A-20 "Marauder" low level twin engine attack bomber. Following WWII he returned to his home in Shelley, Idaho.
[photo courtesy of George T. Mackin]
[Researched by Harry D. Gobrecht with information from 303rd BG(H) mission folders, 1996 Biographical letter from 2Lt Harry Chapple and his daughter Stacia Herndon, plus 2002 information from Jan Haskell daughter of S/Sgt Whitney Haskell, and 2004 information and May 20904 HANL article by Sgt Wayne Humphries ]